Cold War Warriors
The Silent Service during the Cold War - Part 6
Captain William Hicks, USN Ret.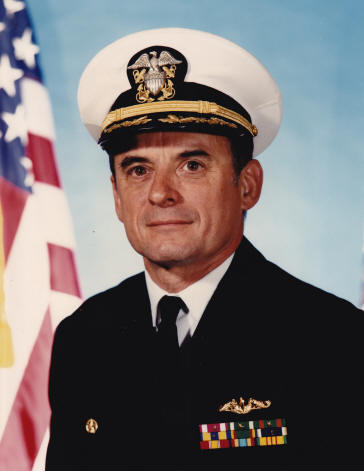 Liberty in Hong Kong
Following a couple weeks in Subic Bay, we departed for Hong Kong and actually made it. Unfortunately, the wives were long gone back to San Diego. We had a good visit with only a couple challenges. In Hong Kong, it is required that the nuclear submarine anchor out so the choice is to remain critical which means most of the engineering department must stay aboard to operate the reactor, or we shutdown the reactor and sustain the ship on the emergency diesel engine which cannot provide all of the power that the ship would normally require which means the ship is hot, meals are cold, and the battery is slowly discharged. When in this mode, the reactor is restarted each day and the battery recharged. This is done when one duty section has returned from liberty before the off duty section departs on liberty. The process is a bit stressful for the engineer and captain, but works well and maximizes the liberty time for the crew.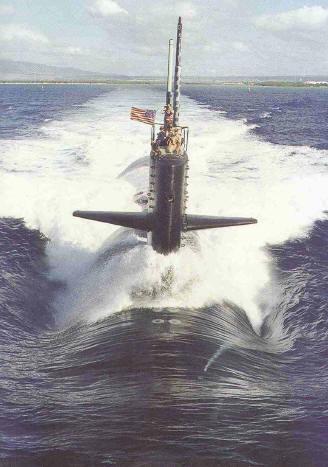 The USS Bates SSN 680 underway–the best of times for "operational oriented" officers who thrived on "fighting" the boat.
Following our port visit to Hong Kong, we were on our way home to San Diego via Pearl Harbor where we were scheduled for an Operational Reactor Safeguards Examination (ORSE). Our transit was slow enough so that we could run drills and conduct other training each day. Our squadron Deputy Commander met us for the transit home to provide assistance as we prepared for the ORSE. Since my Executive Office XO tour was in the shipyard, I had experienced only one ORSE while engineer on Dace and the standards and expectations had changed a lot since then. I thought my crew was proficient and we were ready for the ORSE, but the squadron riders were not so confident so it was a bit of a stressful transit to Pearl Harbor. We had the ORSE and the results were average that was fine with me and I think surprised the squadron riders. We were now truly on our way home and the deployment was history.
Home to San Diego and the shipyards
Following our return to San Diego spring of 1979, we had a period of rest and relaxation for the crew and a number of crew and officers who were replaced with new faces so the cycle of training and requalification started anew. Our next significant event was a shipyard overhaul that was to start in October 1979 at the Puget Sound Naval Shipyard in Bremerton, Washington.
Following the R&R period we conducted some local operations, but the major focus was testing and other preparations to enter the shipyard including moving the entire crew and families to Bremerton Washington. Our transition was successful and on 4 October 1979, I started my fourth tour in the shipyard, this time as a commanding officer.
As before, the primary responsibility of the crew during the shipyard overhaul was to train, maintain a responsible watch on the commissioned ship and prepare for the nuclear propulsion plant test program and to observe the shipyard test program of the ships auxiliary and electronics systems. Our other key task was to monitor the shipyard work to ensure it was being accomplished in accordance with the strict requirements for submarine maintenance. This was a particularly difficult time for the shipyard due to a heavy load of nuclear work on USS Enterprise (CVN 65) that took many of the highly skilled tradesmen who normally worked on submarines. As a result, there was a less experienced workforce on Bates that was challenging for both the ship and shipyard management teams. This large shipyard workload also contributed to a delay in completion from the planned 15 months to an actual period of 24 months.
The initial overhaul schedule was driven by the major preventative maintenance to recertify the ship's submarine, safety systems and the hull-integrity envelope. There was also some significant work to be done to the reactor plant systems and additionally, we received a major upgrade to the weapons and sensor systems which ultimately controlled the overhaul duration. One unique modification was the installation of an experimental polymer ejection system to test the ability to increase the ships speed by coating the hull with long chain polymers. The modification included stowage bladders in the ballast tanks, an ejection system of piping and ejectors- including a hull ring and a "shower head-like" ejector on the extreme nose of the ship. I thought that the testing of this system would be fun when we got back to San Diego.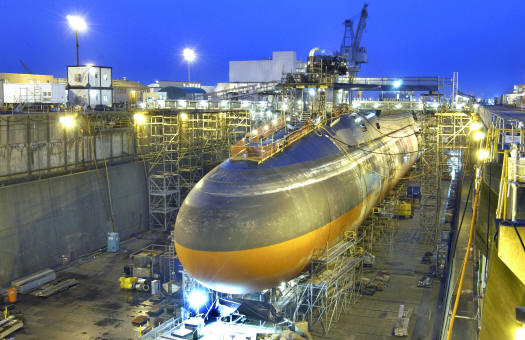 A nuclear submarine in a dry dock during an overhaul – the best of times for "engineering oriented" officers who thrived on taking the boat apart and seeing how everything worked.
A major challenge when you are in the shipyard is to maintain the focus of the crew to maintain the formality of operations and to conduct their actions with few errors. One of the evolving changes I noted over my four periods in a shipyard was the reduced tolerance for seemingly minor errors during operation and control of the propulsion plant. There were more watchers. Expectations were greater and the tolerance for errors was less. When an error such as an out-of-position valve or a danger tag was improperly applied, the effort to identify why and how to prevent it from occurring again was intense. Therefor, a major, management team challenge was to maintain the crew's awareness that every action they took must be carefully considered and that there must be no distractions. My crew was sufficiently trained and adequately professional to meet these standards, but it required skillful, preemptive reminders. I always looked for indications of reduced rigor to use as discussion points to keep the crew sharp and aware. We were generally successful, although there were a few "ah Shucks" moments. None that caused the crew to become labeled as troubled or requiring additional oversight.
The nuclear propulsion plant test program was very similar to the previous three that I had participated in so I knew what to expect and tried to prepare the crew. It went well but required long hours and many continuous days of shift work. As with all test programs, it eventually was completed and we prepared for sea trails and an escape from the shipyard environment. Upon completion of the shipyard overhaul our homeport transferred back to San Diego that meant that the household goods and all the families had to move. This occurred at the busy time of sea trails and post-overhaul tests and calibrations in the Puget Sound area.
To a large degree, the wives and kids were on their own to complete the moves and reestablish their households in San Diego. Mary and the boys drove alone from Bremerton to San Diego. When they arrived at our house, along with the household goods, Mary found that the renters had taken our refrigerator with them when they moved out. Thus in addition to meeting the movers, unpacking the boxes, and getting the boys started in school, she had to go out and buy a refrigerator. She did fine and once again showed how strong she was and what a strong partner she was in our team.
We took our leave from the shipyard on 9 September 1981 and proceeded to the Bangor Submarine Base that was being built to accommodate the Trident SSBNs. We would operate out of Bangor that was located on the Hood Canal, an offshoot from Puget Sound, for several weeks of trials and calibrations. It was the most challenging period of my entire command tour as I led a crew that had not operated for two years, through a series of challenging operations associated with weapons tests and acoustic tests in a physical environment that was extremely challenging. The Puget Sound area has many islands and shallows with a lot of traffic.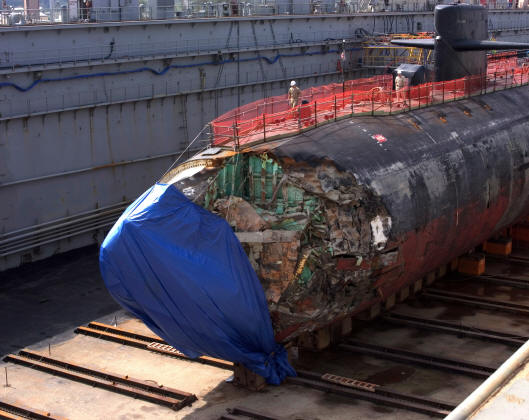 Since submarines "see" by sonar, their bows (where the sonar is located) are made of plastic.
Plastic does not respond well to sudden impact, as evidenced by this photo of the USS San Francisco, which hit an uncharted underwater mountain in 2005 while traveling at full speed.
Most submarine transits are on the surface and that is when we are most vulnerable. To compound the challenge, there is significant weather impact from both rain and fog that make visibility difficult. Also, the test schedule dictated many surface transits at night. Submarine radar is a poor aid for navigation in this type of environment. The situation was made more difficult by the attitude of the civilian, test personnel who only wanted results and were not sensitive to submarine safe, operational principles. Proceeding at high speed for log calibration directly towards shallow water was not of concern to them, even though it risked running aground, due to the slightest operational misstep. This difference of priorities caused tensions between the test group and the crew. As an example when we entered Carr Inlet near Tacoma, Washington, we noted an Australian destroyer had run aground. Apparently they were trying to accommodate a test agenda and missed a turn. A really bad day for the destroyer's crew and commanding officer. The period at Carr Inlet was particularly interesting as we conducted acoustic tests of individual pieces of machinery with the reactor shutdown. The amazing part was that we were operating on shore power but the ship was submerged to several hundred feet. The Bates crew was on a very steep learning-curve with little margin for error, but we completed all of the testing successfully and headed for San Diego and home.
Once back in San Diego, we started the test program for the Submarine Polymer Ejection Project (SPEP). This test program consisted of many trials to determine the affect of the Polymer on the ships operational characteristics. We made high speed runs including turns and rapid depth excursions to determine whether the ship's operational characteristics changed in the presence of the polymers. Most of the crew had not experienced operations that pushed the operational envelope quite this close and often, so it was an interesting time.
Another aspect of the testing was that we had to return to San Diego each evening to reload the storage tanks in preparations for the next day's testing. As a result, we spent a lot of time starting up and shutting down the reactor, sometimes late into the evenings. From the perspective of Bates, the SPEP test results were quite satisfactory with an improvement in speed and a reduction in noise. However for technical reasons, the program did not continue and the system was removed from Bates several years later. While the SPEP testing gave us lots of experience in ship operations, it left little time for training in preparation for our future operations. With SPEP testing completed, we then had to train for the ORSE, our first in three years, and regain our tactical readiness and nuclear weapons certifications as a fully qualified member of the operating forces.
Again the challenges were significant but the crew responded.
Our squadron riders were often distressed by what they viewed as our lack of readiness for the ORSE, but they were just overly pessimistic as to what the Bates crew could accomplish when we focused on a goal. By summer 1982, we had achieved tactical certification and passed the ORSE with a grade of Above Average. My three- year command, tour had extended to four years and I was tired and ready to be relieved. I had worked with three XOs, three Engineers, five weapons officers, and numerous junior officers. Each was talented and competent, but it was amazing how often a new officer made the same mistake as his predecessor, despite my admonitions and warnings; a bit frustrating, but part of the learning process.
In August 1982 with Bates newly overhauled and fully certified for operations, I was relieved of command and ready to start a new challenge as a Deputy Squadron Commander at Submarine Squadron Six in Norfolk Virginia; A new challenge in a new location.
Moving from San Diego to Norfolk, Va. New job with new challenges.
A transfer from one a base on the West Coast to Norfolk on the East coast sounds routine. Believe me it isn't! First we had to sell our home in San Diego and move the family and all of our household goods across the country. Then we had to find a new home in Norfolk and find proper schools for our boys. This was not an easy task.
In August 1982, housing mortgage interest rates were at about 18%. This presented a challenge when selling our San Diego house. We needed to be able to afford a mortgage on a new house in Norfolk. Our San Diego House was on the market for several months with no buyers and a mortgage that required payment. Our decision was to rent the house and hope for the best in Norfolk. Due to the press of operations and preparations for change of command, we had not had an opportunity to make a house- hunting trip to the Norfolk area. We had no idea where we would live when we arrived. Mary had done her usual, thorough research and concluded that the best schools were in York County, Va. which was near Newport News on the opposite side of the James River from Norfolk.
Remembering the challenges of driving across country four years before, we decided to do it differently this time. We bought a motor home that included two bunk beds so that each of the boys had his own private space. I bought it only a day or so before the change of command so had little opportunity to check it out. The plan was to tow my VW bug behind the camper. After I was relieved, the movers packed and loaded and we headed out for what was planned to be a leisurely trip across country: Disneyland; Sequoia National Park, Vallejo to visit Mary's sister; Yellowstone Park; Black Hills sights and monuments; Wisconsin to visit Mary's folks; Pennsylvania to visit my family; Norfolk to look for a place to live and finally to report to Commander Submarine Squadron Six.
The plan mostly worked since I had made campsite reservations for each stop before we left. However my inadequate checkout of the camper became a problem as the rusty gas tank caused the screens in the gas line to clog that caused a few challenges until my brother in law helped rebuild the carburetors and I became proficient at cleaning the fuel line filter screens. Our normal routine was to get to a stopping place, set up the camper at the campsite and go exploring in the VW. This was the first real family vacation we ever had with the boys- now ages 7 and 11 and we made the most of it. When we arrived in Norfolk, we entered the unknown. We had to find a house and buy a car …. A week before school was to begin. Time was of the essence.
Upon arriving in Norfolk, I contacted one of my previous XOs who was on the COMSUBLANT Staff. He suggested a campground that had cabins and campsites as a temporary place to stay. There were reservations available in the cabins during the week, but none on weekends. No problem—we moved into the cabin on Monday morning and back into our camper on Friday afternoon. We lived in the cabins during the week and in the camper on the weekend. The campground had fishing and hiking trails and was close to York County where we went house hunting. The challenge was to find a house in which we could live that we could afford.
I got my introduction to variable-rate mortgages that made it possible to buy a new house that was nearly completed. The nearly completed part caused a few problems since we had to remain in the campgrounds for a few more weeks than expected and school was starting. Also, I had to get to a naval base each day that was about 50 miles from the campground. However it all worked out. Mary enrolled the boys in a school close to our new house and transported them to and from school in our new car. I commuted to the base in the VW bug and the camper remained set up in the campground. In a couple months, we moved into our new house; the boys were at their new school, and the family was proceeding as normal. For Michael, the oldest, it was his seventh, different school in seven years but he adapted just fine.
Life as a Deputy Squadron Commander
The job of a Deputy Squadron Commander is not well defined. It really comes down to doing what the Squadron Commander wants done. In Submarine Squadron Six (SUBRON 6) , we had two deputies - one for the propulsion and auxiliaries (including material and nuclear operations) and one for the front end focusing more on weapons and tactics. Once again, I was assigned to the nuclear and material job. I think my early successes had defined my career. SUBRON 6 had about eight SSN 637 class submarines plus a tender, L.Y. Spear (AS 36) which was being built at Quincy, MA. when I was on Sunfish and a submarine rescue ship.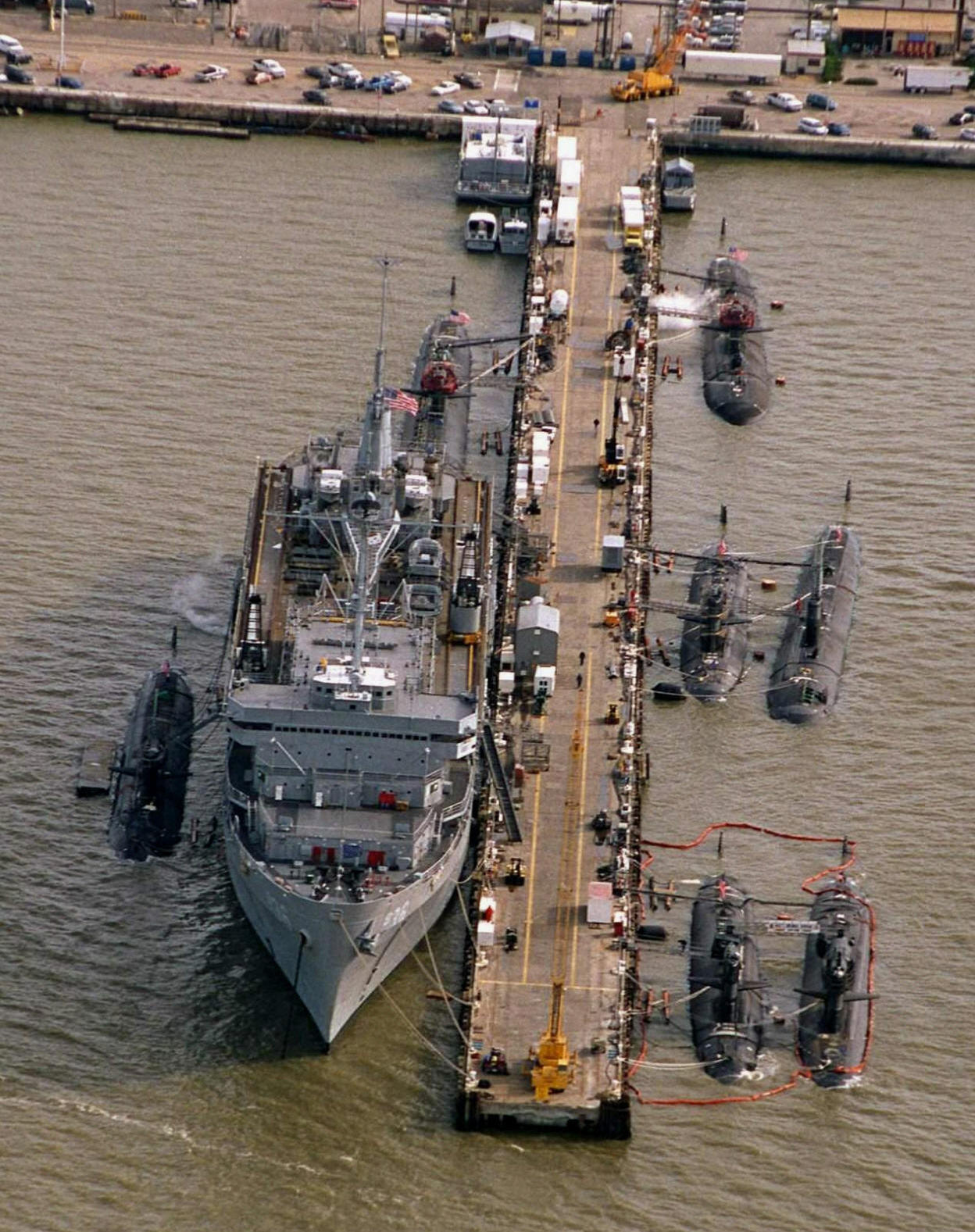 Submarine Squadron 6 and its submarine tender, USS Spear,
moored at pier 23 at Norfolk Naval Base.
The SSNs were of the same class as Bates and Sunfish so I had a good preparation to assist and oversee operations, maintenance, and training. One challenge was USS Glenard P. Lipscomb (SSN 685) which had the same reactor as the others but a turbo-electric propulsion train similar to Tullibee with which I had become familiar when serving in SUBRON 2. The primary difference was that Lipscomb was much larger than Tullibee. Lipscomb presented a set of different challenges that kept us busy for the entire two years I was at SUBRON 6. SUBRON 6 had responsibility for several submarines that were in shipyard-overhaul at the Norfolk Naval Shipyard. I had primary responsibility for oversight and training of the crews while they were in overhaul.
My primary job was to monitor and assist the commanding officers in keeping their nuclear propulsion plants in top, operating condition. The measure of our success was the ORSE.
When preparing for an ORSE, I always spent at least a week onboard during the underway training period and frequently rode the ship during the ORSE. My major focus was to prepare the crew for what to expect from the Nuclear Propulsion Examining Board (NPEB) during the ORSE and how to respond to it's challenges. Secondarily, I attempted to support the final polishing of the records that would be reviewed and to make the best effort for the drills and evolutions that would be observed during the ORSE.
In a week, I could sometimes "bury a few bodies", but the final ORSE result was usually a reflection of how the ship operated on a day-to-day basis. A poorly run ship could not be polished to excellence in a week or so. Some commanding officers never really learned this lesson. Those were the ships where I spent most of my time. In one case, we determined I should ride the ship back from England to provide more time to get things right before the pending ORSE. I flew to London and took the train to Plymouth to meet the ship. Upon arriving at Plymouth, I could not find the ship. A more careful studying of the documents I had, I determined the ship was in Portsmouth - not Plymouth. Talk about an "Ah Crap moment". So I got back on the train to retrace my trip. The conductors on the train were amazingly understanding of my confusion and I made it to Portsmouth only a few hours late using the original ticket. The time returning to Norfolk was well spent and the crew proficiency improved significantly to the point that I was not concerned with their passing the ORSE. Something that I could not have said when I first came aboard.
Read other articles by Captain William Hicks