Mount Creative Writers
Pumpkin Love
Chelsea Baranoski
MSM Class of 2010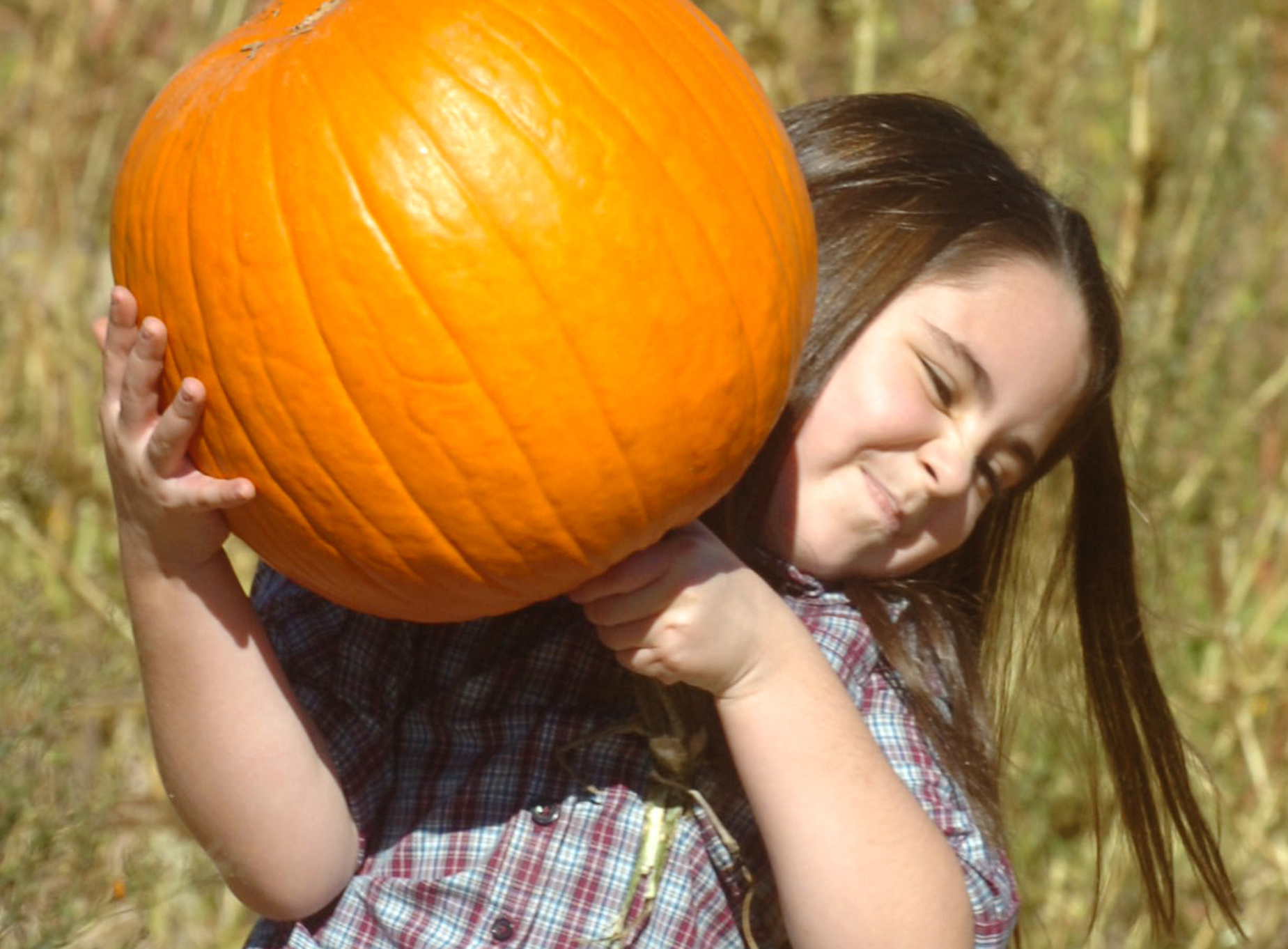 (10/2011) It was that time of year again. The air was crisp and the mountains were a wash of reds, oranges, and golds. It was time for corn mazes, hot cider, and the South Mountain Fair. Joanne looked forward to the fair every year. She loved the sky-high Ferris wheel, the colorful bumper cars, and the sticky sweetness of the cotton candy. This year, 10-year-old Joanne had still wanted to enjoy the exciting rides and the delicious food, but she had also wanted to try something different. She had decided to grow a pumpkin and enter it in the 4-H contest, just like her grandmother had when she was a little girl.
Joanne remembered sitting on the edge of her grandmother's bed not long before her grandmother joined the angels. "Look at these, Joanne," her grandmother had said, pointing to the wood-paneled wall next to her bedside.
"What are they?" Joanne asked, staring up at the seven faded and frayed blue ribbons that hung in a row along the wall.
"I won those when I was around your age. Seven years of growing pumpkins. Seven years of winning the prize for the biggest pumpkin."
"Wow, Nana! That's great! I wish I could win something, but I never win anything"
"It's not about winning," Gram said. "It's about doing something you love. I loved caring for those pumpkins. I cared for them every day, making sure that they had enough water and sunlight. While everyone else was playing tag in the yard, I was out in the field, sitting with my pumpkin. I thought that if I sat with the pumpkin and paid a lot of attention to it, it would grow big and healthy like Popeye the Sailor Man."
"Did all the attention work?" Joanne asked.
Gram reached out with her bony fingers and touched the ribbons. "It sure did."
*****
Joanne set out to grow the biggest pumpkin at the fair. She sprinkled pumpkin seeds throughout her family's field in early June and watched as one pumpkin grew at a rate much faster than the others. Joanne paid particular attention to this pumpkin; she watered the pumpkin every day, pulled out all of the "enemy" weeds, and ensured that no cucumber beetles and squash bugs attacked the vines. Joanne even inspected the pumpkin's leaves, making sure that they did not have a speck of powdery mildew.
July and August were excessively dry months and Joanne was afraid that her beloved pumpkin would not survive. Mother Nature did not seem to be on her side. Each day was drier than the next. 85 degrees. 90 degrees. 96 degrees. She wandered to the pumpkin patch morning, noon, and night to check on the pumpkin. If the ground felt as dry as sand, she would give the pumpkin a long drink of water to quench its thirst. Just like her grandmother many years before her, Joanne would sit next to her pumpkin to keep it company. She would pat the hard rind, breathe in the country air, and offer up a prayer that the pumpkin would continue to grow and prosper.
*****
After months of preparation, it was finally fair time. Joanne hoped her prayers would be answered. The pumpkin was a deep solid orange and weighed over 100 pounds. Her father and grandfather struggled to lift it out of the bed of her parents' sky blue truck. Joanne looked around at her competition. Most of the pumpkins were huge. She was especially worried about Scotty Masterson's pumpkin. He had won the 4-H pumpkin contest three years in a row. But did his pumpkin receive as much loving care as Joanne's pumpkin? Some of the pumpkins were a little bruised and dented, but Joanne's pumpkin was smooth and gleaming in the October sun. All Joanne could do now was wait. She hated waiting. Her mother had told her that she got her impatience from her grandmother. She patted her pumpkin and went for a walk around the fairgrounds. Her stomach was twisting like a pretzel. She passed the shiny green John Deere tractors, the towering rides, and the hungry cattle chewing their hay in unison. She stopped at the concessions for some funnel cake and cotton candy before returning to the pumpkin contest.
"Welcome to the 4-H pumpkin contest," a man with a booming voice exclaimed. He hardly needed the microphone.
"We have studied each pumpkin very closely. There were a lot of great entries this year. Surprising, given the dry summer we had. These pumpkins must have received a lot of love. And now it all comes down to this…."
A lady in a pink flannel shirt handed the man a long white envelope.
Joanne held her breath and crossed her fingers.
"Third place goes to Miss Teresa Jones! Congratulations, Teresa!" the man boomed.
Applause erupted, traveling through the maze of bright orange pumpkins.
"Second place goes to Mr. Tommy Talbot! Congratulations, Tommy!"
Another round of applause bounced from plump pumpkin to plump pumpkin, leafy stem to leafy stem.
And finally, what we've all been waiting for…..the winner of the 4-H pumpkin contest is….drum roll please." Everyone in the crowd patted their knees as a makeshift drum roll.
"Well, what do you know…we have a new winner this year! Congratulations, Miss Joanne Preston!"
Joanne was so nervous that she tuned out the announcer, and did not realize that she had won until her mother elbowed her and tried to wipe some of powdered sugar from the funnel cake off her cheek. When Joanne walked toward the booming voice, she felt like she was walking in a dream. When the man presented her with the blue ribbon and shook her hand, she imagined that her grandmother was smiling down on her. She ran over to her grandfather and showed him the ribbon.
"You earned it, kiddo," her grandfather said, a tear running down his lined cheek.
*****
On the walk back to the truck, Joanne felt a pang of sadness overshadowing the excitement of winning the contest. Her pumpkin had been auctioned off before she had a chance to rescue it. The pumpkin that she had watered and nurtured everyday was now in someone else's hands. She could only hope that the person who bought the pumpkin would realize how much love it had received.
As Joanne neared the truck, she thought she saw something orange sticking out of it. Could it be? Joanne bolted toward the truck. Sure enough, Joanne's pumpkin sat in the bed of the truck, ready to go home. "But how? When?" Joanne wondered aloud.
"Surprised?" Joanne's grandfather asked her, patting her shoulder. "I know how much you love that pumpkin and I couldn't bear to see you part ways. Your grandmother always told me her Grandfather always bought her pumpkins after the contest and I figured you would want the same."
"Thanks, Grandpa," Joanne said, wrapping him in a bear hug.
"And this way, your mother can teach you how to make your grandmother's pumpkin spice pie…." Joanne's grandfather trailed off
"I'd love to learn the recipe," Joanne said. "I've never baked anything before. I hope it turns out like Nana's."
*****
As soon as Joanne arrived home, she begged her mother to teach her how to make her grandmother's pie. The pumpkin was so big that Joanne's father had to use a saw to cut it open. Joanne helped her mother wash the pumpkin and scoop out all of the seeds into a dozen plastic sandwich bags. She would save the seeds for next year's pumpkin patch. She molded the dough for the pie crust and helped her mother fill it with puréed pumpkin.
While Joanne was waiting for the pumpkin pie to finish baking, Joanne's mother told her stories about her grandmother. The time when her grandmother went on a baking binge and baked 25 pumpkin pies in one day. The year her grandmother visited a dozen county fairs in Pennsylvania. The yearly trips to the pumpkin patch to pick out the perfect plump pumpkin for Halloween. Joanne's favorite story was the story of how her grandmother met her grandfather. They were both at the county fair. Both had entered their pumpkins in the 4-H contest. Both had wanted a blue ribbon more than funnel cake. When Joanne's grandmother won the contest, Joanne's grandfather had expected to be disappointed and even a little jealous. However, when he saw the brilliant shine in her grandmother's blue eyes and the pearly smile that spread across her face like an angel spreading its wings, he smiled. He walked over to her to congratulate her, and the rest was history. True pumpkin love.
"Ding! Ding! Ding!" The oven timer begged attention.
Joanne's mother took the giant pie out of the oven. It was the biggest pumpkin pie that Joanne had even seen. She thought it would surely qualify for the Guinness Book of World Records. And there was still enough pumpkin left to make dozens of pies! After the pumpkin cooled, Joanne took a slice of pie and carved a smiley face into the top of it with a toothpick. She walked into the living room and snuck up behind her grandfather, who was sitting in an armchair watching a game show.
"Grandpa, this is my gift for you," Joanne said softly, pressing the plate into his hands, calloused from years of farm work.
Joanne's grandfather looked down at the smiley face pumpkin pie in his hand. Joanne did not think that she had ever seen her grandfather smile so big before. He pulled Joanne in for a hug and kissed her forehead. Now that was pumpkin love.
Chelsea was the 2010 recipient of the
Mount's William Heath Creative Writing Award