Simple Servings
Strawberry-Rhubarb summertime favorites
Carol Cogliano
Hollabaugh Bros., Inc.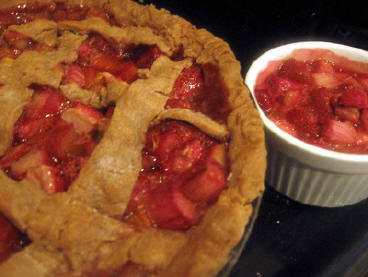 (6/2016) Having been raised by parents who were avid backyard gardeners, one of my favorite summertime desserts is Strawberry-Rhubarb Crisp. My father was able to grow rhubarb like no other (…and believe me -- I have tried -- and failed). I can still remember when he used to harvest the back corner of his relatively small vegetable garden, bringing armfuls of the leafy red and green stalks into the kitchen, standing them up in the kitchen sink for washing. At that point, my mother would prepare them into one of the recipes that I now treasure as an adult. I used to be so disappointed when rhubarb season was over, and I knew I'd have to wait another year to enjoy it.
These days, we are fortunate to have access to rhubarb for a longer span of time, thanks to farmers markets and grocery stores. If you are not familiar with rhubarb, get to know it this summer!
Rhubarb is a tart-tasting perennial vegetable, and one that is typically utilized as a fruit. It can be used in savory recipes, but you are more likely to find it in sweet ones. It is typically sweetened with sugar to combat its tartness and can be thickened by using flour, cornstarch or tapioca – making it the perfect addition to pies, jams and crisps/cobblers.
Preparing rhubarb for recipes is quite simple: trim off the bottoms of the stalks then cut off the leaves (they are actually poisonous, but do not fear – just throw them away). Next, wash and dry your rhubarb. For most recipes, you will need to chop your rhubarb similarly to how you would chop celery. If desired, you may freeze your rhubarb in a freezer bag at this point, but I could never resist the chance to proceed right into a recipe!
I hope that you take advantage of the plentiful supply of rhubarb (and strawberries) this month, trying some of my favorites for yourself. I predict they will become some of your favorites, too!
I would be remiss if I did not pass along my thoughts and prayers to Sharon Racine and her family, in their time of loss. I will do my best to fill her culinary shoes here, albeit for a little while. I hope that she finds peace and comfort in the sunshine and warmth of summer. All our best to you, Sharon.
In my well-worn collection of recipes lives a photocopy of my mother's carefully-typed recipe card for "Rhubarb Crisp". As an adult, I have modified it a bit and thrown in strawberries, as the sweet and tart combination of strawberry and rhubarb is one of my all-time favorites.
Strawberry Rhubarb Crisp
Recipe courtesy of: Carol (Lowin) Cogliano
(If you'd like to make it without strawberries, use 6 cups of rhubarb instead of 4 cups.)
Ingredients:
4 cups diced fresh rhubarb
3 cups sliced fresh strawberries
1 ½ cups sugar
2 Tbl. water
1 cup sifter all-purpose flour
½ tsp. cinnamon
1/8 tsp. salt
½ cup butter (1 stick)
Vanilla ice cream (optional)
Instructions:
Combine rhubarb, strawberries, 1 cup of the sugar and water; mix.
Place in 9x13 pan.
In a separate bowl, combine flour, remaining ½ cup sugar, cinnamon and salt.
Cut in butter with pastry blender until mixture is crumbly.
Sprinkle evenly over rhubarb/strawberry mixture.
Bake at 350 degrees until rhubarb is tender, hot and bubbly, about 50 minutes.
Serve warm or cold, topped with vanilla ice cream.
I have the good fortune of working as the Director of Events for a local family-owned Fruit Farm and Retail Market: Hollabaugh Bros., Inc. in Biglerville, PA. Not only do I have access to the freshest local produce, but I have also added a few of their family favorites to my collection of recipes.
Strawberry Rhubarb Pie
Recipe courtesy of: "The Hollabaugh Family Cookbook"
Ingredients:
1 pastry for a 10 inch double pie crust
1 ½ cups sugar
¼ tsp. salt
½ tsp. grated orange peel
¼ cup quick-cooking tapioca
¼ tsp. ground nutmeg
¼ cup fresh orange juice
4 cups rhubarb, cut into ½ inch pieces
2 cups fresh strawberries, quartered
2 T. butter, cut into small chunks
1 T. milk
1 T. sugar
Instructions:
Preheat oven to 400 degrees.
Divide the pastry in half, roll out half to a round pie crust about 12 in. diameter. Place the pie crust in a pie plate. Refrigerate the other half of the pastry until needed.
Stir the sugar, salt, orange peel, tapioca, and nutmeg together in a bowl until well blended.
Gently stir in the rhubarb, strawberries and orange juice; pout into the prepared pie crust. Dot the filling with butter pieces.
Roll the remaining pie crust out to about 12 in. diameter and place over the pie filling. Fold the edges of the top and bottom to seal the 2 crusts together, then crimp.
Brush milk over the top crust of the pie, then sprinkle with sugar. Cut several vent holes in the top crust.
Bake in the preheated oven until the filling is thickened and bubbling and the crust has browned, about 40-50 minutes.
Check after 30 minutes baking time; if the crust edges are browning too quickly, cover them with strips of aluminum foil.
Cool before serving.
My dad also loved to prepare rhubarb into a sauce, to enjoy drizzled over vanilla ice cream. It's a great summertime dessert to enjoy following a family cookout or while enjoying a sunset on your back porch. Although I no longer have his exact recipe, it was a simple mix of just several ingredients.
Strawberry Rhubarb Sauce
Recipe courtesy of: www.caramelpotatoes.com
Ingredients:
2 cups fresh rhubarb, diced
1 cup water
3/4 cup sugar
1/4 teaspoon salt
2 cups fresh strawberries, chopped
2 tablespoons lemon juice
3-5 drops red food coloring (optional)
Instructions:
Combine rhubarb, water, sugar, and salt in a medium saucepan.
Bring it to a boil and then reduce heat to medium and cook for 15 minutes.
Add strawberries, lemon juice, and food color.
Continue to cook for another 10 -15 minutes or until rhubarb is soft and tender.
Remove from heat and cool.
June Events:
June 9th - 7-8:30 p.m. – Nat'l Strawberry Rhubarb Pie Day, Adult Cooking Class – Cost: $30, registration required
June 11th – 10 a.m. or 1 p.m. seating – Ladies' Herbal Tea (for ages 13 and up) – Cost: $30 or 2 for $50
June 15th - 2 sessions: 9 or 10:30 a.m. – Read, Learn, Grow Summer Reading Program (for children ages 3-8) – Cost: $6.00, no registration required – Runs weekly on Wednesdays through August 3rd
June 18th – 10 a.m. -4 p.m. - Father's Day "Make and Take" Gift Basket Event – Cost $10.00, no registration required
June 21st – 6-7:30 p.m. – Kids' Summer Cooking Series – Snack Attack! (for kids ages 9-13) – Cost: $30.00 per session, registration required. Series Schedule: June 21st: How 'bout them Apples? (Apple Snacks) / July 5th: Make it with a grain of salt (Salty Snacks) / July 19th: I've got a sweet tooth! (Sweet Snacks) / August 2nd: Pop Goes the Popcorn (Movie Night Snacks) / August 16th: What Homework?! (After School Snacks).
Visit www.hollabaughbros.com for a full listing of their upcoming events and classes or call 717- 677-8412 to register.