Common Cents
Havana Daydreaming
Ralph Murphy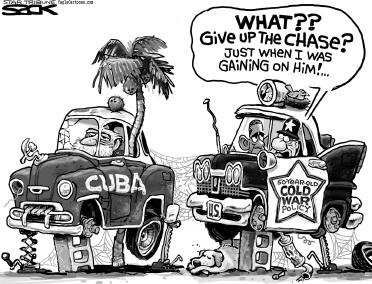 (1/2015) On 17 December President Barack Obama issued a statement indicating there would be an immediate exchange of prisoners between communist Cuba and the United States. He went on to state that diplomatic relations and trade ties would resume between the two nations for the first time in over five decades. When I heard this news, for some reason an old Jimmy Buffett song "Havana Daydreaming" came to mind.
Alan Gross, a 65-year-old State Department employee, was to be released along with 52 Cuban political prisoners and an unnamed informant. Gross had served 5 years of a 15-year sentence for providing internet equipment to the island. His release was accompanied by an American gesture to free three federally mandated Cubans held in Florida detention as well as trade and government exchanges.
The new working relationship between Havana and Washington had been given impetus by Gross's detention and harsh sentencing for activities considered legal and constructive by most in the developed world. Canada and the Vatican facilitated the exchange. Ottawa leant a site forum, and the pontiff helped to "hammer out" the final details. The largely Catholic, Latin American nations have accepted papal guidance in recent political disputes between Argentina and Chile as well as Peru and Chile. It's rare however, that they would be consulted by atheistic, communist Cuba. On 17 December it appeared to work.
In announcing the new policy, the Obama administration noted the introduction of a series of measures that included the mutual easing of travel restrictions, new trade with the Cubans, telecommunications improvements to include phone, and curiously, internet services on the island, as well as a State Department review of Cuba's designation as a "state sponsor of terrorism". Congressional Hispanics from both sides of the aisle were indignant. Senate Foreign Relations Committee Chairman Robert Menendez (D-NJ) claimed the proposal had "vindicated the brutal behavior of the Cuban government" without further elaboration.
Sen. Mario Rubio (R-Fla) called the measure "a victory for the repressive Cuban government and a serious setback for the repressed Cuban people". The White House wasn't dissuaded in what could well be the seminal foreign policy achievement for its second term. It asserted the ties would "advance (American) values in Cuba", as well as open new avenues of wealth to the islanders long suppressed by an oppressive bureaucracy in a state planned economy.
American involvement on the island dates back to the 1898 Spanish-American war in which it gained protectorate status. The links were loosened over time and Cuba was prone to infighting and dictatorship under various ideologies. President Fulgencio Batista, who had seized power in the 1933 "Revolt of the Sergeants" was toppled by Fidel Castro's July 26th Movement in December of 1958.
Castro's initial appeal for democracy was quickly replaced by the reality of communist consolidation. By 1960 he had legalized the communist party politically and struck a quick commercial alliance with Soviet Moscow. President Dwight D. Eisenhower mobilized the CIA that reportedly supported armed democratic units, but the movement was stalled and logistical support complicated by the Caribbean "moat".
President John Kennedy approved the infamous "Bay of Pigs" invasion in April of 1961, but didn't follow through with promised air support for the roughly 1400 exiles that were mostly killed or captured. In October 1962 the US confronted Moscow during the "Cuba Missile Crisis". It was the closest the world has ever come to large-scale nuclear exchanges in the Cold War era. Moscow agreed to withdraw the weapons and to not introduce them again if the Americans didn't interfere in Cuban affairs.
While Castro had become something of a pawn in the East-West struggle, the agreement did lock his communists in power without significant US involvement until the recent accord spearheaded by Gross's plight and defiance. In certain international exchanges, timing appears critical to affect a change and Cuba seems ready to embrace the West.
In 1991 the collapse of the Soviet Union directly affected Cuba that saw up to $4 billion in annual trade subsidies for food and fuel simply vanish. Ties to Latin America remained good in subsequent decades- especially as South America drifted left in the Mercosur and budding Unasur trade pacts.
Venezuela was especially helpful to Havana by providing 110,000 barrels of oil a day for scant payment other than medical services because Cuba had a glut of doctors. From 2008-2010 Venezuela reportedly subsidized up to 20% of Cuba's GDP- similar to the Soviet's influence-buying before their collapse. With the world awash in low priced oil and Venezuela mired in inflation, debt, and domestic violence. Cuba had to change.
The People's Republic of China (PRC) offered trade deals that took about 16.9% of Cuba's exports. This market is largely limited to commodities such as coffee and sugar. Cuba produces about 10% of the world's sugar supply. Beyond limited nickel mining, Cuba has few other exports of value. Nickel however, has considerable value, and constitutes a reported 21% of the nation's total exports in 2014. Much of that purchased from the Canadian firm of Sherrit International that operates a multinational mining facility at Moa. Canada is reportedly Cuba's primary export market surpassing the PRC with a 17.7% inflow.
Easing of trade to the Americas is a bit more difficult in Cuba's case as the country has been singled out for sanctions by the U.S. Congress as opposed to adherence to a binding international treaty. The Obama administration intends to immediately lift travel restrictions and financing to include the use of credit and debit cards on the island. They also want the easing of sales of non- threatening items such as building materials, agricultural equipment, and unspecified other goods and services.
Again, a more comprehensive trade alliance with any economic embargo respite requires Congressional approval. And Cuba has so long been an antagonist to US interests, so it may take additional "good faith" gestures by the Cubans to convince Capitol Hill that it has really changed. Current Cuban President Raul Castro appears to be in a bit of a sibling rivalry with his brother Fidel regarding reforms.
Particularly in areas such as allowing some degree of self employment, legalization of the US dollar in trade, increased tourism and even an element of private property ownership. Few other nations, especially those that have a social or economic influence on Cuba, espouse a return to communism.
While Cuba appears to symbolize defiance too much of the world community- this defiance seems to be going nowhere constructive. By opening up to the West, the 11 million citizens of Cuba can hopefully enjoy some increased degree of prosperity and freedom.
Ralph Murphy is a former member of the CIA Headquarters Staff in Langley, VA.
Read past editions of Ralph Murphy's Common Cents