Common Cents
China's chance
Ralph Murphy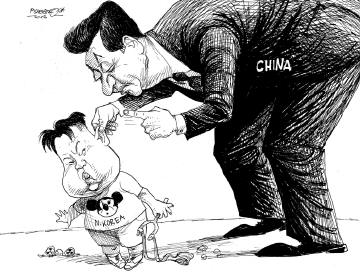 (3/1/2014) A February, 2014 United Nations Human Rights Council report blasted North Korea and its leadership for committing "crimes against humanity" in relation to treatment of repatriated exiles. The study recommended the UN Security Council send the case to the International Criminal Court (ICC). The matter puts The Peoples Republic of China (PRC) in a quandary as North Korea's only effective international ally, and the primary source of its deportees. All this at a time when the PRC is trying to present itself as a constructive and mature world power. The returned Koreans face torture in detention camps, and certain death if ties to South Korean intelligence are proven or strongly suspected.
While neither China nor North Korea are members of the ICC, and with limited historic exceptions one must be a member to be brought before the tribunal, the imprisonment of at least 120,000 detainees in political "gulags" is a concern. It was also avoidable and most likely traced back to the PRC's 1990's food aid program which allowed up to 300,000 economic refugees to flood a border region on the China side of the frontier.
Many of the refugees chose to stay in what was largely an ethnic Korean region. That's when the friction became acute as China wanted to regain control of the area, and labeled the foreign nationals "illegal immigrants" subject to deportation rather than declaring them refugees which would provide them protection under international law.
North Korea's Supreme Leader Kim Jong-un theoretically faces charges of crimes against humanity in the case. However, even if the case could be brought before the fledgling ICC - China as a Security Council member would certainly veto the measure. The ICC is responsible for the prosecution of the "world's worst" human rights violators, but has "no enforcement powers of its own. Cooperation of states is the quintessential element that gives meaning to the court decisions."
The ICC has had some successes, notably the conviction of Liberia's President Charles Taylor, but he was "on the run" when apprehended and charged with 11 counts of crimes against humanity. A sitting ruler like Korea's Kim hasn't been apprehended and presented before the tribunal. Concern that a leader could be so treated has dissuaded even the United States from joining the body. There remains the possibility that one might be forced to Hague jurisdiction for international events over which the President may have had a limited role.
Historic ties between the PRC and North Korea were established during the 1950-53 Korean War. China sent 3 million soldiers to fight for the North, and lost up to 180,000 of them in the conflict.
China has economically drifted away from a socialist planned economy. Korea remains one of the few remaining nations with such a system on the world stage. Still, the human and associated institutional ties between China and North Korea run deep.
China's economic assistance to North Korea amounts to about half that country's foreign aid. The PRC is North Korea's largest export market, but is ranked 82nd for Chinese imports. Korea imports mineral fuels, oil, machinery, vehicles, and steel from the PRC while exporting ores, apparel, iron, and fish to its neighbor. Total trade turnover was about $2.68 billion in 2009. China's economy generated well over $8 trillion last year- placing it second in the world. Korea is an "after thought" in Chinese trade policy, but their close diplomatic relationship is arguably China's primary, foreign policy nightmare.
Korea's nuclear program, which prompted even Chinese approved UN sanctions after a successful illegal 2009 testing, has mired international relations between that country and the world. It's sinking of South Korean Warship Cheonan, and impoundment of Chinese fishing boats - some for ransom - haven't endeared them to the Chinese either. The North Korean bombardment of the South Korean island of Yeonpyeong in 2010, occurred at a time when China was making inroads into improved relations with the South.
China and South Korea have grown closer in economic ideology at the same time as the PRC has drifted away from North Korea's state planned economy.
Politically, improved relations with the South have been hampered by a territorial air and sea dispute in the East China Sea, but the two sides appear to be working around their bellicose rhetoric. South Korea, which registered a balance of trade surplus of $32.5 billion with China in 2009, continues to have strong economic ties with the Chinese despite limited sanctions associated with their political dispute.
Any attempt to unify the Korean Peninsula more likely hinges on China than any other world player. In an apparent effort to foster better ties with China, South Korea "did not condone or condemn" the Tiananmen Square massacre of June 1989, while the North predictably applauded the event. Subsequent to that, Seoul and Beijing established formal diplomatic ties in August of 1992. South Korea appears ready to work with Beijing diplomatically as well as economically, but Pyongyang is increasingly isolated and erratic. If it weren't for their nuclear and chemical weapons - the North's eccentricities might be overlooked. But, as it is - the nation has to be taken seriously.
China and South Korea will likely weather their difficulties. The South's economy generated $1.13 trillion in 2011 goods and services for a population of about 50 million people. In contrast, North Korea managed to produce a mere $40 billion for a population of about 25 million. Economically the North would be wise to follow China's lead and move away from a state planned economy. This could provide a path towards the eventual unification of the Korean people-North and South. They have been one people since the Bronze Age that are artificially separated by bad politics. China has a chance to make unification of the two Koreas a reality.
Ralph Murphy is a former member of the CIA Headquarters Staff in Langley, VA.
Read past editions of Ralph Murphy's Common Cents