Bedtime Stories
The ant, the ladybug and the tree
Amy T. Wilkinson
Illustrations by Austin Beach
In the woods, not far from you, there lived a group of bugs.
An ant, a beetle, a bumblebee and let's not forget the slug.
They worked and played and carried on and got along just swell.
Then one day their home was taken, if you like, it's a story I shall tell.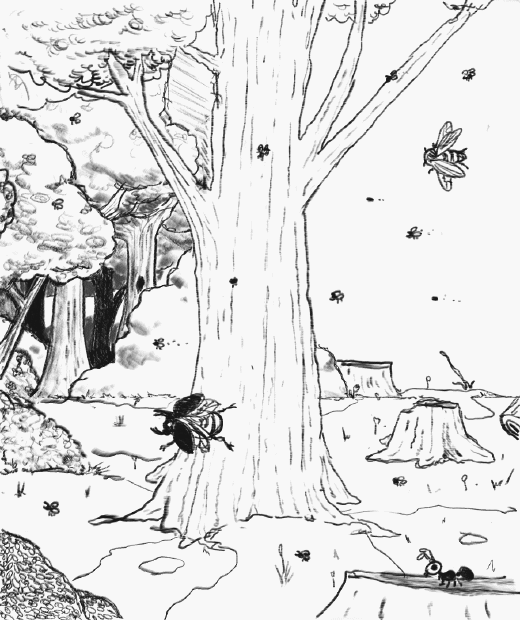 They lived together in a great forest, in the hollow of a tree,
The spider, the termite, the ladybug, and a hive of honeybees.
Each insect had a special job to help its habitat,
The earthworm, the aphid, and the flea, even the little gnat.

Then came the day they woke from sleep to hear a mighty boom,
It was a sound that filled them all with terror, dread, and gloom.
The ant, he was the bravest; he gazed down at the ground below.
What he saw confused him; it was a creature he did not know.

It was a great big thing that stood up straight and walked on its two legs,
And instead of antennae or feelers, it wore a hat upon its head.
In its hands it carried an axe, which it used to strike the tree,
The ant scuttled down the branches, hoping the creature would hear his plea.

"Good sir," the ant called, "Pray, tell me, what's your intention?
There is a group of insects who live here, please heed this intervention.
If you continue to chop this tree, our home will be destroyed.
It is a fate, I'm sure, not only you, but we all wish to avoid. "

The creature turned to face the ant, and gave this short reply;
"I am a human, I do as I please. I care not of ants, or flies."
The human swung his axe and struck another forceful blow.
The tree swayed back and forth before crashing into the snow.

The first to leave were the honeybees,
for their hive was ruined in the fall of the tree.
The ant watched them go with pity and regret.
He turned back to the human; he might just stop this yet.

"Human, human," he cried out loud, "You must listen to what I say,
You are forcing us to leave our home, won't you please just go away?"
"I have told you, ant," the human screamed, "You will just have to adjust.
I need this space to build a mall, so chop it down, I must."

For the next few days the bugs looked on as he chopped their timberland,
After three days, the beetles left, it was more than they could withstand.
The day after that it was the bumblebee who decided to take flight.
"I'm sorry, ant," he apologized, "But there are no flowers left in sight."

After the trees had all been cut down, the human laid the hot concrete.
It was then the earthworm who had to leave, for he could not bear the heat.
"Mister!" the ant called from his place on the ground, "Just look at what you've done!
You came to our home, kicked us right out, and don't care what we become."

"Now, we must leave, for if we stay, our future looks awfully grim,
But you care not a lick for that as long as you have a place to build your gym.
Or mall, or shop, or grocery, to us it's all the same,
But, I warn you, keep pushing us out of our homes, soon there will be nowhere we can claim."

So, the ant set off in search of his friends, and he found along the way,
The house fly, the slug, and the ladybug, all in a state of deep dismay.
They gathered together and built a new home with the thought they could resume,
their lives the way they had been; but then, they heard another mighty boom.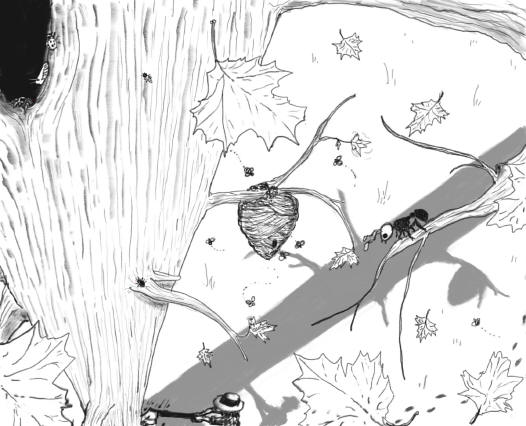 Read other Bedtime Stories by Amy Wilkenson
---
Amy Wilkinson is a graduate of Hood College with a Bachelor's in Law and Society and lives in Frederick Maryland.
Amy began writing and telling stories at a very young age. Starting with daily journals at around 8 years of age, she later progressed to fiction and poetry never putting her pen down for more than a few hours. Nature and animal lover, essayist, and poet, Amy Wilkinson sets many of her stories in a forest or other outdoor setting. Much of the material for children focuses on various life cycle, coming of age, morality, and individual interaction issues frequently seen through the everyday lives of her woodland creatures. Her bedtime stories balance equal parts of lively prose with food for parent/child discussions.
Austin Beach graduate from Urbana High School and is a current Frederick Community College student studying art.

Austin has been drawing since before he could walk but did not begin learning other traditional mediums until high school when he began art classes. He has worked in most mediums including but not limited to oil paints, watercolor paints, pastels, Ink pen, charcoal, pencil, and digital media. In addition he has worked with many mixed media projects, clay, and found objects. Austin's subject matter has included landscapes, figure studies, portraits, whimsical illustrations, and fantasy related scenes and characters among other things.

In addition to art Austin has worked with numerous advocacy oriented organizations in Frederick and has been recognized as an emerging leader by Vice President Biden for founding and becoming Executive Director for a local Non-Profit.

He can be reached for other commissioned work via Facebook at Facebook.com/AustinBeachArtist.