Bedtime Stories
Serpentine the Snake
Amy T. Wilkinson
Illustrations by Austin Beach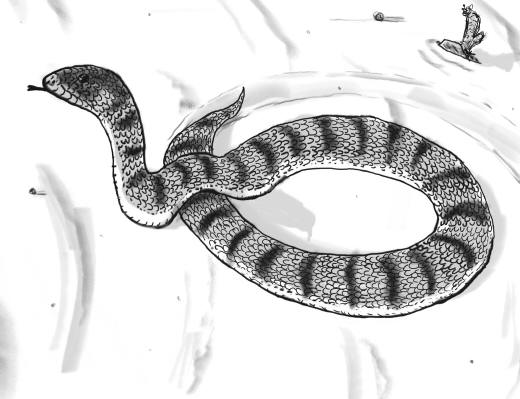 There once was a snake who seemed quite nice, he appeared a decent lad.
But, he had a habit of making friends, then taking everything they had.
He lived in a place that was dry and hot, an area covered in sand.
One scorching day he approached a group of animals and offered to lend a hand.

He said to them, "Alas, I can help you, they call me Serpentine.
If you all follow me and do as I say, I'll take you someplace divine.
It is a place that is cool and shady, and the water is clear and cold.
If you come with me, I'll take you there, but you must do exactly as you're told."

The animals grew excited, he could take them to the home of their dreams.
They did not know that his altruism was just part of his scheme.
"Come see what future awaits you," Serpentine said to creatures,
"Follow me, I'll show you the way. I'd be happy to be your teacher."

So they all decided to go with him, for they were hoping to find,
A place where they could live in comfort, not knowing their trust was blind.
He had promised them cool shade, water and a better life,
Where they could live out of the heat with no worries and no strife.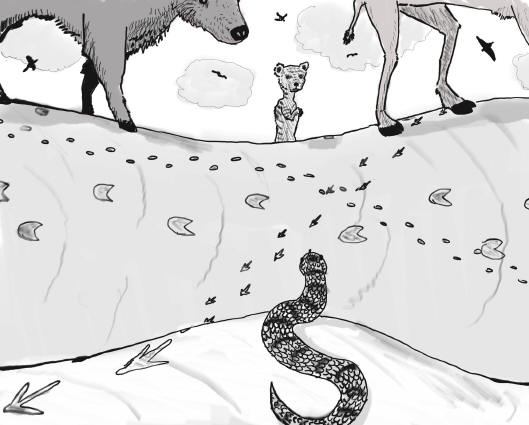 The bears they went without a care, the birds followed without a word.
The prairie dogs all hopped along, and the buffalo left in herds.
The desert toad packed up his things, and the camels followed behind.
The antelope jumped with joy, and the tortoise was slow, but resigned.

Most of the animals that followed him were not a clever crew.
Serpentine had bad intentions, but this was not something they knew.
They followed him for days on end; they crossed over mountains, valleys, and streams.
They became exhausted marching along, under the rays of the hot sunbeams.

When at long last they arrived at their final destination,
The animals all skipped and jumped and leapt in delectation.
For it was true, there was cold water and grass and trees abound,
They splashed in the water, rolled in the grass and skipped across the ground.

When the animals had drank their fill they began to feel fatigued,
Serpentine said, "Go to sleep!" And the animals did concede.
The animals had all trusted him, not a single one had shown a doubt.
They didn't know he had planned to trick them, or what his intentions were about.

You see, Serpentine had conned the creatures,
Because he was fond of the meat they featured.

This was not the first time he had pulled this trick,
For he was sly and smart and slick.
When the animals laid down to rest,
Our Serpentine did what he did best.

He slithered around and planned to eat them.

He planned to eat their claws and paws.
He planned to eat their beaks and cheeks.
He planned to eat the lion and the bear.
He planned to eat the otters and the hare.
He planned to eat the toucan and the snail.
He even planned to eat a giant sperm whale.

He slithered towards a sleeping fawn and opened his wide jaw,
But the deer woke up and leapt away, frightened of what he saw.
The deer cried out, "Serpentine, I thought you were our friend!
You said you'd give us a better life, is this what you intend?
These animals have trusted you, but it was all a trick.
Please go away now, Serpentine, you're making me feel sick."

He slid through the camp, and watched the animals as they slept,
When he thought of the things he planned to do, he broke down and wept.
These animals had trusted him; their lives were in his hands,
Someone needed to protect them and he would take command.

He had made some bad decisions, and what he did was wrong,
But he had finally found a group to which he could belong.
He found a place and curled up right next to a pariah hound,
He was happy to have a place, and pleased that he had found:
You should do unto others as you would have them do to you,
Serpentine had changed his life and was pleased to start off new.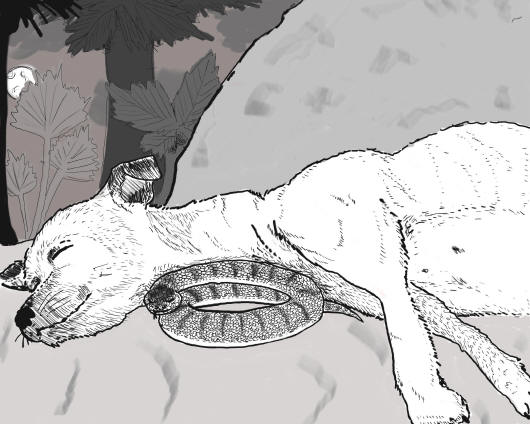 Read other Bedtime Stories by Amy Wilkenson
---
Amy Wilkinson is a graduate of Hood College with a Bachelor's in Law and Society and lives in Frederick Maryland.
Amy began writing and telling stories at a very young age. Starting with daily journals at around 8 years of age, she later progressed to fiction and poetry never putting her pen down for more than a few hours. Nature and animal lover, essayist, and poet, Amy Wilkinson sets many of her stories in a forest or other outdoor setting. Much of the material for children focuses on various life cycle, coming of age, morality, and individual interaction issues frequently seen through the everyday lives of her woodland creatures. Her bedtime stories balance equal parts of lively prose with food for parent/child discussions.
Austin Beach graduate from Urbana High School and is a current Frederick Community College student studying art.

Austin has been drawing since before he could walk but did not begin learning other traditional mediums until high school when he began art classes. He has worked in most mediums including but not limited to oil paints, watercolor paints, pastels, Ink pen, charcoal, pencil, and digital media. In addition he has worked with many mixed media projects, clay, and found objects. Austin's subject matter has included landscapes, figure studies, portraits, whimsical illustrations, and fantasy related scenes and characters among other things.

In addition to art Austin has worked with numerous advocacy oriented organizations in Frederick and has been recognized as an emerging leader by Vice President Biden for founding and becoming Executive Director for a local Non-Profit.
He can be reached for other commissioned work via Facebook at Facebook.com/AustinBeachArtist.