Bedtime Stories
The Koala and the Snow
Amy T. Wilkinson
Illustrations by Austin Beach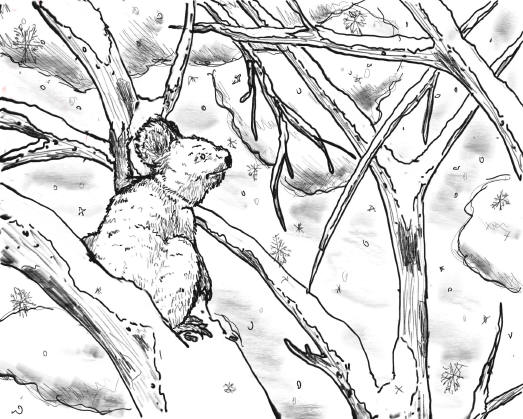 A koala rose from her bed one day, to find the ground was white and the sky was grey.
And all the animals stood and frowned, for never had they seen snow on the ground.

The first to speak was the kangaroo, he said, "What's this? It simply won't do.
How am I to reach the grass while it's covered with this cold, wet mass?"

The platypus showed his assent, by offering his own two cents,
Said he, "There is no way to find my lake, I see not a single path to take."

The emu scowled, and the dingo howled.
The snake, he sighed and the wombat cried.

The bat, he chattered, after the cockatoo sung,
But the wise koala just held her tongue.

The sugar glider hopped around, the skink got dizzy and had to sit down.
The crocodile hissed and moaned, and the little wallaby cried for home.

When all the animals started to shout, the koala bear began to doubt,
That for the snow they would find a use, and stop their profaning and abuse.

As she climbed down from her tree, she called to the animals, "Listen to me,
There is nothing worse you can do in a bind, than abandoning your presence of mind."

Said she, "Be quiet and keep calm," exhibiting her great aplomb,
"For I am sure we can find a way to overcome our deep dismay."

To the albatross, she said, "Take flight, let us know if you see any green in sight."
She thought aloud to the old cane toad, "We need to form some sort of road."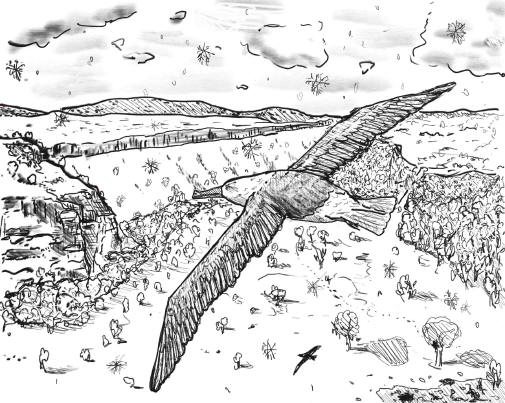 The old toad turned and hopped away and to the Tasmanian devil did say,
"If you run with speed into the snow and back, we may be able to clear a path."

"If we work with diligence we will get through; enlist some help; ask the bandicoot.
In an attempt to part the snow, the little quokka began to blow."

The bandicoot and the devil ran, the sea lion jumped in and across he swam.
The kookaburra flew back and forth and helped the others plot their course.

In as much time as it took the snow to fall, the animals had crossed, one and all.
They arrived in the grass safe and sound and skipped and leapt with joy abound.


If you asked them what they learned that day, they would stand right up and say,
"When we use what we've got, every paw and feather, we can make it better when we all work together."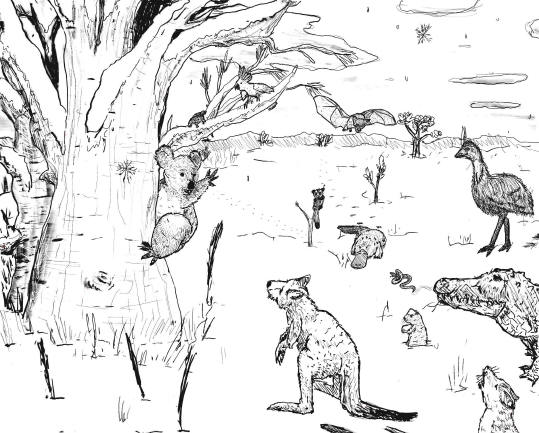 Read other Bedtime Stoires by Amy Wilkenson
---
Amy Wilkinson is a graduate of Hood College with a Bachelor's in Law and Society and lives in Frederick Maryland.
Amy began writing and telling stories at a very young age. Starting with daily journals at around 8 years of age, she later progressed to fiction and poetry never putting her pen down for more than a few hours. Nature and animal lover, essayist, and poet, Amy Wilkinson sets many of her stories in a forest or other outdoor setting. Much of the material for children focuses on various life cycle, coming of age, morality, and individual interaction issues frequently seen through the everyday lives of her woodland creatures. Her bedtime stories balance equal parts of lively prose with food for parent/child discussions.
Austin Beach graduate from Urbana High School and is a current Frederick Community College student studying art.

Austin has been drawing since before he could walk but did not begin learning other traditional mediums until high school when he began art classes. He has worked in most mediums including but not limited to oil paints, watercolor paints, pastels, Ink pen, charcoal, pencil, and digital media. In addition he has worked with many mixed media projects, clay, and found objects. Austin's subject matter has included landscapes, figure studies, portraits, whimsical illustrations, and fantasy related scenes and characters among other things.

In addition to art Austin has worked with numerous advocacy oriented organizations in Frederick and has been recognized as an emerging leader by Vice President Biden for founding and becoming Executive Director for a local Non-Profit.

He can be reached for other commissioned work via Facebook at Facebook.com/AustinBeachArtist.