The 2nd Lieutenant
Learning how to stand

2nd Lt Julia Mulqueen, USA
MSM Class of 2012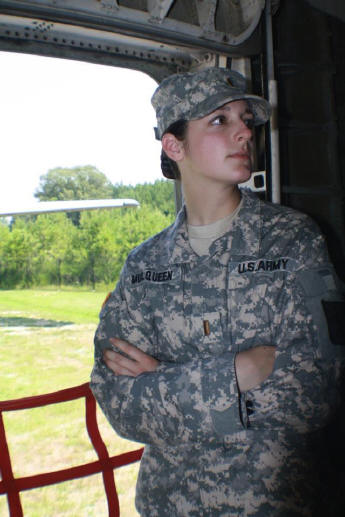 (10/2012) I handed the TSA agent my identification card and boarding pass, and she waved me through. As I stood in line for the metal detector, I looked back at my mom, standing with her arm linked with my dadís, tears welling in her eyes. My brother Andrew stood next to them, smiling and standing tall.
Soon I was through security: shoes, belt, and earrings in hand. I could no longer see my family. I knew they were leaving the airport to pick up my other brother, Alex. You see, just hours after I left, Alex returned from a yearlong deployment to Kosovo. So in essence, my mother had to exchange one child for the other. She says each time it gets harder to let us go. Each time, her heart weighs a little heavier and her tears flow more freely. Truly, she is an incredible woman and an amazing mother, and it tears me apart each time I leave her.
After I passed through security, I grabbed my things and held my head high as I walked toward my departure gate, knowing that although I was leaving my family, I was embarking on an incredible journey. I was stepping into the beginning of my career.
My first flight on the leg to Oahu was from Newark to Dallas. Onboard, I sat next to a girl studying at the Fashion Institute of Technology in New York City. The man in front of us was heading back home with his new seeing-eye dog. When the two of them found out I was in the military and moving to Hawaii to serve, they lit up. Each was full of questions. The student was surprised at first, remarking, "But you have Coach shoes on and a jacket with sequins. Youíre so chic, and youíre in the military!" The blind man in front of me shook my hand, clearly impressed with my decision to serve. He said he had always wanted to join, but never could because of his eyes. It made me realize how blessed I am just to be a part of the Army.
Soon enough the flight was over, and I left my two new friends to board the plane to Oahu. For some reason, I thought the flight would be short. It was seven hours. I had one granola bar with me and received two diet cokes from the flight attendants on board. During the last two hours of the flight, I chewed bubble gum consistently and chugged the coke in an effort to divert my hunger. By the time the plane landed, my stomach was doing summersaults and my eyes were watering I was so hungry. As I walked to baggage claim, I spotted a Starbucks and ducked in to find something to gnaw on.
After that, I walked to get my bags and then signed in to the 25th Infantry Division at their Replacement Detachment kiosk. The inn on post had no room, so lucky for me I was able to stay at the Hilton Hawaiian Village in Waikiki for my first weekend on the island.
Because I stayed at the Hilton for the entire summer during school in Virginia, I am now a Diamond member of Hilton rewards. This means that they call me to test new Hilton resorts for them, I have free wireless internet in all Hiltons, and I receive a host of other benefits. One such benefit at the Hilton Hawaiian Village was free breakfast every morning in the VIP Terrace. So every morning, I would run along the beach at Waikiki and then wander onto the terrace for the best pineapple and coffee I had ever tasted.
Unfortunately, all good things must come to an end, and on Monday I began in-processing and moved into a different hotel that was closer to the airport and Schofield Barracks. In-processing is usually a week-long ordeal that consists of fully checking into oneís new unit. Mostly, it means listening to briefings about the post and going through medical and beginning the housing search.
Honestly, my first week on the island was difficult for me because I was experiencing so many transitions at once. I picked up my car, but it had $3600 worth of damage because of an accident during shipping. I was consistently getting lost around the island, and the more I got lost, the more frustrated I became. I felt out of place and lonely away from home. And to top it all off, I had to begin the search for a place to live for the next year, and I had no idea where to start. I was staggering under the stress.
So naturally, I turned to my family, my dad specifically. He is so helpful because he has been in the exact same position as I me. I texted him, frustrated and feeling lost, asking for advice. He replied, saying "I remember PCSing [moving] and feeling EXACTLY the way you do. Overwhelmed, frustrated, lonely. Donít worry; itíll get better. Prioritize what you can and take care of the select important things. Forget about the less important stuff."
I immediately felt relieved, and then I received his second text message, which read, "Imagine being 49, starting a new job, and being overwhelmed. Now THATíS pressure. LOL." He just started a new civilian job after serving 26 years in the Army. And with that, I realized that everyone becomes stressed when they enter into a transition in life. Back at Mount Saint Maryís, I was on top of the world. I had my routine down, I was confortable in my position as ROTC battalion commander and knew what was expected of me, and I had a safe place to call home. Here, I am completely fresh, bright-eyed, and feeling like a newborn giraffe trying to learn how to stand up without falling over.
As each day passes, however, I feel more and more comfortable in Hawaii. I am finally learning my way around the island, and as a result, I have made far less illegal u-turns to get where I need to go. I met the other lieutenant in my company, and I met my company commander. I have in-processed fully, and I made it through medical and getting blood drawn without passing out.
Just this weekend, I was able to visit an apartment in Moiliili. Moiliili is a neighborhood in Honolulu right by one of the University of Hawaiiís campuses. It is just a few blocks north of Waikiki. The apartment I looked at is a two-bedroom, one-bath corner unit with a lanai, or balcony, that overlooks Waikiki and Diamondhead. It is close to the highway, and I think it will work quite nicely for me. The woman who owns it used to live there before she married her husband. She only had one request Ė that I treat the apartment as my own.
So as each day rolls into the next, I feel more and more comfortable here. Admittedly, it is very difficult to feel so far from my family, and the time difference does not help with communication. I am still upset about the damage to my car, and it is frustrating dealing with the claims people. I feel out of my element as far as my job goes, too, because I was slotted in an ordnance position, but I was trained in transportation.
However, with the rough spots I have encountered, I already feel that I have grown immensely. Once again, the Army has molded me into a stronger, more capable person, and with each negative, come many more positives. If I am feeling down, I need only take one glance around me and remember that I am in paradise. I have already met some amazing people here, and the Hawaiian "aloha spirit" of love and openness absolutely permeates the island. I have to pinch myself often in order to remember that this is actually my new home.
Each day when I put my uniform on, I remember an experience I had at my officer basic course in Virginia. My friend Heather pulled me aside one day to give me a small gift. It was a saintís medal with Saint Joan of Arc on it, the patron saint of soldiers. I gasped when she handed it to me. Saint Joan of Arc is my confirmation saint, but I had never told Heather that. Heather gave it to me because Joan of Arc used to say, "I was born to do this." Another soldier had given Heather a Saint Joan of Arc medal once because she felt Heather was born to be a soldier, just like Joan of Arc. Heather in turn felt the same way about me. So whenever I feel confused, or lonely, or like that newborn giraffe learning how to stand, I just touch the medal at my neck and remind myself that I was born to do this.
Read other articles by Julia Mulqueen