The 2nd Lieutenant
Preparing for Paradise

2nd Lt Julia Mulqueen, USA
MSM Class of 2012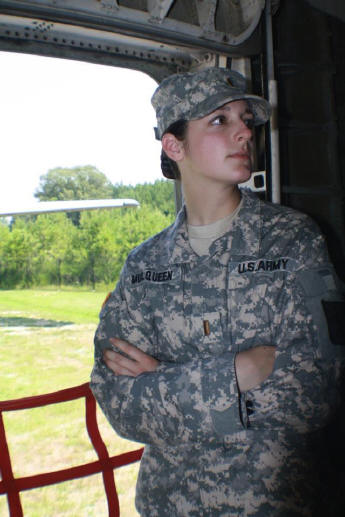 (8/2012) In about six weeks, I will be in Hawaii. I am so excited I can barely focus on my day-to-day duties here. Sometimes I dream about it, picturing myself with my toes deep in the sand on North Shore, watching the waves break. Sometimes I taste bits of roasted pig melting in my mouth. Sometimes I swear I can actually see the expanse of the Pacific Ocean laid out before me from the volcanic crater Diamond Head. It is difficult for me to express how truly blessed I feel that my first duty station is Hawaii. This is the stuff of dreams. For four years, I pushed myself mentally, physically, and emotionally so that I would be prepared to lead soldiers. Never once, however, did I think that I would have the opportunity to lead these soldiers from paradise.
The island of Oahu holds special meaning for my family. About 20 years ago, the five of us lived there. My father worked at Schofield Barracks, Oahu as a company commander. I was just a few months old when we moved there. So I learned how to walk, talk, and swim there. My brothers were in elementary school, and my mom spent her time caring for us and finishing up her last few college credits at Chaminade University.
When I move back there in just a few weeks, I will be following in my fatherís footsteps. I could never say it out loud, but it makes my soul jump for joy that I am following down the same path as my dad, and going to one of the same units he was in makes it that much more real to me. However, I will have to go there completely by myself. No longer am I the tiny one-year-old in diapers, with my parents and brothers standing right beside me to care for me. So as excited as I am to be moving to Hawaii, I am also quite nervous. I have no idea the possible complications that might arise as I go about the moving process, and I do not have anyone to do it for me. Luckily, however, I do have a cell phone that contains the numbers of my mom and dad, two people whom Iím sure will do anything to help me.
I also have the Army to help me along. They try to make it easy on second lieutenants because they know we do not have much experience in the real world yet. The Army handed me a checklist of things to do and people to meet with before I can head to Hawaii. This means that the upcoming weeks might be a little hectic for me. Between my classes here I have a lot to accomplish. The first of which is scheduling my flight out. I will graduate from this course in early September. After graduation, my cunning plan is to visit home for a few days and then fly from there.
This visit home will be my last opportunity in a long time to see my close and extended family. My parents always taught me the importance of family, but now I am learning that importance first hand as I realize that I will soon be very far away from my family for a very long time. Every other time I have watched them leave, I have known that I will see them in just a few weeks. This time, however, it could be a year or more before I am able to be with them again. And I know just how upset my mom will be to see me go. I feel as if I should take some of that pain with me. Sometimes I do not understand why it must be this way between parents and children. As a child, I never once thought I would move so far from my parents so soon after I graduated college. I always pictured that I would just be a few blocks away from them. My father always reminds my mother and I, though, that he and she would be failures as parents if we children simply remained at home with them forever. So even though I am the third child in a row to join the military and travel far from home, even though I can feel my motherís heart break just a little each time one of us leaves her, I know that we are doing good. I know that we are living just as she wants us to, and most importantly, I know that one day all of us will be together in the same house again. I just have to trust that our family will remain just as strong as always.
My journey to Hawaii will be filled with other emotional firsts, too. By that I mean my shipping my car. I have a tiny horizon blue MINI cooper with a white top. His name is Steve, and he is my most favorite possession in this world (though I only own part of him because I am still paying him off. Perhaps he is my bankís most favorite possession in this world, too?) Either way, the transportation office here has told me that once I put my car on a ship bound for Hawaii it will take anywhere from 30-45 days for my car to arrive on the island. This means that I must ship it fairly soon. Now because that car is my most favorite possession in this world, I am having trouble stomaching knowing that my car will be alone and cold on a ship for so long. Who will tenderly scrap the bugs from his windshield? Who will gently wipe down his leatherette seats? Who will run him through his gears? I am being a little facetious, sure, but deep down I am concerned for him. So with this, too, I must learn how to trust in others. I must trust the shipís crew to do its job and deliver Steve to Hawaii without any disasters.
The checklist the Army gave me also includes things to do now that will make the transition once I arrive easier. For example, I was able to call my unit in Hawaii and chat about what I might be doing down there. Because I am a logistician, I will be part of the Brigade Support Battalion. Hopefully, they will have a platoon leader slot for me when I arrive. Then I would be able to slip right in and work with about forty other soldiers. The platoon sergeant and I would be responsible for their training and their overall wellbeing. An alternative to that could be my assuming one of the Battalion staff assistant positions. Although I would rather lead a platoon right away, it would be nice to slip into a staff position because it would give me time to become acclimated to the area and see how the unit works before immediately having to stand in the spotlight. Either way, I am sure I will continue to learn even more about the Army and continue to experience the stuff of a lifetime.
Finally, I was able to speak to my unit about where I could live on the island. It turns out that a fair amount of the single lieutenants opt to live in Honolulu. Even though it is a bit of a drive to get to base and there is traffic, apparently it is worth it to live there. If I rented an apartment in the city, I would be right in the middle of everything. I think it would be exciting to live there, and for me, it would be worth the drive. I often daydream about what it might be like to live there. I also like to surf the net, looking at potential properties and picturing my furniture in the rooms.
Altogether, though I know it will be difficult to leave the mainland and experience so many changes all at once, I know it will be worth it in the end. I cannot wait to move to Hawaii, and even more so, I cannot wait to start my career as an officer in the 25th Infantry Division.
Read other articles by Julia Mulqueen