Captain Albert M. Hunter's account of
the War between the Sates
(Part 2)
Source: Descendants of A.M. Hunter
Transcribed by John Miller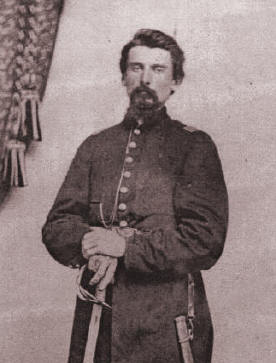 "We were supplied with rations and well taken care of. The next day a car with rations for the company came, and we bade them good-bye and rode to Cumberland, en route for Camp Chase, Ohio. The officers went to a motel, and the privates slept in a depot. In the morning we went to see about going to Camp Chase, when we learned our men had been taken off in the night.
We knew we did not really belong to Camp Chase, so we took passage in a stage for Bedford, PA. The battle of Antietam and South Mountain had cut off all communications east by the B&O railroad. We arrived in Bedford towards sunset, remained all night, took a stage in the morning for Hopewell, where our money gave out. The conductor of that road agreed to take us to Huntington by us promising to get transportation as soon as we could and send the papers to him. I tried to get it but don't know if the road was ever paid for our ride.
The road runs over some of the highest trestles I ever saw. I noticed that three tall trees were placed on top of each other in? some trestles and a notice was posted for the engineer to run only four miles an hour while crossing. Looking out of the windows of the car it seemed as if we were flying.
Arriving at Huntington we found a recruiting officer who cared for us and gave us transportation to Harrisburg, PA, there we slept all night and "jumped" our bed bill. Lieutenant Gallagher of Co. "C" knew the conductor and made arrangements for all of us to ride to Baltimore with him. I did not think the train would start soon and stepped around the depot and returned in a minute or two when lo! The train was pulling out. I ran as hard as I could after it to the bridge, but could not catch it. The guard would not let me cross, so I ran up the river to the wagon bridge, and crossed then down to Bridgeport just in time to see the last care going around the hill just below. I was in a fix for a minute, but soon thought "go ahead with your old darned smoke wagon, I'll get along some other way".
I found a quarter in one of my pockets and went into a hotel and got a good breakfast, and waited for something to turn up. It was Sunday and things seemed to work slow. About noon I found a conductor who had a train of ammunition to take to Hagerstown for our army and I secured passage with him. When we got to Carlisle one of the brakemen deserted them and I took his place to Chambersburg. There I had acquaintances, but I was afraid to go away from the train for fear of being left again, so I hunted all of my pockets and found a few pennies and purchased all the bread they would buy off a woman who was baking new the depot. We waited and waited for orders to go, but it was after night before we started. In the meantime I got into a car that was loaded with grain and fell asleep, and did not know much about the trip until I waked up and found it was daylight and I was in Hagerstown.
I went to the quarters and found my company was near Williamsport. I walked down the pike and met some of the boys and this was what we called "home again."
I found Lieut. H.C. McNair in command of the company. Lieut. W.A. Horner was sick. I learned too that Col. Miles had surrendered Harper's Ferry with about 30,000 soldiers, that he had been wounded and died, that our battalion of cavalry with a regiment of Indian cavalry cut their way out through the rebel army at Shepardstown, captured a train of wagons with provisions and wounded, and were a part McClellan's army.
I was paroled prisoner and had to report to Annapolis, MD for exchange. But as Bolivar, our old camp was on the way I went that way to see if the "Jonnies" had got my private and company property, which I kept in a trunk.
The boys had put our large flag in the trunk and torn up the floor of an old building, put it under and piled all the old lumber they could find on top, and all went through safe and sound, for which I was truly thankful.
After staying all night, looking in at some of my fair acquaintances, I bought a very pretty looking horse from one of my men, on trust. I started for home before going to Annapolis.
In about a month from my capture I was in camp parole at Annapolis, as was all the rest of my men who had been captured. The day after we arrived, the company who had entertained us at Paw Paw tunnel came to camp. I learned from them that a few days after we left a large force of the enemy attacked them and completely surrounded their camp, and they had to surrender. I did not meet cousin Shriver.
While at the parole camp I was paid and the boys were not. They were hard up, and had to go into the tobacco fields and take the green leaves to chew. It made their mouths sore. Flohr asked me to loan him a dollar to get some good tobacco, as his mouth was so sore he could hardly eat. I gave him the money and in a few hours I met him on the street staggering along and asked him how he was getting along. "Oh, first rate", he said. "I have a pound of tobacco, pretty drunk and ten cents left."
About six of us officers took boarding in the city, drew our wood and sold it for board and had a jolly time. We had to report to camp every day, in fact we were ordered to camp but did not obey. Col. Bankster, the commandant, was a blusterer but did not mean half as much as he said.
We were not exchanged until the 12th of December. I arrived at camp in the night at Harper's Ferry. By daylight I was ordered to drive Capt. Saylers' Cavalry from the neighborhood of Charlestown. We met them two or three miles from Camp charged them and drove them back. We captured two of their men, and two of my men could not control their horses and they ran into a party of Saylers' men and were captured. They came back next morning paroled, with a note asking their men, but during the night they had been sent to Fort McHenry at Baltimore and we could not comply. The balance of the winter and spring was spent in scouting and watching the movement of the enemy.
There were a number of fine looking young ladies about the ferry and Bolivar Heights and when we had a few days in camp we would get up and dance or a party of some kind.
I always kept the boys with money if they happened to run short. I never kept any record of it but I feel sure they always paid me back. I had confidence in the boys and I do not think they ever intentionally cheated in money transactions. But at the close of the war, I did a good many things for the officers and some of the privates who promised me pay that I never received. Not so with those in my company.
In the spring our company was stationed on Maryland Heights. From where we made many scouts until in June when General Lee was commencing the invasion of Penna.
Genl. French, who had taken command at Harper's Ferry, sent me with my company and "D" up the river towards Sharpsburg to see what was going on. When within two miles of the town, but on the Maryland side, we encountered the enemy picket, we charged them and drove them a mile or two, firing a few shots then they drive our pickets back; thus we spent the afternoon. When night came we camped on a high hill. In the morning we could see the enemy crossing the river in large numbers. At Sharpesburg that evening we found that a large provision train was camped new the town. I sent to Genl. French a report saying that they might be captured, but he thought perhaps they wanted us to come out from Harper's Ferry and then they would come in; perhaps it was so, but I never thought so.
Lieut. W. A. Horner thought we were not doing enough and he asked permission to take a dozen men and go through the rebel lines, and see what was going on. I had no authority to send him but I risked it, and a dozen volunteered to go. He went right through them, and came out at Boonsboro and from there to Waynesboro then over to Fountain Dale, where he encountered a squad of Johnnies gathering up horses and provisions. He charged them, captured several and ran the rest in Fairfield and from there to Emmitsburg. Then the men were detailed to guide the army of the Potomac in and about the neighborhood of Gettysburg. They did good service.
At this time Genl. Hooker was relieved of the command of the army of the Potomac, and Genl. Meade was given command. We still had our camp on Maryland Heights, and were kept busy watching the movements of the enemy. In the latter part of June we were ordered to move and expected to joint the army of the Potomac in Pa. But we went down below Harper's Ferry a few miles to Weaverton, where we camped for several days, until the balance of Genl. French's division could move the store and munitions of war, then we, the division marched into Frederick City, where we found that the rebel Genl.
Steward had been cut off from Lee and was crossing the river at Edwards Ferry to find the truth of the matter. Our cavalry (I did not go) was sent to see how it was. They found he had crossed and that he was heading for Westminster, Md., and hunting Genl. Lee who was then at Chambersburg. Major H. A. Colo was made Marshall and he appointed me his assistant and our men as city patrols. We had a fine jolly time for about a month. Our duties were not numerous, and we ha d plenty of tie to play the gallant with the ladies. Shoulder straps, brass buttons and blue clothes were an open sesame to the heart of almost any fair maiden. Then the liberality of soldiers went far in winning them a fair companion.
During this time the battle of Gettysburg was in operation. Some of our men were detailed as couriers to and from that place. When Lee's army was retreating, we were sent to Harper's Ferry to burn the R. R. bridge to prevent them crossing. Previous to that however, about a dozen of Balor's or Mosby's Va. Cavalry came from Harper's Ferry and drove our pickets in nearly to the infantry camp. We were called on to drive them back and capture them if possible. But before we could get out they had made about five miles of their way back. I learned a very important fact about how to save a horse's wind at that race. I noticed the rebels rode slowly up hill, then they would ride down grade at nearly double the pace we could because they had saved their horses going up, when we had exhausted ours.
We returned to the city in the evening and found that a spy had been caught and hanged. He had been in our camp many a time selling maps of Va.
On the 4th of July, 1863 we were ordered to go to Harper's Ferry and drive any enemy out that was there and burn the bridge to prevent Lee from escaping at that place. My company was detailed to do the work. We charged up the narrow road between the hills and the R. R. truck and drove the johnnies back across the bridge. Then we had the pleasure of shooting at each other across the river. I remember that somehow I had a pair of red Zouave trousers on and as we were sitting on our horses, with the high rocks for a background, my red trousers seemed to be an especial mark. The bullets came thick near me striking the rocks with a chuck much like an old chew of tobacco on a board.
We soon had the way clear and I sent the engineers with their axes on the bridge to get kindling and fire it. They found a barrel of oil, which was used, and soon the fire was doing its work. It looked like an awful pity to destroy the structure, but military necessity knows no bounds. Night soon set in. The blazing fire mad us visible to the enemy and they kept up a sharp fire at us, which we returned all night, firing as near as where we would see a flash, as we could. We had no casualties. We heard of one wounded of the enemy. In the morning we found the destruction of the bridge less than we had expected. The canal bridge on the Md. was all consumed. The floor through the iron parts burned out but the Y on the Va. Side was not more than half destroyed.
We returned to the city and found that the army of the Potomac had and was passing and hurrying toward Hagerstown to intercept Lee, but they were too late. Lee had succeeded in crossing the river into Va. Not much was accomplished. A few skirmishes and we went back to camp again.
Lieut. Link of Co. "A" go it into his head that he ought to get married. There was no objection excepting Mary Wachters' widowed mother. He came to me for advice. I managed it in this way. Mary had a sister that favored the match. I soon became a beau of hers, and would take both out for a promenade in the evening and would go to an ice cream saloon where Link would meet us, and then pass an hour or two on the streets, escort the ladies home. Link dropping out of the procession before nearing her home.
After a week or two spent in this way the ladies in the presence of their mother, expressed a desire to visit a lady friend in Mechanicstown, some 10 or 12 miles away. I proposed to get a carriage and take them. The mother said it would be too expensive for me. I made light of that and it was agreed that we go, but we only went a mile in that direction and then to get Lieut. Link. We then turned off and went to a village 8 miles in another direction where the services of a minister soon made them one. We were to return immediately and the marriage was to be kept a secret, but after getting supper the high contracting parties concluded that they would remain all night and go home next morning and make a full confession, and if the mother would not receive them Link was to tell her he would take care of Mary.
This time I made it convenient to leave the procession before it reached the house of the widow, but waited in sight to e sure they went in. I learned afterwards that the mother very sensibly yielded and all went well.
I am sorry to say that some 8 or ten years afterward Link deserted her, went West, and report said he was hung for stealing horses.
A short time after this we were sent down in Montgomery Co. along the canal in the neighborhood of the mouth of the Monocacy.
I remember a daring feat, about half a dozen of us performed at the viaduct over the Monocacy. Instead of going down under the viaduct and fording the stream, we rode over on the Burbank side of the viaduct, a narrow stone wall twenty feet above the water with a key stone so high in the center, our horses could hardly step over it. Some ten or twelve years before I drove a carriage, sitting in it, over the tow path side, which is only a few inches wider than two wheels, and if the hub had struck hard on the iron railing it might have sent my carriage and all into the canal. I learned afterwards that others always led their horses over.
In the month of May 1862, I was sent with the company to Smithfield, to reconnoiter and get all the information that we could. After scouting around for a day or tow, we found that the secession citizens were in the habit of going to Martinsburg, Va., and taking the oath of Allegiance, getting all the provisions they could buy and rising them or furnishing them to the rebel soldiers. We sent out 8 or 10 of our men to intercept some of these customers. About the middle of the night a wagon came along well laden with salt and other stuff. The boys halted him and questioned him according to instructions, which was to pretend they were Mosby's men, and that they wanted information. They got plenty of it and were informed they could get all they wanted from the Yankees at Martinsburg if they would take the oath. They told him that a company of Yankees was camped in Smithfield and he must drive into town and go for a pass, and notice all the particulars and count how many they had in camp. They then left him and hurried back to camp with the plan. Early in the morning our man came marching into town for a pass. I questioned about his loyalty, business, etc., which he answered very satisfactorily. He looked around and seemed to be counting us very carefully. After he got through he said that he would like to pass. I told him that I would give him a guard to Harper's Ferry and confiscate his property. He begged so hard for his goods that I sent them home by his sons who were with him, and I sent him to Col. Miles who sent him to Fort McHenry. He got back soon but I think he learned a lesson he never forgot.
Another time Capt. Vernon conceived the idea that we could catch some of the men of Baylor or Mosby's command by going beyond Charlestown and secreting ourselves near the main roads and picking up the ones who came home at night.
He with his company took one road. I took another and about 10 o'clock snow began falling and it got very cold. Some of us nearly froze. We were compelled to dismount and form a ring and run around after each other nearly all night. We got nothing and waded back to camp in the morning through a foot of snow.
While I was assistant Marshal in Frederick City, I, as nearly all the soldiers did, became acquainted with many ladies and we generally would select one to spend our money on and spend a pleasant hour with when off duty.
One night in company with several others took our 'girls' to Woodsboro in buggies. We had supper, ice cream and a jolly time. When coming home, my horse, a very gentle one, suddenly kicked, knocked the dash (a wooden one) over our heads and landed with one hind foot over the cross bar of the shafts. He stood as still as a sheep until unhitched. It was done so quick, and unusual a proceeding that I have never understood it.
Jake Smith, the Dutchman I had hired the buggy from, was as mad as a hornet the next morning when I went to settle the bill. I asked him what his buggy was worth. He said $90. I gave him the money, had the buggy repaired for $2.50 and now had one of my own, but as we were soon ordered away, I had to send it home.
I got very sick when camped at or near Darnestown. I came into Frederick for treatment. I got some medicine from a surgeon, and got better in a day or two and found my Middletown girl was in the city. I hired a back and took her home, and spent a day or two with her. She proved to be a good nurse and in a few days I was ready for camp duty.
I spring of 1862 we were camped at Kearnesvile, near the B&O Railroad guarding it. A train had been switched off. It had a car loaded with whiskey. Our boys soon found it, and broke in knocking the head out of a barrel, and soon those were inclined were drunk. They were so sly that it took a day or two to find the liquor. When we did, we saw a wooden bucket in some bushes, which we supposed had whiskey in it. I had my carbine in my hand and raised to shoot a bullet through it but thought someone might hid near, and called out for anyone to clear out I was going to shoot through the bucket. No one moved. I fired and the whiskey jumped a yard high and the bucket split, and then, "Pocahontas" a nickname for one of our boys, raised up out of the bushes near the bucket, half tight and said "Don't shoot me".
We found the car pushed it nearer to camp, and I slept in it that night. The night I was awakened by a peculiar sound, I listed for a moment and found it was the cutting of an auger. I quietly slipped the door open and crawled out, looked around and saw Corporal Diehl trying an auger for a? of the car into a barrel and catching a lot of whiskey.
The next night the car door was slid open. I thought several were going to break in and take the liquor. I fired my revolver at random out the door. When A.W. Fritchey spoke saying that John Buller a bad drinker, was nearly dead for whiskey. With that John came up saying, "Please give me some. I have perpetration (Palpitation) of the heart". I did not comply, and told him to drink some coffee.
The next day, by some means the lock was broken on the other side of the car from camp, and a barrel was rolled out. One of the better disposed boys told me about it, and I do not think it was five minutes until, with another officer, we were out and after the offenders. Not a thing could be seen. We hunted and found they had lifted the barrel into the clover field and absolutely carried it through the clover field for fear of making a track. With difficulty we followed a quarter of a mile and found it in some bushes. We shot a dozen bullet holes through it and let the stuff run out.
We sent immediately to the R.R. officials to take the car away, which was done that day, but John Wolf, a tricky fellow, got in some way and when a mile from camp, rolled a barrel out while the train was running, jumped off, secreted the barrel in the woods.
Joe Test, a quiet boy, had a pass to go on that train to Harper's Ferry, was arrested there for the deed and put into the guardhouse. He was released the next day and John put in.
The boys got the barrel, dug a deep hole in the middle of a tent and that night buried it. We did not know anything about it until the empty barrel was rolled out, and there was no drunkenness.
While camped there the pickets were fired on often by citizens or rebels who came home on furlough. We never caught any of them, but it was very necessary for us to be cautious when out at night.
Major O.A. Horner, orderly sergeant then, and myself went to visit our "girls" in Middletown valley. We, as is often usual in such cases, stayed too long with them to reach camp before night.
We were five miles away from camp when dark set in. We were certain of trouble. A very heavy piece of timberland a half-mile in length was the piece of woods that most of the trouble came from. Of course we must go through it. We rode very fast, knowing a side shot would most likely pass behind, fortunately we were mistaken and soon we were in camp.
Active preparations took us up the valley under General Banks. We were ordered back. The first night I was sent out on picket, just at sun down our pickets were fired on by a squad of Rebels. They fired and came into the reserve double quick. John Dullar who always boasted of how he could fight a hundred, jumped on his horse and started back. Geo. Shriver saw him first and called "come back you cowardly rascal", but he rode on. The rest of us charged after the enemy but they were soon out of reach. By the time we got straightened up the whole company came galloping to our relief. John had ridden into camp with a fearful tale of havoc and almost alarmed the whole command."
Read other articles by John Miller
Want to learn more about Cole's Cavalry? Then see our New Index of Information about Cole's Cavalry