The Civil War Along Tom's Creek and Waynesboro Pike
The Battle For Fairfield Pass
John Miller
Writer's Note: This article is a work in progress. If you have any information on Fairfield Pass, please feel free to contact us!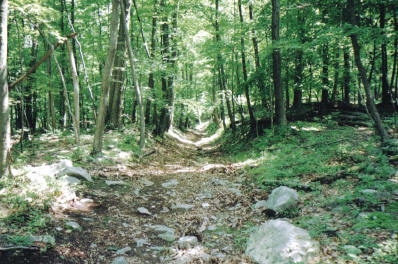 This is the old Furnace Road or the Devils Racecourse. This photo was taken about 2 miles northeast of Monterey toward Fairfield Pass. The remains of this road is currently on private property. This is also the road that the wagon trains followed after the battle of Gettysburg.
Fairfield Pass is located a few miles southeast of Monterey Pass on the old Furnace Road that is no longer traveled. Modern day furnace Road replaced the old road. It was where the Fairfield Road followed the western side of Jacks Mountain and then entered the western side of Pine Mountain near the eastern side of Wildcat Rocks and turns into the Devil's Racecourse. Pine Mountain stands near 1400 feet above sea level while Wildcat Rocks stands at 1500 feet above sea level. The Devil's Racecourse is a term that was used to describe a portion of the old Furnace Road that was straight and ran between Buzzards Roost and Monterey Peak.
Fairfield Pass or Fairfield Gap as many called it, is often confused with Monterey Pass on modern day route 16. Many historians say Fairfield Pass is located on Jacks Mountain Road. Typically the definition of a mountain pass is a location in a range of mountains that is lower than the surrounding peaks and a mountain gap is a pass between mountain peaks. Jacks Mountain Road, does not cut through Jacks Mountain, therefore it is not considered a mountain pass or gap. Jacks Mountain Road follows to the east of Jacks Mountain.
Monterey Pass is located in the southeastern portion of Franklin, County Pennsylvania on South Mountain and is made up of two geographical mountain peaks. Mount Dunlap is 1,760 feet above sea level and Monterey Peak is 1,420 above sea level. The Monterey Pass area extends into four counties and is divided by two states along the Mason and Dixon Line. Franklin and Adams Counties make up the Pennsylvania side while Frederick and Washington Counties make up the Maryland side. Situated in the middle of Monterey Pass is the community of Blue Ridge Summit.
Monterey Pass was a very important transportation route. The Emmitsburg and Waynesboro Pike was a major road that traveled over South Mountain and it intersected with several roads that led into Smithsburg, Fairfield Pass, Pennersville and also Ringgold. The Emmitsburg and Waynesboro Turnpike was completed on September 21, 1820 as part of the Waynesboro, Greencastle and Mercersburg Turnpike Company.
On July 3rd, 1863, the 6th U.S. Cavalry led by Major Samuel Starr was sent to Fairfield to attack the Confederate wagons that were in the area. They ran into Jones' Brigade of Cavalry that was guarding the approach to Cashtown from Fairfield on modern day Carroll's Tract Road. During this battle, Major Starr's Cavalry was overran by the Confederate Cavalry who charged and forced the 6th U. S. Cavalry Regiment to retire with heavy losses.
After the battle of Fairfield on July 3rd, Jones' Brigade had completed their objective. Which was to hold the mountain passes of Cashtown and Fairfield and picket the left flank of the Confederate Army as the Army of Northern Virginia. Now the long road home would begin through Fairfield Pass then onto Monterey Pass. Generals Jones and Beverly Robertson would have to pull together their small brigades to get the supply wagons of the Army of the Northern Virginia back home safely.
During the battle of Monterey Pass on July 4th into July 5th, General Kilpatrick stopped at the Monterey House where David Miller and Jacob Baer were held as prisoners by the Confederates. General Kilpatrick dismounted and walked up on the porch where Mr. David Miller and Mr. Jacob Baer were. Mr. Baer and General Kilpatrick started to discuss the roads of the area and where they led. Mr. Miller informed General Kilpatrick of the Mount Zion Road that led into Smithsburg and Leitersburg. General Kilpatrick then asked Mr. Miller who he knew that could guide a regiment of his cavalry down the western side of the mountain so they could try and cut off the Confederate wagon train. David Miller saw Charles Burhman talking to some of the Union officers, and he turned to General Kilpatrick and told him that Mr. Buhrman was the man for the job. Charles Buhrman had escorted General Kilpatrick's men up the mountain from Fountaindale where he lived on a farm.
General Kilpatrick then asked Mr. Buhrman where he thought the wagon train was going. Mr. Buhrman later recalled: "Kilpatrick asked me which way I thought the wagon train was going, and where I supposed they would strike the river. I told him they could go by Smithsburg and Boonsboro, and cross the river at Sharpsburg, or go by Leitersburg and Hagerstown and cross at Williamsport. He asked me if there was any road that I knew of that I could take a regiment and head off that wagon train. I told him there was that I could take them by Mount Zion and then down the Raven Rock Hollow and strike Smithsburg, and if they had not taken that road, we could cross to Leitersburg and there we would strike them for certain."
General Kilpatrick then ordered Lt. Colonel Preston of the 1st Vermont Cavalry to take Mr. Buhrman as his guide and travel through Blue Summit and take the road leading to Smithsburg. This wooden road took them through modern day Blue Ridge Summit and Cascade to Smithsburg. Arriving at Smithsburg everything was quiet. Mr. Buhrman then told Colonel Preston to take the road leading to Leitersburg and by daylight they captured several prisoners and wagonloads of supplies.
As soon as Colonel Preston and the 1st Vermont Cavalry rode of toward Smithsburg, General Kilpatrick ordered Colonel Town to take a regiment of his battalion to head off the retreating wagon train. Near Clermont House, the 1st Michigan Cavalry under Lt. Colonel Peter Stagg was sent upon a road leading to Fairfield Pass near Pine Mountain to head off the Confederate wagon train coming out of Fairfield. Using a local guide by the name of James McCulloh, Colonel Stagg's 1st Michigan Cavalry past the old Benchoff farm which led to the old Furnace road. From there it would it connect to the Devils Racecourse about two miles to Monterey Pass.
The Benchoff farm was originally owned by Christof Freidrich Benchoff. He was a German native who came to America in 1764. When the Revolutionary War began, he joined the British Army and was later captured by the Washington's Forces and placed in prison at the Carlisle Barracks in Pennsylvania. In 1781 he was released from prison and was given the choice of being sent back to Germany or taking up land in Pennsylvania. He chose to stay and settled in Charmian near modern day Blue Ridge Summit. The Benchoff Farm is still owned by members of the Benchoff Family today.
As all of this was happening at the same hour, General Kilpatrick had made plans of an attack from the east and west which was already underway; he now had to concentrate on gaining the actual pass of Monterey in order to dislodge Captain Emack and his Marylander's.
Meanwhile, as Lt. Colonel Stagg portion of the 1st Michigan Cavalry traveled eastward toward Fairfield Pass, he ran into Confederate pickets belonging to the 5th North Carolina Cavalry that were protecting the rear of General Ewell's wagon train. In the same weather conditions as Monterey, Captain Wells' squadron of the 1st Michigan Cavalry was ordered to dismounted and deployed as skirmishers. Fighting raged for three hours as the Michigan Cavalry fought their through the North Carolina's battle lines. As the Confederates held their ground, Lieutenant Colonel Stagg against superior numbers ordered Captain William Elliott's squadron to charge the Confederates. In leading the charge, Colonel Stagg's horse was killed, and Colonel Stagg himself was seriously injured by the falling horse. Captain Elliott was mortally wounded and Lieutenant James S. McElhenny and twenty men of Captain Elliott's squadron were killed during the fight.
Captain Brevoort's squad leading Lt. Colonel Stagg's advance was destroying a few wagons and taking prisoners as they headed westward toward Monterey Pass from the old road. During the advance, the Confederate's brought up a cannon belonging to Chew's Battery and fired grape and canister at them. Captain Brevoort, seeing the cannon ahead, ordered his men to follow the side of the road. When the cannon fired it missed the front portion of Captain Brevoort's column, but injured many that brought up the rear.
During the Confederate Infantry portion of the retreat, Fairfield Pass was subject to many Federal Cavalry actions. General Meade commander of the Army of the Potomac knew on July 5th, that General Lee was in full retreat. He ordered Sixth Corps under the command of General Sedgwick to follow the rear of Lee's Army through Fairfield. General Sedgwick pursued Lee's Army as far as Fairfield Pass, when he gave up the chase.
General Sedgwick thought that General Lee's Army had begun to build breastworks at Fairfield Pass. General Sedgwick felt that with a Confederate strong hold at Fairfield Pass, they could hold any pursuing force for a long period of time. Because of that General Meade would follow General Lee by a flank movement and try to head him off in the Middletown Valley. General Meade ordered McIntosh's brigade of cavalry and Neill's brigade of infantry to continue harassing the rear of General Lee's Army. At Fairfield Pass William A. Harn's guns of the 3rd New York Independent Battery concentrated their fire on Lee's troops, as they were marching over the mountain. No major damage was done and Lee's Army spent the next few days marching to Hagerstown and Williamsport beating General Meade's Army of the Potomac.
Be sure to visit the Monterey Pass Battlefield Association's website