Sergeant Hugh Paxton Bigham: Lincoln's Guard at Gettysburg
By John B. Horner
Prelude to the Address
The evening of November 18, 1863, at the Diamond in Gettysburg, Pennsylvania, was unique in several ways. Many hundreds of people crowded into the town center of small borough, normally populated with about 2,400 or so. Each came in anticipation of catching a glimpse of or if more fortunate to shake the hand of President Abraham Lincoln.
President Lincoln had been invited, almost as an afterthought, to make "a few appropriate remarks" at the dedication of Soldier's National Cemetery the next day. He was a guest of Attorney David Wills in a comfortable home on the southeast quadrant of the Diamond. Sgt. H. Paxton Bigham of Company B, 21st Pennsylvania Cavalry, was assigned by his superior officer, Capt. Robert Bell, to guard the President during his brief stay in Gettysburg.
Earlier in the evening, Sgt. Bigham had taken his station outside the President's bedroom door on the second floor of Judge Wills' house. One floor below, his younger brother, Rush, stood guard at the street door. Soon after taking their stations, a telegram for Mr. Lincoln was passed to his nearest guard, who then gently tapped on the President's door. The President, after reading it, resumed his seat, leaving the door partly open.
After pondering the message for a few moments, he quickly walked back to the door, and addressing his guard with affectionate tenderness, as if talking to a close friend, said, "Guard, this message brought me good news. I was not sure I could come to Gettysburg because my son, Tad, was seriously ill in the White House. He improved the day before I left Washington and this dispatch tells me he is very much better. Thank God for this news. I can rest better tonight."
Mr. Lincoln then sat at his desk in the room, working further on his draft of the speech for the following day. At about 11 o'clock, the President summoned his guard to accompany him for the short trip to the home of Robert G. Harper, editor of the Gettysburg Sentinel. Into his pocket was tucked his draft of the speech.
While the President was at the Harper House, the National Union Musical Association of Baltimore, popularly known as the Baltimore Glee Club, directed by Wilson G. Horner, serenaded the President. The group, which was scheduled to furnish vocal music at the dedication as well, sang "We Are Coming, Father Abraham, Three Hundred Thousand Strong," a patriotic song of the day.
By this time, a large crowd had gathered. The President, upon coming to the door, addressed Sgt. Bigham and said, "I wish to return to my room you clear the way and I will hold onto your coattails." The return through the crowd was made without incident and nothing further occurred during the night to disturb the rest of Gettysburg's distinguished guest.
Lincoln Speaks at the Cemetery
At about 11 o'clock on the morning of November 19, 1863, an hour behind schedule, a formidable procession wound its way up Baltimore Street in Gettysburg toward the Soldier's National Cemetery, the first of what would prove to be hundreds of parades commemorating the momentous events of that day. The procession turned right onto Steinwehr Avenue, and after one block went left onto the Taneytown Road and into the cemetery.
Sgt. Bigham and a part of his company were on special guard duty and observed that ex-Senator Edward Everett, the orator of the day, delivered his address, lasting an hour and fifty-seven minutes, to "rounds of applause."
Then Mr. Lincoln stepped to the front of the platform. After adjusting his glasses, he discarded the manuscript of his speech carefully prepared in Washington, took from his coat pocket the same paper he had been studying the night before, and began the greatest speech of his career. During the speech, Sgt. Bigham, along with others from his troop, stayed faithfully at their posts, protecting the President.
Among eyewitnesses, there is far from unanimity about the audience response to Lincoln's address. A reporter from the Baltimore American wrote that during the speech there was applause after the words equal, detract, did here, carried on, in vain, and "long continued applause" at the end. Mary I. Creigh wrote 50 years later in The Continent, a Presbyterian publication, "I remember well the day in November when Lincoln spoke.... What seems so pitiful to me was that there was no applause [italics added] when he finished and he thought he had made a failure and this additional weight was added to the burden so heavy already." H.M. Irwin wrote in the same publication, "There was no great volume or vociferation in the applause that followed."
President Lincoln likely finished his speech to scattered applause, the import of its message not yet fully appreciated. It is fair to assume that by the time he concluded his "few appropriate remarks" the attention span of the audience had already been stretched beyond its reasonable limits. After all, the crowd had been listening to Edward Everett for nearly two hours. Some had wandered off into other parts of the cemetery; others had walked back down town or simply gone to their homes.
Mr. Lincoln was moved to confide in Everett that he feared he had disappointed his people, whereupon Everett said, "My speech will be soon forgotten, but yours will live forever." The sixteenth President would later furnish a copy of his address to Edward Everett at the latter's request, and it is this copy of the five still extant in which the words under God are first used. This copy is now in the Illinois State Historical Library in Springfield, the only copy on continuous public display.
Lincoln's Gettysburg Legacy
Sgt. Bigham observed many years later that of all the cities, highways, schools, public buildings, and monuments dedicated to Lincoln's memory, the most lasting memorial would always be a two-minute speech he made over the fallen heroes of Gettysburg that day at the Soldier's National Cemetery.
Lincoln's speech is known and memorized all over the world. Immigrants and school children recite it. The text can be viewed in a stained glass window in a famous English boy's school. His address points up the revolutionary purpose of our national origin, stresses the significance of our contemporary situation, and has deep and vital meaning for Americans today as well as for all peoples who desire to achieve or keep their freedom. M. Elizabeth Scherer
Historian George R. Pro well wrote in 1926 in the York Dispatch, On the day of my visit to Chambersburg, the tribute to Abraham Lincoln by David Lloyd George, Prime Minister of Great Britain, delivered when he visited the tomb of Lincoln, was read to the audience at the home of the veteran soldier [Paxton Bigham].... Following is the exact language of the graceful tribute...:
"There are only a few whose names have become a legend among men. Among them is conspicuously stamped the name of Abraham Lincoln. His fame is wider today than at his death and is widening every year. He belongs to mankind, in every race, in every clime, in every age a great man of all time, for all parties, for all lands, and for all races of men."
John Burns Local Patriot
John was more than 70 years old and a veteran of the war of 1812 and the Mexican war. Because of his age, he wasn't allowed to reenlist for the war between the states, but when the armies approached Gettysburg, he was ready.
John joined the Union lines and, with his long hunting rifle, he displayed some outstanding sharp shooting skills. He was wounded and fell into Confederate hands, but he was a survivor. When Lincoln visited Gettysburg, John Burns was one of the citizens he asked to meet personally. Arthur Kennell, retired superintendent, Evergreen Cemetery, Gettysburg
Later in the day, at the Presbyterian Church of Gettysburg, on the corner of Baltimore and East High Streets, Lincoln attended a patriotic service with John Burns, a local patriot. The Lincoln party had to leave the services early as the time was nearing for the return trip to Washington. Lincoln's train departed from the rail station on Carlisle Street, one block north of the Diamond, at about 7 o'clock that evening.
From Farm Boy to Presidential Guard
Hugh Paxton Bigham was raised a farm boy within five miles of Gettysburg. He was the fourth of five sons of James and Agnes McGaughey Bigham of Freedom Township, born December 12, 1840, and named in honor of the Rev. William Paxton, pastor of Lower Marsh Creek Presbyterian Church.
Paxton Bigham attended country schools. His father, James, died when Paxton was 14 and his brother Rush was 12. By that time, their brother William apparently owned the farm on which he lived. James Bigham's will 1) made the eldest son William executor and guardian of three underage brothers, 2) gave the home farm to older brothers James and John, and 3) gave another farm to Paxton and Rush under two conditions: that James and John farm the land until Rush was 21, and that James and John were to manure the fields and keep up the fences.
Paxton Bigham left home when he was 17. He worked as a dry goods clerk in stores in Gettysburg and Springfield, Ohio. In 1862, rumblings of war brought him back to Pennsylvania.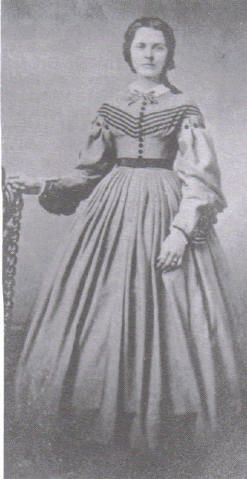 Elizabeth McCright
Pressed Into Service
At the age of 23, on June 16, 1863, Hugh Paxton Bigham enlisted for the Union in an independent cavalry troop Company B of Home Guards composed entirely of young men from the vicinity of Gettysburg. This full company was accepted by the Pennsylvania governor and sworn in for six months by Major Heller. H.P. Bigham served as Orderly Sergeant, or First Sergeant, of Company B, 21st Pennsylvania Regiment.
Company B's main duty, because of its members' knowledge of the mountains in the area, was that of scouting (some would say spying) during the threatening days of the enemy's appearance in Pennsylvania immediately preceding the Battle.
On one occasion shortly after the troop's formation, Capt. Robert Bell, its commander, dispatched Sgt. Bigham and four comrades to a point 15 miles from Gettysburg to observe the approach of the enemy. Confederate scouts numbering 50 or so met them and a detachment of 18 opposing cavalrymen was sent out to pursue.
Bigham and his comrades were so outnumbered and lacking in arms they had no choice but to retreat, and this they did as fast as their horses would carry them. The pursuit continued for miles, with the Rebels only a few hundred yards behind, when finally relief was furnished by a friendly citizen of the community who lay in ambush. A well-placed shot brought down one of the pursuers and the remainder became somewhat disorganized, thus saving Bigham and his comrades from an uncertain ending.
Just 10 days after he enlisted, on June 26, 1863, the cavalry troop of which Sgt. Bigham was a member was chased out of Gettysburg. The young lady to whom Sgt. Bigham was betrothed was Miss Elizabeth McCright (McCreight), born on July 7, 1837, in Greenville, Mercer County, Pennsylvania. For several years, she had resided with an uncle, William Douglas, of Gettysburg, and as Confederate and Union troops gathered in the area, she was caring for two elderly aunts, one of whom was ill. Elizabeth was anxiously watching from her doorway as her fiancé, H. Paxton Bigham, and the rest of Company B made their ignominious departure.
On the Home Front
Many Bigham family members remained in the area during the Battle of Gettysburg. William, Paxton's eldest brother, led his own horses to safety, while his wife and children fled to her relatives on the Horner Homestead (the author's home). This left the house deserted. The Confederates moved in and stole all the food such as cattle, hogs, chickens, honey, wheat, flour, and preserved products. They vandalized the furniture and house. Consequently, until the following year's harvest, William's family was dependent on the generosity of relatives and friends. For a further description of these events, see Jimmy at Gettysburg, first in this series.
After watching her fiancé being chased from Gettysburg as the Battle unfolded, Elizabeth McCright helped to carry her elderly aunt to the basement where she found it necessary to keep house, away from danger of shells.
After the Battle, Elizabeth and the other women of the town made dressings and nursed the wounded who were hospitalized in churches and public buildings. She said that arms and legs were piled up to the level of the window sills of the Adams County courthouse, which was used as a surgery and hospital.
One Confederate soldier, left behind when the troops retreated, was so badly wounded that he was not expected to live. Elizabeth took the wounded soldier to her home and nursed him back to health. He already had a wife in the South, and Elizabeth was promised to another man. However, they wrote to each other at intervals over the years until the soldier's death.
Gettysburg's First Casualties
Most historians accept that George Washington Sandoe, Company B, 21st Pa. Cavalry, was the first Union casualty at the Battle of Gettysburg. He was shot by a Rebel patrol south of Gettysburg along the Baltimore Pike near the Nathaniel Lightner house. George Sandoe and William Lightner, members of Company B, were riding toward the Pike, coming across the McAllister field from the direction of Rock Creek. Owing to a growth of bushes along the fence, they did not discover the Confederate pickets until they were ordered to halt. Lightner at once jumped his horse across the fence and escaped by riding rapidly down the Pike. Sandoe's horse fell in making the leap, and in attempting to escape by riding back in the direction from which he came, Sandoe was shot.
Sandoe is interred in the Cemetery of the Mt. Joy Lutheran Church, on the Taneytown Road, south of Gettysburg, as are Co. B fellow members William G. Black, Josephus B. Mills, and Benjamin F. Sterner. Every year on the Sunday nearest Memorial Day, children strew flowers at the graves of all veterans buried there.
The "well-placed shot which brought down one of the pursuers" of Sgt. Bigham's scouting party resulted in the demise of a Confederate soldier who died the next day at Caledonia Furnace in the mountains west of Gettysburg. This Confederate is believed to be the first Rebel killed on Pennsylvania soil.
Company B was attached to the 21st Pennsylvania Cavalry soon thereafter, so we may safely conclude that the first Union casualty as well as the first Confederate casualty preceding the Battle of Gettysburg both had a direct relationship to Company B, 21st Pa. Cavalry.
Company B hastened to Hanover, York, Wrightsville, and finally to the state capital, Harrisburg. There, the command was merged with the 21st Pennsylvania Cavalry and remained for several days while the soldiers were being properly equipped. Officers of the 21st Regiment of Pennsylvania Volunteer Cavalry were: Captain Robert Bell, 1st Lieutenant James Mickley, 2nd Lieutenant Henry Lott, Jr.
Sgt. Bigham and his associates were then stationed at Columbia, Pennsylvania, on the lower Susquehanna. Although natives of Gettysburg and the town's first defenders, they were denied the privilege of participating in the historic confrontation in their hometown in early July 1863.
Following those deadly days in July, Sgt. Bigham and his cavalry troop were sent back, to Gettysburg to guard the town and the captured Confederate prisoners. They were still there
four months later when President Lincoln arrived for the Soldier's National Cemetery dedication. Rush was assigned to guard the street door of the Wills House the night of November 18, 1863, while Paxton was stationed on the second floor by President Lincoln's bedroom door.
In the Aftermath
Sgt. Bigham was mustered out of the Union's service at Chambersburg, on Febuary 20, 1864. He did not re-enlist because he had developed a fever. However, he did pay $300 to the United States government so he would not be drafted, a common practice during the Civil War.
Merchant, Postmaster, Father, Elder
The ceremony of H. Paxton Bigham's marriage to Elizabeth McCright took place on March 3, 1864, at Windsor, Ohio.
Later in that year, Adam Rebert, Sheriff of Adams County, seized the property of J. Alex Harper and placed this notice in a Gettysburg newspaper:
Sheriff Sale December 17,1864

A tract of land, situate in Cumberland Township adjoining lands of George Weikert on the north, west and south, and on the east bounded by the public road leading from Gettysburg to Emmitsburg containing four acres, one hundred twenty perches, improved with a one and one-half story Framed Weatherboard House, with a brick out-kitchen, Frame Weatherboard Coach Shop, a large Chicken House, a well full of water with pump in it near the door, some fruit trees on said tract.
Hugh Paxton Bigham was the highest bidder at public auction and became the proprietor of a general store in Green Mount.
According to records of the United States Post Office Department, H. Paxton Bigham was appointed the fifth Postmaster of Green Mount Post Office on January 21, 1865, and served continuously for more than 48 years until the Post Office was discontinued September 30, 1913. On December 1, 1895, the name of the Office was changed from Green Mount to Greenmount.
The H. Paxton Bighams had seven children, three sons (James, William, and Hugh Paxton, Jr.) and four daughters (Agnes McGaughey, Margaret Eliza, Mary Arnold, and Jennie Belle). Four of them all three sons and their daughter Agnes died within 1 to 13 months after they were born. Of the three daughters, only Mary Arnold, wed to the Rev. W.J.D. Scherer, had children: Margaret Roseman, Mary Elizabeth, and Jennie Belle Scherer. Only one of these three daughters, Jennie Belle Scherer Detrich, had children. Part II contains the family lineage and descendants.
In addition to his duties as a merchant, postmaster, and father, Paxton was active in the Gettysburg community. He was ordained as an elder in the Lower Marsh Creek Presbyte­rian Church on June 30, 1889, and served as Clerk of Session, the highest office in a local Presbyterian church, from 1901 through 1912. Paxton also served with distinction for a number of years as a Director of the now defunct Gettysburg National Bank.
Bigham Family Ties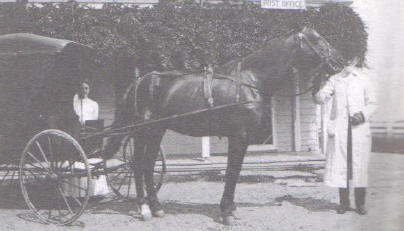 Hugh Paxton with Mac hitched to the buggy. Photo was taken at the Greenmont store when he was Postmaster
In the latter part of the nineteenth century, the Bigham families were very close. What affected one affected them all. It seems there were always relatives living in the Bigham house, including Paxton's widowed mother, Agnes Bigham, who died December 3, 1873.
In 1865, Paxton's youngest brother, Rush, married Emma Hunter, and lived with her on their Freedom Township farm, but in 1870, Emma died from tuberculosis. From then until June 6, 1874, Rush lived with his brother, Paxton, until Rush, too, succumbed to tuberculosis.
Adding to that misfortune, James Bigham, the second brother in the family, developed tuberculosis. James wished to prolong his life by changing from the hard work of a farmer to an easier existence in town, so he sold his share of the common property to his brother, John. James moved his family to Gettysburg and set himself up in the warehouse business. William, who had once been James' guardian, felt obligated to sign on James' note as a silent partner. Banks were not used for capital at this time.
James had no head for business and very shortly the warehouse failed. Bigham family custom forbade bankruptcy, so William made John's notes good. Relatives and friends helped out by buying James' warehouse and home. William, who over the years had acquired a number of properties, sold them all. Lastly, Paxton and John bought the very farm on which their brother William lived. Thus the Bighams built up a lasting reputation for financial integrity. William's sons, Charles, Marshal, and James, remained at home and worked to help their father become solvent again. Before William died, he was able to repay Paxton and John; then he deeded his farm to his sons, Charles and Marshal.
After his business failure, James moved to Cumberland Township, but continued as an agent for a farm machinery company. In search of a more healthful climate, he and his family migrated to Kansas about 1879. After continual illnesses, James finally died of tuberculosis in Denver in 1899.
An interesting note in the Gettysburg Compiler for April 23, 1921, makes record of the death on April 17 of Miss Anna [Anne] Elizabeth Rhodes, formerly of Greenmount, who spent more than 50 years of her life in the employ of the Paxton Bigham family.
Fond Reminiscences
Like many veterans of that day and ever since, Bigham would remember his military life with nostalgia. "Nothing ever tasted as good," he would recall, "as those early breakfasts around the campfire." Those breakfasts he would describe as consisting of thick slices of bread spread with brown sugar, and to drink, hot black coffee, very sweet.
"He wouldn't like that now," his wife Elizabeth would remark aside. "He wouldn't want his coffee without cream, or with sugar, or in a tin cup."
The truth of the matter probably was that for Paxton Bigham, in his early twenties, serving a scant eight months, partly on scout duty in his own territory, the war had certain elements of a romp in the park. One heard far less of his experiences as a nurse on a hospital ship.
Stories of Horses and War

As with any hero or semi-hero, tales of adventure inevitably arise. The author cannot verify these stories associated with Paxton Bigham. Some appear to be based on facts, while others are more nebulous. Some were told by Paxton for years in his general store in Greenmount.

A Sleeping Cow. One of the duties of Capt. Bell's cavalry troop of Home Guards was to patrol the roads watching for raiders from the South. One evening, Paxton and two other soldiers were galloping along the Bull Frog Road in Freedom Township, with Paxton in the middle and a soldier on either side. They approached a cow sleeping in the middle of the one-track road. As Paxton jumped his horse over the cow, the cow stood up, causing the horse to fall and its rider to tumble with it. Because of injuries sustained in the fall, Paxton walked with a slight limp for the rest of his life.

Under the Brush. Paxton Bigham was involved in the capture of some Confederate deserters who had taken refuge under a large brush pile in a field. Addressing the brush pile, Bigham commanded, "Come out or I'll fire," and reached for his revolver. His holster was empty; the revolver had fallen out with his horse's last high jump. The deserters, however, came meekly out and surrendered,

Laggards in Peril. Bigham's horse saved his life one time by leaping across a barrier of trees felled across the road to halt the pursuing Confederates who had entered Gettysburg. Paxton, like the rest of the recently enlisted company, was on active scout duty, without uniform but bearing arms and subject to the fate of a spy if captured. He had stayed behind the others in the cavalry to find his younger brother, Rush, and by the time the two were reunited, the road was blocked and the pursuers close. Both Bigham horses, however, cleared the tangle of treetops while the Confederates were obliged to rein up their horses, not knowing if they were being led into a trap. By the time the Rebels realized what had happened, Paxton and his brother were far down the road and out of danger.

Bugle Call. Whether it was with this horse or another with cavalry experience is not known, but there was one whose training led to difficulties after the local battle was over. Paxton Bigham could drive this horse in harness most places, but in Gettysburg the bugles might sound at any moment among the troops camped there. Then the old disciplines would take over and the horse would begin cavalry maneuvers regardless of harness, carriage, and commands to the contrary. Against the bugle's strong authority, words were useless.
Mrs. Huge Paxton (Elizabeth McCright) Bigham and Mr. Huge Paxton Bigham
The Twilight Years
Hard work and adventure eventually began to take their toll on H. Paxton Bigham. In 1904, in his mid-sixties, he applied for a disability pension. The records indicate that the disability did not come about "through vicious habits," but do not state what the disability was. A personal description of him in military papers of that year indicate he was five feet, seven and one-half inches tall, weighed 137 pounds, and had grey eyes, dark hair, and dark complexion.
When the Greenmount Post Office was discontinued in 1913, the Bighams sold their property to John T. Weikert on October 13, and went to live at 948-27th Avenue, Altoona, Pennsylvania, near their daughter, Margaret Eliza. Margaret's husband, Dr. Samuel T. Knox, had a drug store known as Canan-Knox Supply Company, which sold medical supplies. Margaret and Samuel lived at 2626 Broad Avenue.
The Gettysburg Compiler for March 13, 1915, records the death of Mrs. Paxton Bigham at her home the previous Saturday, March 6, aged 77 years. This same account notes that Mr. and Mrs. Bigham celebrated their fiftieth wedding anniversary in the summer of 1914.
Paxton Bigham spent his twilight years living with his daughter, Jennie Belle Bigham, at 133 Norland Avenue, Chambersburg, Pennsylvania. A newspaper clipping of 1921 reads:
"Despite his eighty-one years, Mr. Bigham is enjoying the very best of health and daily takes walks about the city. His usual walks embrace from fifteen to twenty city blocks, but the distance walked depends somewhat upon the weather."
H. Paxton Bigham died from pneumonia on September 23, 1926, at age 85 years 9 months, and was buried in Lower Marsh Creek Presbyterian Church Cemetery. There was no administrator for Paxton Bigham's estate as he had no money, no real estate, no personal property, no life insurance, and owed no money. His physician was Dr. Peters; his nurses, Jennie and Margaret Straley. His occupation was listed as retired; his pension $65 per month. Franklin County paid $75 death benefits. The undertaker charged $197, and Larry Hill charged $8 for digging the grave, of which the U.S. Veterans Bureau paid $100.
Hugh Paxton Bigham was a success-oriented person who accomplished much in his long and useful life. He will always be remembered for destiny's decree that he, for a few fleeting moments, was in the presence of, and responsible for the life of, a man who authored one of the most famous pieces of literature the world has ever known.
The H. Paxton Bigham Portraits
Portraits of Paxton Bigham continue to keep his memory alive. The first painting was commissioned by Gettysburg attorney Homer N. Young and rendered by John R. Pierce. Mr. Young donated the painting to the Gettysburg National Bank, as Paxton had been a Director there.
Years later, as local rumor has it, Clarence A. Wills became President of the bank and "would have nothing to do with anyone named Bigham." Consequently the painting wound up in a closet.
When Homer Young found out about this, he retrieved the painting and put it back in his own home. John C. Bigham of Rochester, Michigan, great-nephew of Paxton Bigham and stepson of Mr. Young, in a letter to Arthur Weaner of the Adams County Historical Society dated December 9, 1963, stated:
Before his [Paxton Bigham's] death and even before my mother's, Mrs. Young, the painting was offered to me, but as I wanted them to keep it, I passed up bringing it back to the Detroit area. After Mr. Young's death, my wife and I were in Gettysburg the following May and were looking for the portrait. An antique dealer near Meade School (Selmar Hess) told us he purchased the home and contents from Mr. Young's daughter but did not know of the painting.
The picture eventually came into the possession of Bill Shields of Gettysburg, who telephoned attorney Franklin Bigham, great-nephew of Paxton, to report that he had a painting of a relative of his. Franklin Bigham purchased the portrait from Shields, and as of this writing, it hangs in a third floor conference room in the offices of Bigham & Raffensperger, Attorneys, 16 Lincoln Square, in Gettysburg, on the southwest quadrant of the Diamond.
According to Margaret Bigham Beitler, grandniece of Paxton, a wax figure of her great-uncle, made from an old photo and clothed in a uniform belonging to Paxton, once stood outside the door of the Lincoln Room in the Wills House. After someone stole the uniform, the figure was retired and the painting took its place.
By the late 1980s, L.E. Smith, a local entrepreneur, owned the Wills House. At the time he conveyed the property to The Dwight D. Eisenhower Society, his wife, Caroline, commissioned a local artist, Freya Qually, to render a portrait of Sgt. Bigham to hang on the wall outside the door where President Lincoln had entered his bedroom. Working mostly from a poor quality photqgraph furnished to her, Ms. Qually completed the portrait in 1987, without ever having known of the earlier one. To this day, Sgt. Bigham is still standing guard at Lincoln's bedroom door as he did in 1863.
---
Related Reading: The letters of Major Bell, Roster of Company B, 21st Pa Cavalry, Monuments of Company B