Grinder returns to lead
Thurmont Main Street Program
Scott Zuke
(5/23) Vickie Grinder, one of the original proponents who helped achieve Thurmont's designation as a Main Street Maryland Community, and the program's first manager, will resume leadership this month after being selected from among other candidates by the town's Board of Commissioners in May. She will take over from current manager, Cindy McKane-Wagester, and is tasked with reenergizing the business climate in and around Thurmont's main intersection.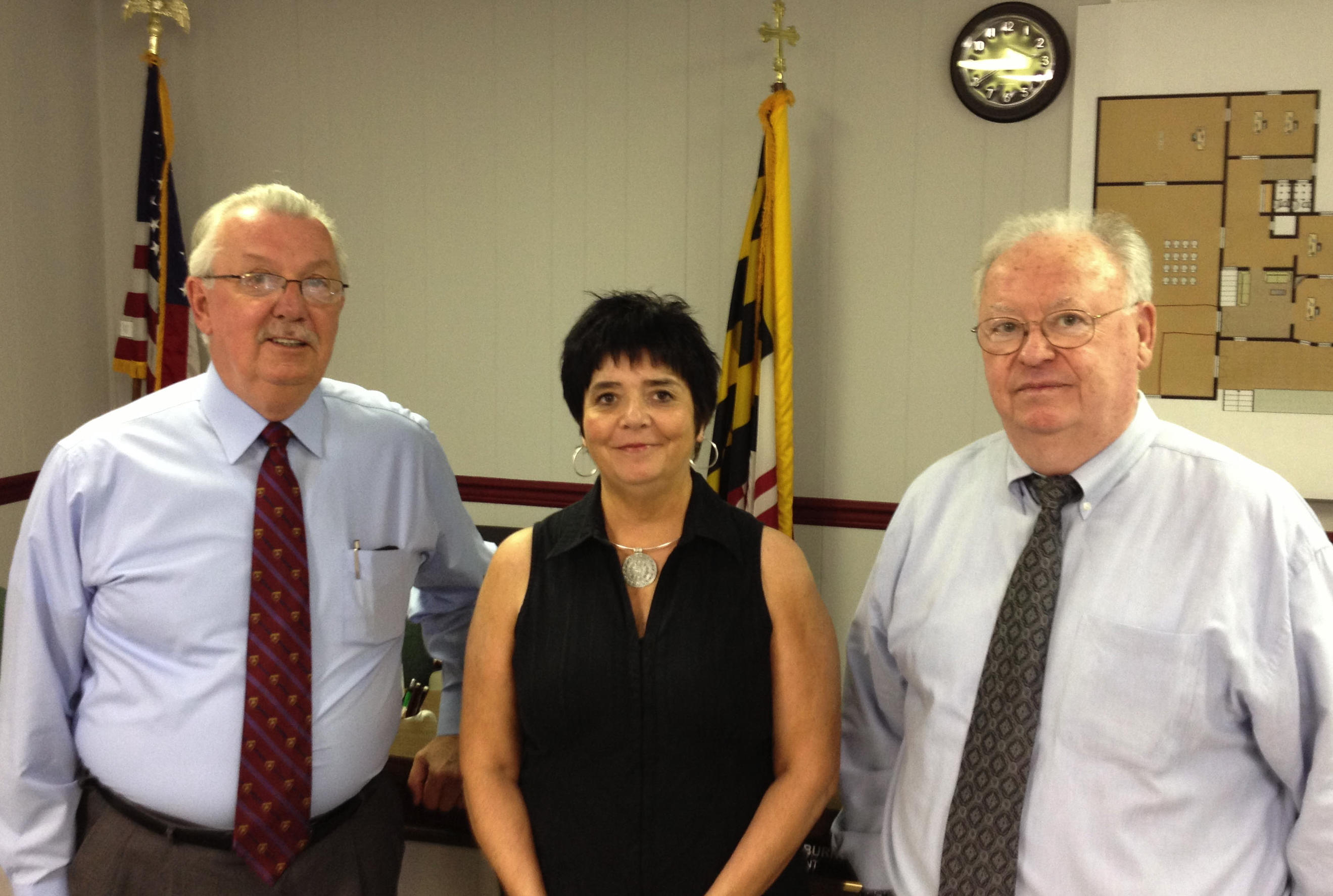 Commissioner and Main Street liaison Bill Beuhrer, Main Street Manager Vickie Grinder,
and Town Manager Bill Blakeslee
The Main Street program has been the centerpiece of Thurmont's economic development efforts since 2005 and has secured hundreds of thousands of dollars in grants. As in many small towns, the recession took a toll on local businesses and at times left storefronts vacant, but Thurmont's commissioners are hopeful that a restructuring of the program will turn the tide in a positive direction.
"We could change this whole landscape very easily," said Commissioner Bill Buehrer, "but you've got to have the leadership, and that's why we chose Vickie."
Grinder has extensive ties to the town's business community from her engagement in local economic development organizations and from publishing the Thurmont Times monthly newspaper, but is best known for being general manager of the Cozy Country Inn and Restaurant. She stepped down as manager of the Main Street program in 2008.
As she retakes the helm, a notable change from five years ago will be the availability of a dedicated Main Street office space in the former Thurmont branch library building near the town square. The town purchased the building, which has been vacant since the opening of the Thurmont Regional Library, and is in the process of renovating it to serve as a meeting place and resource for residents and tourists, and especially current and prospective local business owners.
"As a manager of a business, many people come into town and they have no idea what you have to go through to open up a business, and it can be a very frustrating process," Grinder said. "I'm hoping that I will be able to put together a package and seminars perhaps that will help educate these prospective entrepreneurs."
She also plans to continue an aggressive marketing and promotion campaign in newspapers and other publications, a strategy that led to multiple articles about the town in Maryland Life magazine, among others.
Eight years into the Main Street designation, Town Manager Bill Blakeslee credits the program with creating jobs and continuing to bring new businesses into town.
"Our number of new businesses outweigh the number that have been lost," Blakeslee said. "I don't think there are any more empty storefronts downtown."
"We want to have the confidence of the people in the Main Street area," he continued, "Let them recognize that we're working to help them look at areas in which we can help them financially through grants. And we want the Main Street people to be very confident in our program, and I'm sure they're going to be confident in Vickie as the Main Street manager."