"Friday Night Lights" does put Thurmont First!
Bridgette Nitza
MSM Class of 2015
Emmitsburg News-Journal
(9/1) Red, yellow, blue, green, and orange balloons lined Main Street, inviting the community of Thurmont and others driving through to enjoy not only the sweet sound of folk and jazz music, performed by Rick Galloway, but also the many vendors who had set up shop outside of various storefronts. This friendly atmosphere was the result of the "Friday Night Lights" event held on August 31.
Among the many items for sale throughout the streets of Thurmont were art, soap, and t-shirts. The vendors ranged from a high school student selling his football-themed birdhouses, to a face-painting booth. A smiling Thurmont local, ready to mingle with any visitors, manned each station.
Dozens of people, the young and the young at heart, were scattered along the sidewalks, contemplating what they should see or do first. Some held conversations with the many sociable business owners and some donated their money to advantageous organizations, while others scanned each area for the perfect item to purchase. No matter what endeavor they pursued, the people on Thurmontís Main Street were ready to indulge in a festive evening.
"Friday Night Lights" was an original idea, brought to life by Brian Carren. He stated, "Itís all about business development. A community is only as strong as its businesses." His wife, Molly Carren, is the townís optometrist at Thurmont Eye Care. In the same building as this establishment is Brianís own business, BKC Massage Studio. Iím sure many would agree that this pair has contributed much more to the town than just good customer service. They strongly believe that Thurmont will become as prosperous as possible with the help of devoted business owners and involved community members.
The Carren family posed for a picture and cut a ribbon while receiving their honorary certificate for one year of business. Timeless Trends Boutique was also honored with a ribbon cutting. This year marks its fourth year in the town of Thurmont. Also within this electrifying event, two other establishments, Gateway Orthodontics and Office Solutions, were recognized in such a ceremonial manner. They are both new and already appreciated additions to Thurmontís Main Street.
Those who were present for each "Friday Night Lights" ribbon cutting ceremony were: Vickie Grinder (First Director of Thurmontís Main Street Program), Michael Hobbs (Chairman of Thurmont First), Carol Robertson (Vice Chairman of Thurmont First), and Virginia LaRoche (Member of The Board of Directors). These admirable people of the growing Thurmont community were proud to celebrate and welcome all four businesses.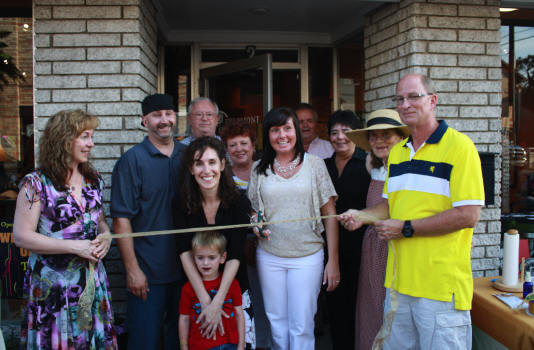 "Friday Night Lights" began the first month that Thurmont Eye Care opened, and with the town hard at work to bring together its residents, the program will continue to occur from 4pm-9pm on the last Friday of each summer month. During the winter months, "Friday Night Lights" will be invite-only activities, such as dinner parties.
Thurmont First is an organization that works toward economic development and Main Street revitalization. Utilizing this event to showcase local businesses and invite new ones to Main Street is only one example of Thurmont Firstís unwavering efforts to create a community-based setting for its residents.
Thurmont First will continue to create new opportunities for businesses to prosper. According to Vickie Grinder, the Old Library will soon become both a tourism center and an art gallery. Many other projects that will enhance the already-hospitable town are being discussed.
Nevertheless, "Friday Night Lights" will always be a prominent event, putting the townís people and its businesses in the spotlight; in other words, putting Thurmont First.