Thurmont Historian George Wireman Dies
The conductor' relayed love of the rails
Cara R. Anthony
Frederick News Post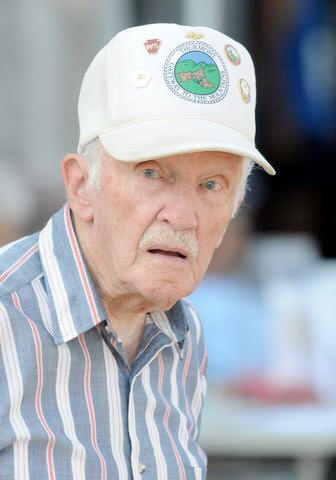 (1/7) George Wireman found a way to interpret life through trains.
He never got a driver's license or got behind the wheel of a car. If he needed to go somewhere, he could get there by train. Wireman, a longtime conductor for the Walkersville Southern Railroad, died Thursday in Thurmont, said his oldest granddaughter, Brenda Wastler. He was 91.
Wireman served as a railroad station volunteer for more than 15 years, making him a staple in a community that knew him as "the conductor."
"His main love was the community. He loved to volunteer," Wastler said.
Wireman passed his passion for volunteering on to his great-grandson Kyle Harne, who now serves as a volunteer firefighter in Fairfield, Pa.
"The impression that he made on my life and other lives really can't be put into words," Harne said.
Putting quarters on the railroad tracks and watching trains smash them is one of Harne's fondest memories of being with his great-grandfather. Harne said they spent hours together working on a model train collection Wireman had set up in the basement of his home.
The collection was almost as well-known in the community as Wireman himself. He always welcomed community members into his home to view the elaborate display. Parts of the collections will be donated to the Walkersville Southern Railroad, Wastler said.
Other community contributions include his book "Gateway to the Mountains" and archives about Thurmont.
"If anybody beat the drum for Thurmont, it was George Wireman," said Town Commissioner John Kinnaird.
Wireman acted as the town's historian, and anyone looking for information about Thurmont knew where to find it, Kinnaird said.
"He was really just a great friend to a lot of people in town, and he's really going to be missed," Kinnaird said.
County residents who knew Wireman say his love for trains will live on because the conductor shared his passion with almost everyone in town.
Molly Spence, 34, of Frederick, said Wireman's enthusiasm for trains rubbed off on her family. Each year they looked forward to riding the train and seeing Wireman during their visits.
"He was always the quintessential railroad representative. ... He always looked the part," Spence said.
Riding the train became a holiday tradition for Spence's family. When the family boarded the train this year, they wondered why Wireman, the "conductor man," was not there.
Learning that Wireman had been ill was heartbreaking to the family, but that is not going to keep them off the train.
"He saw it as something that was important. You could see it in his face and in his eyes," Spence said. "Even though he was very old you could tell there was still a sparkle in his eye for the love of trains."
A tribute to Wireman's life is planned for 1 p.m. Jan. 14 at Catoctin High School in Thurmont. In lieu of flowers, memorial donations may be made to the Walkersville Southern Railroad or Hospice of Frederick County.