"Bessie Darling" Musical Premieres in Thurmont This March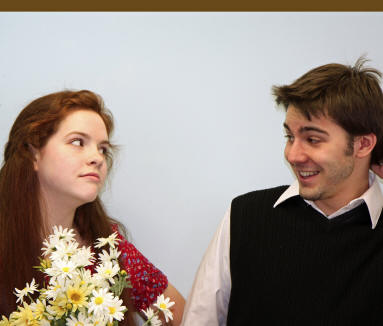 (2/24) The Thurmont Thespians will stage a world premiere of a brand new musical play based on a true story that happened here in Frederick County in the early part of the 20th Century. "Bessie Darling", written by Spence Watson with music by Barbara Watson, was a Baltimore-raised single mother who parlayed her musical abilities and her winning charm to become a successful business woman as owner of The Valley View Manor Summer Resort in Deerfield on the north slope of Catoctin Mountain, now part of the Catoctin Mountain Park. She was brutally murdered by a jealous ex-suitor, George Schultz of Baltimore, at her Deerfield hotel on Halloween morning of 1933, just before she planned to attend the Hagerstown Parade with Charles Wolfe, a widower from Foxville who had taken an interest in her that summer. The sole eye-witness to the murder was Mazie Willard, an 18 year old employee who was staying with Mrs. Darling at the time.
George Schultz then attempted suicide but was unsuccessful. He recovered and was put on trial for first degree murder the following March in Frederick District Court in downtown Frederick (now the Frederick City Hall Building). He pleaded self-defense because Bessie also had a pistol but Miss Willard was the State's star witness against him. He was convicted of second degree murder in an unusual one-day trial overseen by then Frederick District Chief Judge Hammond Urner. Bessie Darling was buried in Thurmont and her hotel property passed from her son Wesley eventually to the Department of Interior in 1934 to become part of the Catoctin Recreational Development Area, now known as Catoctin National Park.
The musical version of "Bessie Darling" begins with her hiring as an accompanist and personal secretary to the Conductor of the Baltimore Oratorio Society, Dr. Joseph Pache, who is portrayed by Spence Watson, the Sabillasville author. The role of Bessie Darling is being created by Lori Hockley of Gettysburg, PA and the role of Mazie Willard, her maid, will be played by Rosalyn Smaldone of Emmitsburg. The show is under the overall direction of Beth Royer Watson with Musical Direction provided by Anne Raugh of Frederick and Choreography by Jennifer Buchheister of Fairfield, PA.
The cast of "Bessie Darling" includes over thirty-five local volunteer actors and singers from the area playing various roles as the saga unfolds from 1914 to 1943. Supporting roles include Paul Smaldone as George Schultz, the murderer, Norman Gibat as Charles Wolfe, Anna Perry as Bertha Grosnickle, Bessie's friend, Johnny McCracken as Charles Bowman, Mazie's future husband, Emmit Krager and Todd McQuinn play young Wesley Darling Jr. at ages 15 and 29. Steve Ross and Christine Kreitz play Bessie's surprise hotel guests – President and Mrs. Hoover and Charles Long also makes a surprise appearance in the last scene of the play as Sir Winston Churchill in 1943 when the former Bessie Darling hotel was then being used as a training ground for Office of Strategic Services' Special Agents before being inserted behind the German occupation lines during World War II.
"Bessie Darling" – the Musical will be presented over two weekends at the American Legion Auditorium at 8 Park Lane in Thurmont with a total of eight performances opening Thursday night, March 22 at 8PM and continuing through Friday and Saturday nights of both weekends. There will be two Sunday matinee performances on March 25 and April 1 at 2PM. All tickets are $15.00 per person and early reservations are encouraged due to limited seating. There will be one dinner theatre performance on Saturday, March 31 starting at 6:30PM with food catered by Cozy Restaurant for an additional @20 per person. Due to the adult content of the show, parental discretion is advised. Reservations and information about all "Bessie Darling" performances can be obtained from Mrs. Becky Urian at 301-271-7613.