Music, faith intersect at Rocky Ridge carnival
Jeremy Hauck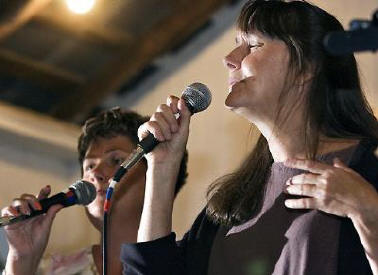 (8/14) More than a dozen bands have played fire carnivals in Thurmont, Walkersville and Rocky Ridge this summer, but a Catoctin Promise Band has been hitting the circuit particularly hard.
The Thurmont Christian group played Emmitsburg's Mother Seton School carnival in May, Thurmont's Guardian Hose Company fire carnival, and, this week, the Rocky Ridge Volunteer Fire Company No. 13 carnival.
Artists who performed this past weekend at the 2008 Virgin Festival, like the Foo Fighters or Kanye West, can make millions and dedicate their lives to music. Members of Catoctin Promise Band, on the other hand, have day jobs, renew their commitments to the band on an annual basis and demand no fees. They ask only for offerings.
"OK," joked Bill Offutt, of Thurmont, a radiologist by day and the bassist for Catoctin Promise Band by night. "We're back from the last set for the faithful few who can stay up past 9:35 [p.m.]"
Offutt wore a Hawaiian shirt and khaki shorts. His counterpart on electric guitar, Fairfield, Pa. resident, Dale Hooper, wore a similar shirt with jeans. Along with Hooper and Offutt, a trio of female vocalists including Susan Wize, a science teacher at Thurmont Middle School, on Monday fronted an eight-piece band that had two keyboards and two drum sets.
Light from bare bulbs in the pavilion's ceiling flooded out into the grass and trees of Rocky Ridge's secluded Mt. Tabor Park. A carnival volunteer replaced trash bags in the outdoor dining area next to the pavilion, and volunteers in the "ham stand," where the fire company sells its famous country ham sandwiches for $3.50 each, began lowering the windows for the night.
The band played a rousing version of "Amazing Grace" set to the music of The Animals' 1964 hit, "The House of the Rising Sun," before concluding with one of the most popular contemporary Christian songs.
Grooving to the band's final song, "Our God is an Awesome God," Thurmont resident and four-year fan of Catoctin Promise Band Jerri Bowers tapped her thigh to the music.
"They bring a lot to you," Bowers said, adding that she'd likely attend every night of the carnival. "The words say it all."
Co-founded by Fort Detrick fireman Tim Willard, 31, of Sabillasville in 2002, Catoctin Promise Band plays a mix of carnivals and church gigs throughout the spring and summer, and usually slackens its pace over the fall and winter.
Willard and fellow co-founder Wes Hamrick started out as an instrumental duo — piano and drums — playing at senior citizens and nursing homes. The band grew rapidly and comprises members from several area churches.
"God just sent people our way," Willard said after the gig. "It's been an awesome ride."
The youngest band member is keyboardist and guitarist Luke Greffen, 24, of Thurmont. Greffen hosts a two-hour afternoon radio show on a Thurmont Christian radio station and serves as a youth pastor at Thurmont United Methodist Church.
While breaking down the set, band members said carnival audiences express themselves more readily than church audiences, even though they may not specifically like Christian music.
"You're playing to a secular audience, and it's non-secular, Christian music," Greffen said.
Willard said propagating the Christian message is key to what the band does.
Before the band had stuffed its guitars into its trailer, parked adjacent to the stage, Willard said, "Hey, before anybody leaves, can we pray?"
Mize sat on the edge of the stage and bowed her head. As the noise from night insects replaced the sounds of carnival traffic, the rest of the band followed suit.
"Thank you so much for the opportunity to minister in Rocky Ridge," Willard prayed.
The band, which practices twice per month, next plays in Boonsboro on Sept. 13.
For the Rocky Ridge fire carnival, classic rock band Roll the Dice is scheduled for tonight, and two country bands — Brush Fire and Hat Creek — will play on Friday and Saturday, respectively.