Marine to be laid to rest Friday


Childhood pal remembers the 'always faithful' Higgins as a hero,
on the field and off
Ingrid Mezo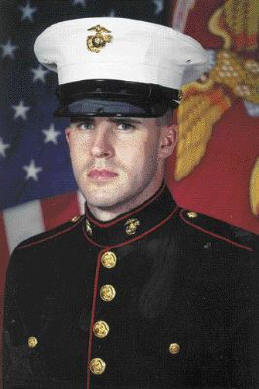 (8/3) Growing up together in Thurmont, James Willard Higgins Jr. and James Michael Campbell played tackle football together.
''He loved to play tackle football," Campbell said. ''We beat each other up, and it was always a lot of fun. We'd play either behind his house, or we'd play on the youth football field in Thurmont if we had enough people."
But Higgins' football days are over.
Lance Cpl. Higgins, 22, was killed on July 27 in Al Anbar, Iraq. The family will receive friends from 2-4 p.m. and 7-9 p.m. today at the Stauffer Funeral Home, 104 E. Main St., Thurmont.
Funeral services will be held at 11 a.m. Friday at the Lynfield Event Complex, 10142 Hansonville Road, of off U.S. Route 15, Frederick.
Burial with full military honors will follow in Resthaven Memorial Gardens in Frederick. Honorary pallbearers will be James father, brother Joseph C. Higgins, and two best friends, Pvt. James Michael Campbell, and Shawn Michael Kelly.
Higgins was born in Olney on June 2, 1984, and was the son of Debbie Sue Russ Higgins of Thurmont and James Willard Higgins Sr. of Pennsylvania.
He was a 2003 graduate of Catoctin High School, and achieved Honor Roll status throughout his four years of high school.
Campbell said he and his childhood friend had wrestled together when little, and went to Catoctin High together, though Campbell was a year younger, and in the same grade as Higgins' brother, Joseph.
''We were on the football team together," he said.
''From a normal person's point of view, I would say straight-up he's the best person I ever met," said Campbell, who is also a Marine. ''I never met anyone who didn't like James."
''The Marine Corps motto is Semper Fidelis, which means always faithful," Campbell continued. ''To me, James is that motto. He is Semper Fidelis. He is that person you could always count on in the Marine Corps. ... He had integrity. To me, I saw James as the next Sgt. Major of the Marine Corps."
Higgins, who also loved making model planes and boats as a child, had originally wanted to join the Air Force, Campbell said.
''When I got back from boot camp, I kind of talked him into joining the Marine Corps," Campbell said. ''He went to boot camp when I was in communication school in California. ... He told me he was in the O3 field, which is the infantry. I know when I went to boot camp, basic training was to survive in the wilderness. For him, they go ... out on their own and train and learn to shoot on their own all the weapons."
Higgins was stationed in Camp Lejeune, N.C., on July 8, 2005, Campbell said.
Higgins graduated School of Infantry at Camp Lejeune in September 2005, and qualified as a Machine Gunner Rifle Sharp Shooter. He joined the Weapons Company 1st Battalion 1st Marine Division on Sept. 22, 2005, and left for Iraq in January 2006.
In Iraq, Higgins received the National Defense Service Medal, the Iraq Campaign Medal, the Sea Service Deployment Ribbon, the Combat Action Ribbon and the Purple Heart.
''He was one of those Marines who would have picked up rank fast, and probably would have stayed in for the full 20 years," Campbell said.
In addition to being loyal, and loving sports, Higgins was also into ''The Lord of the Rings," Campbell said. ''He had 'The Lord of the Rings' Risk game."
When Campbell first heard of his friend's death, ''The first thing that I thought of was that I just didn't believe it," he said. ''To me, James was a superhero, but now instead of just being my superhero, he's a hero to the world, and I hope that his death doesn't go in vain. I hope people realize that he fought for what he believed in, and there is no more noble way to die than to die in the battlefield fighting for your country."
''If you really think about it, how did we become what we are today?" Campbell continued. ''It's not because we sat back and let everything go to hell. The way that I see it, is if we could do it, anybody could do it. Just like in the Revolutionary War, the French came and helped us out. Before a person judges how we went over there, think about how we got where we are."