Music, Gettysburg! Presents
Festival Choral Vespers for Advent
(11/24) The best music from four centuries, accompanied by brass, organ and the Schola Cantorum of Gettysburg will comprise festival Choral Vespers for Advent on Sunday November 30th, at 7:30 p.m. at the chapel of Gettysburg Seminary.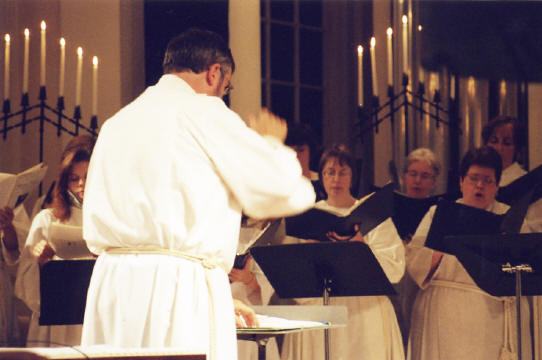 The candlelight event is set in a meditative and stimulating concert-like setting combining sung prayers, psalms, motets and readings together in the acoustically incomparable seminary chapel. The one hour choral vespers will follow the order of a typical 17th century evening prayer service, featuring the finest settings of psalms, chorales and motets from four centuries.
Music featured in the vespers will include a Magnificat by Heinrich Schütz, a setting of Psalm 122 and Fling Wide the Door composed and arranged by Stephen P. Folkemer, an arrangement of "O Savior Rend the Heavens Wide" by Hugo Distler and Vigilate for two choirs by William Byrd.
The Schola Cantorum is a 30 voice choir under the direction of its founder, the Rev. Dr. Stephen P. Folkemer, featuring voices from Central Pennsylvania, Maryland, and Virginia. Folkemer is Seminary Cantor and Professor of Church Music at the Lutheran Theological Seminary. Folkemer founded the Schola Cantorum nearly thirty years ago as a part of the Music, Gettysburg! concert series.
Leading the service is the Rev. Glenn Miller, Vice President of Philanthropy, Lutheran Social Services, South Central Pa.
Enjoy this choral musical treat at the Sunday evening concert, which is free and open to the public. The Seminary Chapel is located at 147 Seminary Ridge in Gettysburg. For more information about this and other concerts in the Music, Gettysburg! schedule, please call 717-338-3000 ext 2197 or visit the Music, Gettysburg! web site: www.musicgettysburg.org.