Music, Gettysburg! Presents the Gettysburg Big Band
(2/28) Music, Gettysburg! is pleased to present the Gettysburg Big Band in sight and sound Sunday evening, March 3rd at 7:30pm in the chapel of the Lutheran Theological Seminary.
The concert, featuring both the sound of the Big Band and fascinating visuals of the jazz and swing era, will offer thrills across generations. The multi-media production will enable the audience to hear the songs of the Swing Era the way they were originally performed and see film and photos of the original performers and composers as you listen to the Gettysburg Big Band.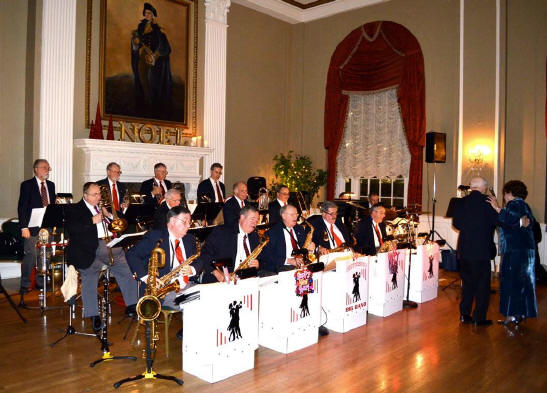 The concert will include works by Glenn Miller, Tommy Dorsey and Benny Goodman among many others and vocal stylings in the manner of such greats as Ella Fitzgerald, Frank Sinatra Rosemary Clooney and Bobby Darin.

Directed by Dan Bevilacqua, the Big Band makes its fourth appearance for Music, Gettysburg! audiences, which has delighted audiences in the region since 1990. Beginning in 1990 with the opening of the Nation Apple Museum, the band has steadily increased its repertoire to include most of the popular and original arrangements of the 30s and 40s with a great selection of fox trots, waltzes, Latin music, swing numbers, and more. Members of the band include active and retired doctors, teachers, service musicians, a farmer, an accountant, a college professor and a financial advisor.

In addition to Greg Ruth, who is the band manager and has years of professional trumpet experience with the Les Elgart Band and the 30th Army Band in Germany, the Gettysburg Big Band includes trumpeters Hugh Ferguson, Joe Schnetzka and Terry Scholle. Bob Grubbs, Keith Davis, Joel Sears and Paul Tice anchor the trombone section. Playing saxophone are Dan Bevilacqua, Steve Carbaugh, Barry Stauffer, Barbara Senier and Bob Zeliner. And rhythm and vocalists include in addition to Bevilacqua, Dan White on drums, Steve Franek on bass, Jess Betlyon on keyboard.

Music, Gettysburg! is a premier performing arts series in Central Pennsylvania, producing more than 15 concerts annually, which are free and open to the public.

Come enjoy this family friendly Sunday evening concert. The concert will be held in the Seminary Chapel, 147 Seminary Ridge. For more information about this and other concerts remaining in the Music, Gettysburg! schedule, please call 717-338-3000 ext 2197 or visit the web site at

www.musicgettysburg.org.