Being Revived announces their first full production of the musical "Superman!"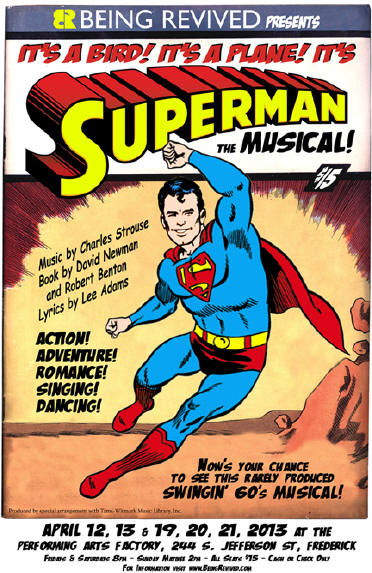 (3/7) Being Revived - a new Frederick-based theatre company, announces their first full production of the musical "It's a Bird! It's a Plane! It's Superman!" This rarely produced 1960's Broadway musical opened to good reviews but only lasted 129 performances in the New York run. The musical was released on the heels of the classic Adam West "Batman" TV series and is a campy spoof on the famous DC Comics hero, Superman. The musical tells the tale of Superman going up against a mad scientist and a newspaper critic, who also happens to be a rival for the affections of Lois Lane. "It's a Bird! It's a Plane! It's Superman!" also featuerd a breakout role for future TV and Broadway star Linda Lavin, who sang the number "You've Got Possibilities."

BEING REVIVED is excited to present the area premiere of this cult classic musical opening on April 12, 2013. BEING REVIVED is founded by local director and actor David Norman, who has worked with area theatre groups such as Maryland Ensemble Theatre, The Fredericktowne Players and Theatre FCC. The focus of BEING REVIVED is to expose lesser known musicals to a new audience who may have never seen them, and may never get the chance again. "There are hundreds of musicals that never get produced, many by well known composers such as Rodgers and Hammerstein, Noel Coward and Stephen Sondheim," says Norman. "Many of them deserve an audience and many audiences want to broaden their horizons and see something that they have never seen before, rather than another production of Oklahoma! or Annie." BEING REVIVED debuted their company last summer with an original musical review, "Completely Inappropriate," which had positive reviews and attendance. "Superman!" is their first full production and they plan to announce their first full season as soon as rights to the shows have been secured.

"It's a Bird! It's a Plane! It's Superman!" features music by Charles Strouse (of "Annie" fame), book by David Newman and Robert Benton, and lyrics by Lee Adams. The show will be directed by David Norman and is produced by special arrangement with Tams-Witmark Music Library, Inc.

"It's a Bird! It's a Plane! It's Superman!" will run April 12, 13, 19, 20 and 21m 2013 at the Performing Arts Factory, 244 South Jefferson Street, Frederick, MD, Fridays and Saturdays at 8:00pm and the Sunday matinee at 2:00pm. Tickets are $15 general admission. Cash and check only at this time. BEING REVIVED is currently applying for non-profit status. For more information, including the cast of "It's a Bird! It's a Plane! It's Superman!" visit www.beingrevived.com.