Adams County Arts Council Hosts Five-Woman Quilt Show
(1/15) The Adams County Arts Council will host a five-woman quilt show in its Reception Hall and Studio Gallery beginning Thursday, January 31, with an artists' reception to be held on Friday, February 1, from 5:00 to 7:30 P.M., as part of the Arts Council's First Friday celebration.
The show, "5 Friends, 5 Quilters, 5 Peeps," will run through February 26, featuring the work of a close-knit group of long-time quilters: Annette Ehly, Barbara Dombrowsky, Patsy Hartnett, Jill Coleman, and Judy Sorensen.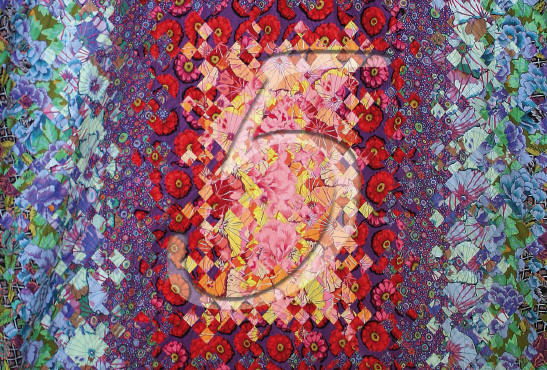 "We've known each other for 21 years and have been quilting together every Friday, so what you're going to see is a range of all the types of quilting that we do," says Ehly.
The group, which calls itself the "Five Peeps," has shown work at several local venues, including the Gettysburg Festival, the York Quilt Guild, HACC-Gettysburg, and the Unitarian Universalist Church in Gettysburg.
Each member of the Five Peeps works in her own style, Ehly says, which are constantly evolving in response to influences from both outside and within the group. Ehly tends to work in a more contemporary style, she says, as do Coleman and Hartnett. Sorensen and Dombrowsky lean toward more traditional designs and fabrics. Some prefer to work by hand; others use sewing machines to piece or quilt their work. Each has decades of quilting experience.
Ehly notes that the Arts Council show will include a group project that the women call a "Round Robin." "You start with one piece that you made, then you pass it on and let somebody else add to that piece," she explains. "Each quilter adds her own style to her piece, so you get a whole variety of styles in one finished quilt."
The group also plans to exhibit of series of smaller quilts, each one completed by a different group member but featuring the same design. "Everyone interprets the design in her own way," says Ehly. "It's interesting to see how each woman chooses to go with it. Someone might decide to work in silk, or wool, so you get a whole range of fiber being used to execute the same design."
As they prepared for the upcoming Arts Council show, Ehly says the group took stock of what their work means to them and the role it plays in their lives. "We ultimately agreed that when you work with your hands, you're a laborer. When you use your mind and your hands, you're a craftsman. But when you use your hands, mind, and your heart, that's when you become an artist," she says. "This work gives each of us a sense of who we are, and it's a way to express ourselves. We're always evolving, and we're always influencing each other, because we know each other so well. We've all watched our kids grow up and our grandchildren arrive. It's been an interesting phenomenon—after 21 years it's like we're all sisters."
For more information about the upcoming Five Peeps quilt show, other upcoming Arts Council shows, art classes at the Arts Council's Arts Education Center, and other news and events from the Adams County Arts Council, visit www.adamsarts.org or call (717) 334-5006.