Seton Shrine presents "Songs from the Camps," a Civil War Picnic Concert
(7/6/2012) The distinctive down-home sounds of banjos, fiddles, tambourines and mandolins, which entertained soldiers on the battlefield camps, will fill the air on Sunday, July 8 at 5 p.m. at the National Shrine of Saint Elizabeth Ann Seton as two Civil War era bands perform a FREE picnic concert on our grounds.

The concert will feature the Hancock String Band and the 2nd South Carolina String Band, both acclaimed for playing authentic Civil War era music. According to the 2nd South Carolina String Band's Web site, "This is the music as it truly sounded to the soldiers of the Civil War."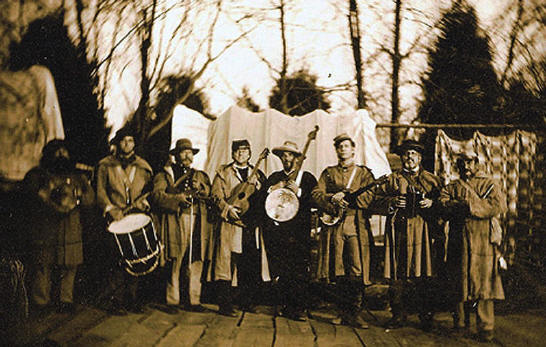 The 2nd South Carolina String band formed in August 1989 when five riflemen of Co. I 2nd SC Volunteer Infantry, a unit of Civil War reenactors, would play instruments and sing around the campfire after the battles, drills and inspections. The group has matured over the years and its popularity has grown within the Civil War reenactment community and beyond. They have been featured in People Magazine, U.S.A Today and U.S. News & World Report, and in 2002, the band was featured in the award-winning movie Gods & Generals.

The Hancock Civil War String Band performs 11 different instruments along with melodic four part vocal harmonies, which bring to life the poetic lyrics of the most musical war ever. The band often performs "Listen to the Mockingbird, a song sung by 81,000 Union and Confederate soldiers the night before the battle of Stones River in Tennessee, and the song "Lorena," which Confederate generals banned since it was causing the men to be homesick. The music of the Hancock Civil War String Band will take you back in time and give you a new unique perspective of the tumultuous time in history.

Guests are invited to bring lawn chairs, blankets, and picnic food to enjoy. Or purchase dinner from Carriage House Catering, which will offer onsite catering for the event. Rita's Italian Ice of Frederick will be on-hand so guests may purchase delicious cold treats during the evening.

"Civil War history is rich at the Shrine," said Rob Judge, executive director of Seton Heritage Ministries. "The war came to Emmitsburg in late June 1863, with the armies of the Potomac and Northern Virginia succeeding each other in St. Joseph's Valley."

"Approximately forty years after Mother Seton's death in 1821, her home was the site of the Union encampment in 1863. Union officers conducted a war council in St. Joseph's House, now known as Mother Seton's White House, to prepare for the battle of Gettysburg," explained Judge.

The event will also offer free access to the Charity Afire exhibit in the Seton Heritage Museum and Visitor Center. The exhibit features artifacts from the Civil War and tells the compelling stories of the Sisters and Daughters of Charity and how they not only endured the war but tended to the spiritual and medical needs of soldiers from both sides.

Contact 301.447.6606, or visit www.setonheritage.org for more information.
Read other Performing Arts Articles