Practicing Good Citizenship at
Mother Seton School
(12/12/2012) Working to promote a positive environment at Mother Seton School, the School Climate Committee initiated the Christian Character Traits program at the end of October. The goal of the program is to encourage students to become positive role models both in school and in the community. Each month, the school focuses on a different Christian character trait and students, who demonstrate that character trait consistently throughout the month, are recognized. The Christian Character Trait for November was Citizenship. Students discussed what citizenship means and what it means to be faithful to God and a good citizen to our nation. Congratulations to the students recognized for demonstrating Christian Citizenship in November.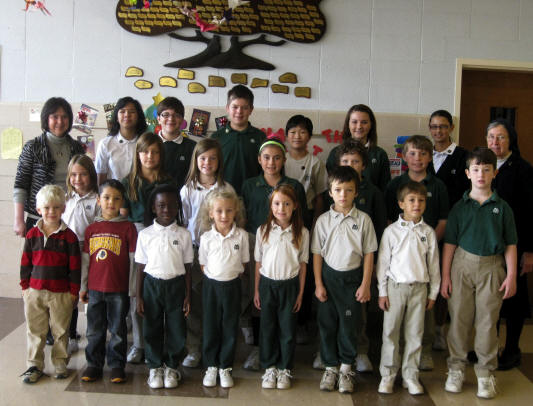 (front l to r) Lucian Ridenour, Finnian Tayler (Pre-K), Chelsea Asiedu, Elena Crutchfield, Gianna Lowry (Kindergarten), Adam Knox, Michael Hohenstein, Luke Ifred (1st grade), (2nd row) Emma Reed (2nd grade) Hannah Cavey, Libby Kiley (3rd grade), Natalie Bosche (4th grade), Daniel McCarthy, Quinn Alley (5th grade) (back row) Mrs. Terri Zigler, MS Learning Center Director, Samantha Mariano, Alyssa Rae Fostik (6th grade), Noah Wivell, Edison Hatter (7th grade), Hannah Reed, Kara Roberts (8th grade), Sister JoAnne Goecke, D.C., Principal, Mother Seton School.
Mother Seton School continues to be staffed by the Daughters of Charity, whom Mother Seton is the U.S. Foundress. For families seeking excellent academics and strong values, Mother Seton School is an affordable option that is easily accessible by bus from multiple locations in Frederick County. For admissions information, please visit www.mothersetonschool.org.