Maryland Shakespeare Festival presents "Dead Manís Mambo"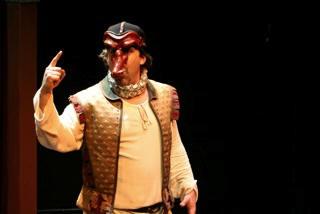 (1/11/2012) The Maryland Shakespeare Festival returns modern comedy theater to its Italian roots with a production in Frederick of "Dead Manís Mambo." A co-production with Ombelico Mask Ensemble, a Philadelphia-based theater company, the performance is a one-man show starring Maryland Shakespeare Festival Artistic Director John Bellomo. The show promises a fast-paced, raucous night of entertainment on two weekends, January 20-22 and January 27-29, at the Cultural Arts Center in downtown Frederick. Commedia dellíarte, a form of improvisational and physical comedy, was born in 16th century Italy and quickly became popular throughout Europe. The dialogue is highly improvised with an emphasis on comedy. Another stock element is the use of masks to represent the specific characters or nature of the characters. Commedia dellíarte influenced many important writers throughout history, among them Moliere and Shakespeare, both of whom employed many of the elements of the art form.
Mr. Bellomo studied Commedia dellíarte in Italy and has performed it throughout Europe and the United States. In addition to being an actor/director and artistic director of MSF, he is a co-artistic director of Ombelico Mask Theatre, which produces original ensemble-driven theatre that reveals the absurdity of human behavior through Commedia dellíarte, building on tradition and reinventing Commedia for the modern audience.
"I studied Commedia dellíarte in Italy with Antonia Fava, an internationally renowned artist in the craft and realized how much this art form is part of modern theater," Mr. Bellomo explained. "It is quite easy to see that Shakespeareís original practices are not that different from Commedia dellíarte and to see its roots in modern comedy."
"Dead Manís Mambo" features Mr. Bellomo playing a stagehand who finds out that the acting troupe scheduled for the eveningís performance is stuck in traffic and ultimately will not make the opening curtain. While waiting for the troupe to show up he ends performing all 10 of the characters in the play, accompanied only by a mute musician. He juggles love, swords and scudi (Italian money) in this fast-paced Commedia clown showó500 years in the making. Part Commedia dellíarte, part clown, "Dead Manís Mambo" is a unique mix of highly structured scenario, wildly improvised performance and live music with a nice dose of audience participation.
The production is written and conceived by Brendon Gawel, founder and co-artistic director of Ombelico Mask Ensemble, and Bellomo.
Performances for "Dead Manís Mambo" are at 8 p.m. on Fridays and Saturdays and Sunday performances are at 2 p.m. on January 20-22 and January 27-29. Tickets for "Dead Manís Mambo" are $22 for adults, $18 for student/seniors. Visit www.mdshakes.org or call 301-668-4090 for ticket information and directions to the Cultural Arts Center.
Read other Performing Arts Articles