Adams County Apple Blossom Festival
Katy Lesser
(4/2012) Spring Came EarlyÖBut You Can Still Enjoy the Scenery!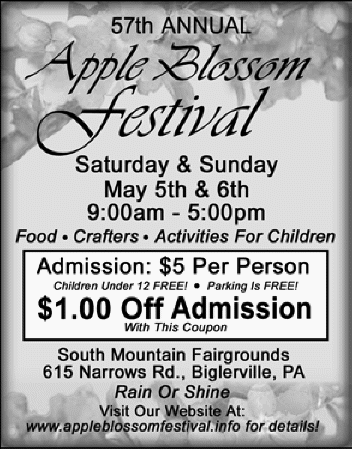 With the early spring we have experienced this year, there probably wonít be too many more apple blossoms gracing the hillsides come the first weekend of May. But the scenery is still just as breath-taking all along the Fruit Belt of Adams County!!
Come to the 57th Apple Blossom Festival located at the South Mountain Fairgrounds Saturday and Sunday, May 5th &6th! The Apple Blossom Festival is a wonderful family-oriented festival that is sure to be the spring time event that you look forward to year after year.
We have a weekend packed with all sorts of activities and entertainment for you to enjoy! Free concerts are scheduled with performances by Leah Berkey, Borderline, Flashback, Creekside Soul, and the Klinger McFry Bluegrass Band. There are multiple performances throughout the day, so you can see them all! Weíll have straw bales set up, but feel free to bring your own chair or blanket if you wish. (Click here to see the full schedule of events)
The New Oxford School of Ballet will have two performances on Saturday in the auditorium. Tap your feet along with the Carroll County Cloggers as they will perform both days. There will also be a Martial Arts demonstration on Saturday.
On Sunday morning, you can meet candidates for the Pennsylvania Apple Queen as they answer questions about the importance of the apple industry and why they wish to have title of "Pennsylvania Apple Queen." Prior to the interview process with the queen candidates, you can enjoy a performance by the locally renowned Apple Core Band which plays delightful big band melodies. After the lunch hour, you can enjoy the award winning Biglerville High School Jazz Band. You will be amazed by their talent and spunk! Following the jazz band performance, the Apple Queen judging will continue and the Coronation Ceremony will mark the beginning of a new reign of Pennsylvania Apple Queen!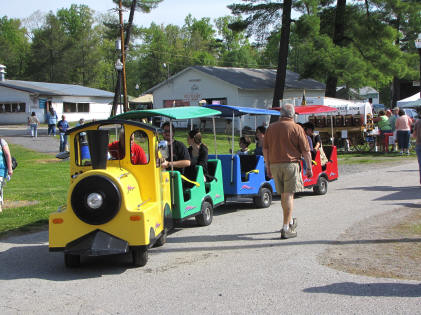 The kids and grandkids will also have a blast at the Apple Blossom Festival because there are tons of kidsí activities! We have everything from petting zoos, magic shows, apple bobbing and pie eating contests, tractor pulls, wagon rides, puppet shows, mini golf, pony rides, antique cars and Corvettes, and antique gas hit & miss engines (okay, maybe the last two are for the kid in you too!).
The Apple Blossom Festival is also partnering with Healthy Adams County to host the 2nd Annual Kids Health & Safety Day. The exhibitors will have hands-on educational activities for children to teach them about healthy habits and lifestyles.
We will also have the Crunch Quest which is back by popular demand! Crunch Quest is a scavenger hunt around the fairgrounds and children and their families are challenged to find all eight Crunch Quest posts. At each post the child will learn about the health benefits of eating apples and a well balanced diet. They will also perform basic physical exercises. Pick up your free jump rope and then collect the unique rubbing at each post on the activity sheet, and children will be entered to win the grand prize which will be awarded at the end of the day Sunday. Visit us at the Crunch Quest table once you walk through the entrance to the festival to get started on the scavenger hunt.
Jen Baugher Snavely, president of the Adams County Fruit Growers Association says, "We partnered with Healthy Adams County last year for the first Crunch Quest. Healthy Adams County has performed this type of scavenger hunt activity at their own events and youth camps. We all agreed that the Crunch Quest would be a great way to encourage children to eat apples, and get some physical exercise while walking around the fairgrounds looking for all eight posts. We were happy to see and hear so many families enjoy this activity, that we are very excited to feature Crunch Quest as a popular childrenís activity again at Apple Blossom Festival!"
After spending time on your feet while completing the Crunch Quest, you can take a break and go on one of the Orchard Bus Tours through scenic Adams County. A favorite component of the Apple Blossom Festival is the Orchard Bus Tours, as your tour guide and host is an Adams County Fruit Grower. They will tell you how the fruit industry has changed over the decades, personal stories about their multi-generation orchard operations, and what they appreciate about living in an agriculture community.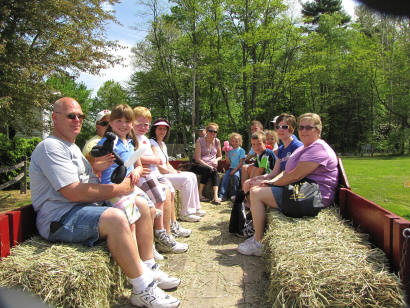 Bruce Hollabaugh, board member of the association and fruit grower, says "The Orchard Bus Tours are a great opportunity to learn about the fruit industry in Adams County. Every year while giving the tour I meet people who are so surprised about the fruit industry and everything that is required to produce good fruit. Itís a great opportunity for folks to hear our stories and make a connection with agriculture."
Also on schedule are two extremely unique bus tours: Deb McCauslin, a local historian will give the tours. The Saturday Tour is on the History of Yellow Hill, and the Sunday Tour is on Mary Jemison. You will visit the Yellow Hill and the Quaker Valley area which is where collaboration took place between races to free slaves during the Civil War. On the other tour, you will learn about Mary Jemison who was a young girl held captive by the Seneca Native Americans during the French and Indian War. She married within the Seneca tribe, and after the war ended and captives were to be released, she chose to continue her life with the Native Americans. Deb McCauslin wrote and published the book Yellow Hill: Reconstructing the Past Puzzle of a Lost Community, and specializes in people and places of local interest around the time of the Gettysburg Battle.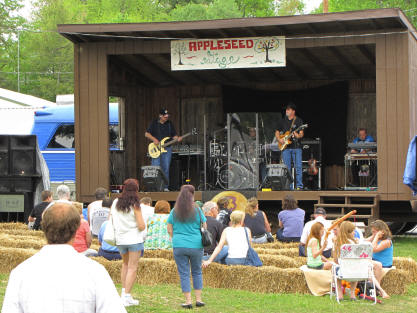 The Apple Blossom Festival hosts plenty of food vendors and you can graze your way across the fairgrounds all day! You can support the Cashtown Lions Club, Upper Adams Lions Club, Arendtsville Lions Club, and South Mountain Fair Association. There are also a ton of other food vendors with typical fair food. And since the Apple Blossom Festival is hosted by the Adams County Fruit Growers Association, you know you can expect lots of fresh apples, cider, and apple baked goods provided by The Pie Lady!
There are crafters that come from near and far to sell their hand-crafted items. We have crafters specializing in beading and jewelry, country quaint decorations, handmade candles and soaps, small furniture, wood carvings, floral decorations, hand sewn items, custom named-personalized items, pottery, photography, cement lawn ornaments, log furniture, embroidered bags, and much, much more! Come with a list of friends and youíll definitely be able to find birthday presents for them all. And Motherís Day is Sunday, May 13th so donít forget to pick out something great for Mom!!
We hope you can join us at the 57th Apple Blossom Festival! The weekend is jam packed and itís sure to be one your favorite spring festivals! With the early spring and beautiful weather, youíve had plenty of time to do your spring chores: your yard work is finished; youíve already tackled your spring cleaning; so now itís time to enjoy a weekend with family and friends! And thereís no better place than the Apple Blossom Festival!!