Pulitzer Photographer Exhibits in Gettysburg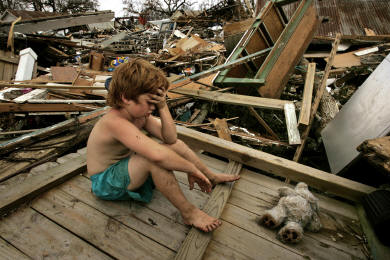 Aftermath-Hurricane Katrina 2005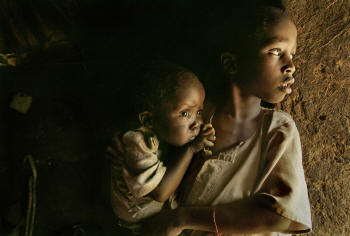 Sudan 2004

Afghanistan 2001
(4/13) In a recent presentation of her award winning photographs, Los Angeles Times staff photographer Carolyn Cole told her Temple University audience that the core intent of her daily work as a photojournalist is "In that moment, I am there to tell their story."
A unique exhibition of her engaging and hard-hitting images will be featured at the Majestic Theater Gallery in Gettysburg, Pennsylvania, from April 25th through June 8th. The exhibition, In the Moment, will begin with an Opening Reception on Friday evening, April 25th, and continue on Saturday, April 26th with a presentation in Cinema One, followed by a lunch program in the Patronís Lounge.
Carolyn Coleís life is filled with images. It is also packed full of international recognition for her work. With a Pulitzer Prize, a Robert Capa Gold Medal, more Pictures of the Year International awards than one can count and three National Press Photographers Association Photojournalist of the Year awards, there is no doubt that both Coleís peers and audience find her photographs to be especially powerful for conveying a particular moment in time and history.
In 2003, Cole went to Liberia, as rebels surrounded that countryís capital, Monrovia. It was there that she would earn the 2004 Pulitzer Prize, ". . . for her cohesive, behind-the-scenes look at the effects of civil war in Liberia, with special attention to innocent citizens caught in the conflict." In The Moment features photographs chosen by Cole as primary examples of her intent to provide intimate stories of world events from the past eight years. Many of the exhibitionís thirty photographs focus on children and women, victims of war, famine, and natural disasters, from Iraq to Louisiana. Much more than a snapshot in time, each photograph is a poignant testimony to our collective humanity and inhumanity. They are vivid reminders of the global village in which we live.
In the Moment will open on April 25th with a public Reception for Carolyn Cole, from 6:00 until 8:00 p.m., in the Majestic Theater Gallery. Saturday the 26th, from Noon to 1:00 p.m., will feature a presentation by Ms. Cole with many additional images, in the Majestic Theater Cinema One. Then, from 1:15 until 3:00 p.m., a lunch program will be held in the Majestic Patronís Lounge, with Carolyn Cole sharing her "Thoughts on the Future of Journalism." The Cinema One program is free, with ticketed admission. The lunch program has limited seating and is available for $30.00 per person ticket reservation. Advance ticket reservations are suggested for both events by contacting the Majestic box office at (717)-337-8200.
In The Moment is developed and produced by Americasí Arts, a private art dealer who develops and manages fine art exhibitions and programs for commercial, corporate, and not-for-profit clients.