Maple Sugaring at
Strawberry Hill Nature Center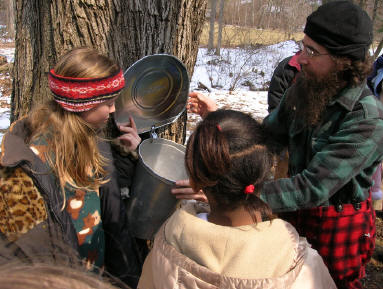 (1/30) It's a chilly winter morning, but the adults and children gathered in the circa-1790s log cabin at Strawberry Hill Nature Center and Preserve are warm and happy. A fire is burning in the stone fireplace, they have pancakes on paper plates in their laps, and Strawberry Hill's educational coordinator Eddy Rubin is playing the guitar and singing songs about the old-fashioned art of maple sugaring.
Rubin's quirky lyrics review the main points of tapping maple sap and boiling it down into syrup, and the audience joins in the refrain (All together now: "Maple syrup! Maple syrup! Oh that's sweet! What a treat!"). The singing is followed by a rendition of game show "Name That Syrup" in which participants perform a blind taste test to determine which syrup is authentic, and which is merely flavored corn syrup.
Next, everyone heads out into the quiet, winter forest to tap a maple tree, gather sap from already-tapped trees, and watch as the syrup is slowly cooked down the old-fashioned way – over a wood fire. At the end of the ninety-minute program, participants can taste the sweet syrup right out of the pot.
It's all part of the fun during Strawberry Hill Nature Center and Preserve's popular annual Maple Sugaring program. The dates for this year's program are Saturday, February 16, 23, and March 8 and 15. Programs begin at 10 a.m. and 12 p.m. for individuals and families, and 1:30 and 3:30 for organized groups. The program is free for Strawberry Hill members and $3 for non-members.
Space is limited and fills up fast, so reservations are required. Call Strawberry Hill at (717) 642-6840 to reserve your space around the fire.
And if all that talk about maple syrup whets your appetite, head a mile up the road to the Mt. Hope United Methodist Church, where Strawberry Hill volunteers will be cooking up their annual pancake-and-sausage breakfast from 9 a.m. to 12 p.m. each Saturday during Maple Sugaring. Admission to the all-you-care-to-eat breakfast is $5 for adults, $2 for children ages 6 to 12, and children under 5 are free. No reservations are required, and all proceeds benefit Strawberry Hill programs.
A non-profit education and conservation organization, Strawberry Hill Nature Center and Preserve is located at 1537 Mount Hope Road, just three miles outside of Fairfield. For more than 20 years, we have managed, preserved and interpreted our open space as a living classroom for our community. Open to the public year-round, Strawberry Hill offers a historic log cabin, picnic area, nature center, and 10 miles of walking trails through 600 acres of wooded hillsides and mountain streams. We offer educational programs and special events throughout the year. To learn more about Strawberry Hill Nature Center and Preserve, please visit www.strawberryhill.org.