Local waiter on the fast track toward
2010 Olympics
Stephanie Long
(1/17) Just three years ago, T. J. Burns was waiting tables at the Ott House in Emmitsburg and coaching basketball at Mount Saint Mary's University. Little did he know then that his life was about to jump on the fast track, literally.
While coaching basketball at the Mount, Burns took a job in Gaithersburg training athletes with former Redskins coach and bobsled athlete John Philbin, who offered Burns the opportunity of a lifetime – a chance to become an Olympian.
"I was working for him for a few months working out and training and such and he thought I would be a good fit for the bobsled team," Burns said.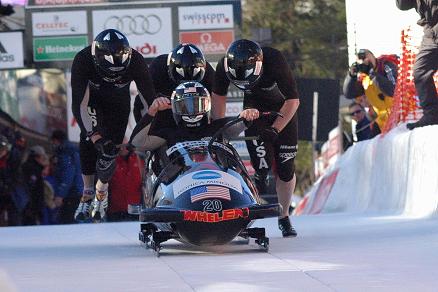 But there was one hitch: Burns had no experience with the sport. Not that he let that stop him.
"I spent the next year training and going through tryouts and before I knew it, I was leaving Emmitsburg to travel the world," Burns said.
Today Burns lives his life on the fast (bobsled) track, living and training in Canada with his teammates, but still has found time to visit Emmitsburg. Days once spent at the Mount or the Ott House have been replaced with long days of training and endless striving to make a bobsled run faster than the last time, but Burns has not forgotten the lessons he learned in Emmitsburg.
"There are a lot of times in this sport when you need patience, not to mention when you are working at the bar," Burns said. "That and being able to multi task. There are several things going on at once when we are at the track so it is necessary to be able to handle several things at one time."
Competitive bobsledding is not child's play, a simple ride down a hill on a sled. It's a serious sport, which takes teamwork and skill, something Burns said people find surprising.
"Everyone thinks that we just get in the sled and go for a ride each day and that is it, no big deal. I mean how hard could it be?" Burns said. "In reality, though, we are putting in 10-hour-plus days."
From the moment he wakes up to the moment he goes to sleep, all of Burns' energy is used for bobsledding.
On days when Burns and his teammates are sliding, they arrive at the track over an hour early to prep the sled and warm-up. After practice runs, the team does maintenance on the sled before grabbing a quick bite to eat and heading to the weight room or track to run sprints. Then each night the team reviews video from the day, looking for ways to improve, before heading to bed for the night.
Day in and day out, Burns and his three teammates train together, improving their push and race times, and timing. From the driver, seated in front, to the two pushers, the second and third, of which Burns is one, to the last man, the brakeman, all four team members must work together to get the sled down the track safely and quickly.
"My job is to push from the left side, load, being the third guy off the ice and then really just sit down, stay relaxed and hold on for the best ride ever," Burns said. "The only guy that controls the sled is the driver, the idea is to stay low and try not to move too much, otherwise you might disrupt the flow of the sled."
Just as a job can take its toll on anyone, so can long days of training, as they do to Burns at times.
"Bobsledding is still a job for me and I don't think there is a person in the world that has wanted to at one time or another just pack it up and quit," Burns said. "Nothing is ever perfect so there have been times when I have been extremely frustrated, but all you really need to do in those times is step back from it all and take a deep breath and realize why you are doing what you are doing and for me everything turns out OK."
If that doesn't work, there's one thing Burns can do that changes everything.
"… the next time that you go down the track you forget everything and realize why you are doing this," he said.
Having already competed in numerous competitions, such as the World Cup, America's Cup, Europa Cup, Junior World Championships and the World Championships, Burns is setting his sights on the next winter Olympic Games in 2010 in Vancouver, British Columbia, Canada. But Burns will have to beat out some stiff competition; from the 40 members on the U.S. bobsled team, only nine will be chosen for the national team and move on to compete in the Olympics. Recently Burns competed in Lake Placid, placing eighth, and has a full schedule of races ahead, which can be watched live at www.NBCOlympics.com.
"I think every kid growing up has had the dream of winning a medal. The first time you see the Olympics and start to understand what it is all about you can't help but get excited," Burns said. "Now having the opportunity to actually do it, it motivates me each day to worker harder and make sure that I am prepared when the time comes."