Display of local artists' works benefits northern county reforestation efforts
Ashley Andyshak
Frederick News-Post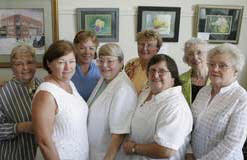 Pearl Gems art show exhibits the work of local artists and benefits the New Forest Society. Artists, from left, are Gail Spertzel, Laura Davis, Rebecca Pearl, Karen Dosch, Marilynn Miller, Janice Hushfarver, Doreen Fairley and Pat Chalk.(Photo by Rebecca Davis)
(7/9) Eleven local artists join forces this week to help preserve forests in northern Frederick County. Watercolor and pastel works by students of New Market artist Rebecca Pearl are on display and for sale this week to benefit the New Forest Society.
The society formed seven years ago to help replace trees in the Upper Monocacy Watershed. Since then, the society has purchased and planted 8,500 trees, said chairwoman Elizabeth Prongas, who hosted Sunday's artists' reception.
Ten percent of the proceeds from this week's sale will benefit the New Forest Society's scholarship fund, which assists students who plan careers in the environmental sciences, Prongas said.
The first scholarship was presented last year, and the society hopes to increase the award over time, she said.
Most of the artwork on display this week depicts nature, said Pearl, so it's fitting that the show's proceeds benefit such a cause.
"This is a way to bring together art with an awareness of the environment and how precious it is," she said. "Nature always inspires us, and we need to take care of it."
Pearl, who owns the Rebecca Pearl Gallery on Main Street in Thurmont, began teaching art classes 10 years ago. This is her fourth art show and sale to benefit the New Forest Society.
Pearl said she works with students of all ages and experience levels, all of whom combine their love of nature with their passion for art.
Doreen Fairley, of Frederick, will be 80 years old next month and said she's been painting for 10 years. A number of her original paintings and prints are on display in this week's exhibition.
"I like painting landscapes, and I love trees," she said. "I raised eight children, and I always said when I had time, (painting) is what I would do."
The New Forest Society now covers only areas in the Upper Monocacy Watershed, but Prongas said she'd like to see the organization expand and have support from a wider group.
"We have the potential for growth - we'd like to see some support from agencies using wood and paper products," she said. "It's payback time."