Jubilee celebrates Emmitsburg's history
(10/18) Walk into Jubilee Foods and you may think you've taken a step back in time. You can see the old Annan-Horner Bank above the registers. Downtown Emmitsburg from the turn of the century hangs over the produce section. Above the dairy section is a large picture of the Brookside Dairy.
About a dozen pictures of historic Emmitsburg have been turned into banners, posters and light panels have been incorporated into the most-recent redecoration of Jubilee Foods.
"We think it adds character to the store and forms a bridge with the community," said Manager Rich Boyd.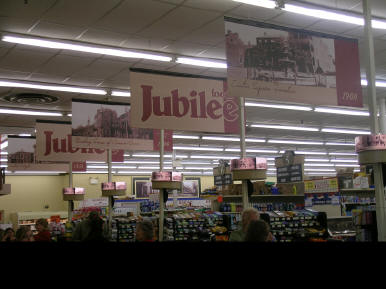 Jubilee Foods contacted Mike Hillman with the Greater Emmitsburg Area Historical Society to help select the pictures, which are from the late 1800's and early 1900's. They pictures were enlarged to make wall panels, banners that hang from the ceiling and light panels over the registers.
"Each picture I see makes me want to ask more questions," Boyd said. "This town used to have a movie theater and a bowling alley. It has a great history."
The historical society was so pleased with the outcome of the project they held one of their recent meetings in the store.
"Because the pictures are so large, we had to change the dates on two because we saw things on the larger pictures that we didn't notice before and they were things that changed the date," Hillman said.
For instance, when a picture of the Emmitsburg Road dated 1863 was enlarged, the historical society members saw a telephone pole in one corner of the picture. This led to them reassessing the date of the picture and changing it to the 1890's.
"They helped us to correct a misconception on our part," Hillman said.
Boyd says he has gotten a lot of compliments on the store's use of the pictures. People have enjoyed looking at them and trying to compare the places to their modern counterparts. Boyd enjoys it, too.
"I only wish we could have put up more pictures," Boyd said.
Read other news stories related to Emmitsburg