Elias Evangelical Lutheran Church
celebrates 250 years
Susan Allen
(5/17) "We have come this far by faith" sang the choir as the congregation of Elias Evangelical Lutheran Church observed its 250th anniversary with a special Holy Communion service on Sunday afternoon, April 22, 2007. Rev. H. Gerard Knoche, Bishop of the Delaware Maryland Synod, pastor emeritus Rev. W. Ronald Fearer, former pastors Rev. Susan Yatta and Rev. David Knodel joined 130 church members in the day's celebration.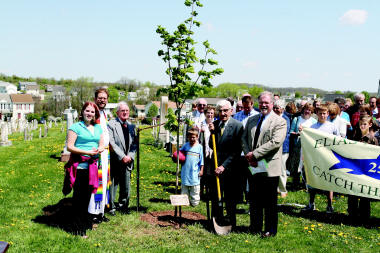 In celebration of Elias Lutheran Church's 250th anniversary, the congregation planted a commemorative tree to the west of the church. Pictured in the foreground above are (l to r) Jessica Potts, Pastor Jon Greenstone, Harry Hahn, Roland Frock and Elias Council Vice President Roger Adams.
The worship service was one of many anniversary year events. On April 29, the congregation dedicated a tree planted on the west side of the 210-year-old stone church building. A brass plaque bearing a quotation from Martin Luther will accompany the tree: "Even if I knew most certainly that the world would go to pieces, I would still plant my apple tree" (paraphrasing by Elias' pastor, Rev. Jon Greenstone). It reflects, says Greenstone, "our hope for generations to come."
The Lutherans in Emmitsburg began with a small group of German settlers living in Toms Creek Hundred about 2 ˝ miles east of the present town.
In 1757 the Rev. John George Bager began periodic visits to the settlement, and they erected a log chapel to accommodate services. This June, 21st-Century members will meet at the original site to re-enact those early rites.
The congregation grew, joining with a group of German Reformed residents to build a larger union church (1782). In 1797 the two congregations purchased land in Emmitsburg and built a stone church. They started the Union Sabbath School (1827) to provide religious education for their children. Two years later the Union Academy was founded, teaching the "three R's" and religion. Worship services were conducted in German until 1828. The building's sanctuary was enlarged to its current size in 1835.
In 1867 the congregations separated. The building became Elias Lutheran Church, named for the prophet Elijah. The Reformed group built its own church nearby, now Incarnation United Church of Christ. Though the congregations remain separate, they are good neighbors, and since the 1960's have worked closely on ecumenical issues. Their pastors at that time, Rev. Fearer and the late Rev. John Chatlos of Incarnation, led the formation of the Emmitsburg Council of Churches. Through the Council, a summer Vacation Bible School, open to children throughout the community, began. The two churches will join again for Sunday worship on May 20.
Today Elias' ministry includes sponsorship of the after-school Creative Kids' Academy and The Basement coffeehouse. Two of Elias' members, Rev. Ronald Reaves and Rev, Jill Valentine Seagle, have been ordained into the Lutheran ministry. Its active membership is more than 300 strong, and in Greenstone's words, they "look for God to continue to use Elias to build the kingdom."
Read other news stories related to Emmitsburg