The circus is coming to Emmitsburg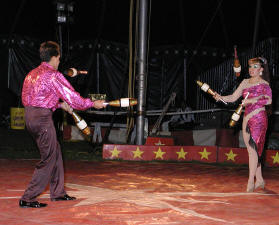 (5/17) The big top is coming to Emmitsburg!
The circus big top will go up in Community Park on June 10 and fill with performers, horses, ponies, dogs, elephants and camels. The Kelly Miller Circus will perform two 90-minute shows for attendees.
They will see the Wheel of Destiny, jugglers, trapeze artists, Tony the Clown and other performers delight and enthrall them.
"I wanted to get a circus here last year and started inquiring, but one was outrageously priced and the other didn't have enough time to do a show here," said Mayor James Hoover.
So he spoke with officials in Taneytown, who bring a circus to their town, about circuses he could contact.
"These folks (Kellly Miller Circus) this year called us," Hoover said.
An agreement was worked out, contracts signed and the circus is coming to Emmitsburg. Tickets will be $12 for adults and $6 for children.
The Kelly Miller Circus began in 1938 and performs for American and Canadian audiences. Last year, John Ringling North II, great-nephew of the famous Ringling Brothers, became president of the circus.
The show travels in 25 vehicles and uses 90,000 square feet for the big top and midway set up. The big top can seat 1,500 and is 120 feet by 130 feet by 40 feet high. It is raised by elephants pulling on ropes.
Read other news stories related to the Emmitsburg