Young "Friends of the Library" operate
'The Book Nook'
Susan Allen
(3/15) Eleven-year-olds Eliza Schmidt of Fairfield and Rose Mercandetti of Emmitsburg are probably the youngest business managers in town. Together they operate The Book Nook, a small used bookstore located inside the Emmitsburg Library, on behalf of the Friends of the Emmitsburg Library. They volunteered to take over its management in late fall of 2006, and part of the project is "to allow the girls to learn how to run a business," says Eliza's father, Brett Schmidt. Each girl is home-schooled and uses the library's resources for her studies.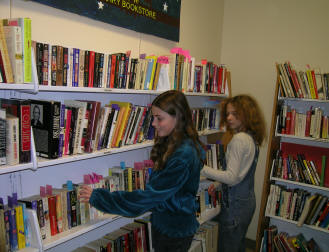 Rose Mercandetti and Eliza Schmidt, both of Emmitsburg, run The Book Nook for the Friends of the Emmitsburg Library. The homeschooled girls run all aspects of the operation from pricing to inventory to advertising
One of the girls' first tasks was to name the bookstore and establish its "brand." Eliza created the double-owl logo (the owls' eyes form the "o's" in Book Nook) using Corel Draw 12 computer software. She and Rose painted it, and supervised mounting the sign on the center wall of the bookstore alcove. They use the same owl motif on bookmarks that advertise membership in the Friends organization and give information about the bookstore. They also painted arrows that point library patrons to the store and draw attention to free materials inside.
Organizing the merchandise was a big job. "It took us all day the first day we started," according to Rose, "trying to straighten everything out," but now they spend just a couple of hours each week putting their shelves in order. Nearly everything in the store has been donated to the library. After the library staff selects out items suitable for their collection, the leftovers are consigned to Mercandetti and Schmidt. They set the prices, which range from ten cents to two dollars. Their inventory includes books and magazines, films in both VHS and DVD format, and music cassettes and CDs.
Some of the items they sell are "de-accessed" or duplicates from the library's holdings. Those are shelved separately and proceeds from their sale are returned to the central library. The bookstore is self-service, and actual sales are handled by the library staff. The librarians enjoy the young entrepreneurs' enthusiasm and the posters and seasonal decorations they add to the Book Nook's décor. They have also seen sales increase since the girls took over management of the store.
Read other news stories related to Emmitsburg