Emmitsburg Hosts Three-Day Cycling Event
Andrew Curry
If you were out and about a month ago, you might have noticed more cyclists than usual on the roads near Emmitsburg. On a beautiful Saturday in July, hundreds of amateur racers headed for the picturesque hills of northern Maryland to test themselves against each other and the mountains at the annual Giro di Coppi, a three-day cycling event that is a small-scale version of top European events like the Tour de France.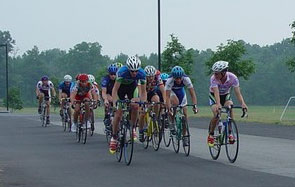 The race was put on by the members of Squadra Coppi, a Washington, DC-area team that has been racing and organizing events for more than a decade. The team is part of a huge local community of amateur racers who have a special place in their hearts for the slopes of the Catoctin foothills, flocking there to train year-round. Since 2001, the Giro di Coppi has brought this community together in what many say is the area's hardest race.
Multi-day races like the Giro di Coppi and on a much larger scale, the Tour de France take on the air of a traveling carnival, with a staggering load of gear for workers to set up before dawn, use without a glitch all day, and pack away as the sun sets. Volunteers, many of whom are racers as well, fan out to help keep cyclists and drivers safe at tricky intersections. Fans gather at the finish line or simply wave from their porches as riders whiz by. These logistical feats have to be repeated all weekend to put on a smooth, first-class "stage race."
But amateur racers really appreciate the extra effort that goes into putting on a multi-day race like the Giro di Coppi, the only such event on the calender in the Mid-Atlantic area in 2002. Each of the three days favors a different type of rider the individual time trial for the special breed who are happiest motoring along at top speed in a world of solitary suffering, the hilly road race for mountain goat climbers and fearless descenders, and the short, tight criterium race for burly sprinters with tree-trunk thighs and a taste for gladiatorial jostling in fast, tricky turns. Tactics grow more complicated with each passing day, as those who would don the final race leader's pink jersey not only have to watch their rivals for victory in a single day's race, but also must keep an even closer eye on those who've ridden well in previous days. To emerge on top after three days of racing, a rider must be strong, smart, and above all versatile.
The results in July did a lot to cement the Giro's reputation as a top-shelf stage race, and brought lots of cycling fans -- riders and spectators alike -- out to the Emmitsburg area. After a taste of the hospitality of residents and challenges of the geography, it's a sure thing they'll be coming back.