Gettysburg Chamber Orchestra Brings Mary Hammann Back to Music, Gettysburg! Stage for Concert of Beethoven and Debussy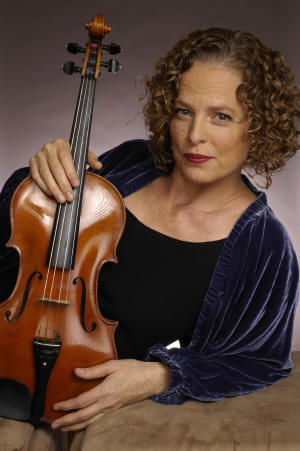 (5/4) The Gettysburg Chamber Orchestra will present Beethoven, Debussy, Bruch and Vaughn Williams for its energetic spring concert on the afternoon of Sunday, May 11th in the Gettysburg Seminary Chapel. This Music, Gettysburg! concert favorite will feature solo violist Mary Hammann, a member of the Metropolitan Opera Orchestra and founding member of the Aureole Trio.
Hammann was born and raised in Gettysburg and is a graduate of Gettysburg Area High School. She will perform the "Romance" for viola and orchestra by Max Bruch, and Vaughn Williams' "Suite for Viola and Orchestra."
The Mother's Day program will include Beethoven's iconic Fifth Symphony, "one of the quintessential works ever written" said Norman Nunnamaker, GCO Director. Rounding out the stunning concert will be the "Prelude to the Afternoon of a Faun," by Claude Debussy. Debussy's works is undoubtedly the most famous work written by this Impressionist composer and is performed frequently throughout the concert world.
The 4pm afternoon concert is free and open to the public, at 147 Seminary Ridge in Gettysburg, with ample free parking available nearby on the Seminary campus. Due to the popularity of GCO concerts it is recommended that the audience come early to get a good seat.
Hammann is one of a family of five musical sisters and began her viola studies with Nunamaker. She graduated from the Curtis Institute and the Mannes College of Music, studying with Michael Tree, Karen Tuttle, and Walter Trampler. A member of the Metropolitan Opera Orchestra since 1992, Mary has recorded on Sony Classic and Deutsche Grammophon. For 20 years she has concertized with her award-winning Aureole Trio, recording many CDs on Koch/Entertainment One—one of which was short-listed for a Grammy Award.
She has toured extensively throughout the United States, Asia, and Europe with such ensembles as Orpheus, Philomusica, Solisti, the Brandenburg Ensemble, the New Amsterdam Ensemble, and the Metropolitan Opera. She has appeared in numerous chamber music festivals, including Marlboro Music, Grand Canyon, and Sarasota. As a soloist, she performed with the Jupiter Symphony at Lincoln Center and with Solisti for the Mostly Mozart Festival. Mary also enjoys performing and recording with many pop stars, including David Bowie, Queen Latifah, Rod Stewart, Petti Labelle, Mariah Carey, Aretha Franklin and Elton John. She has also appeared on the television shows of Conan O'Brian, Michael Moore and David Letterman.
When the Gettysburg Chamber Orchestra was founded in 1997, one of its primary objectives was to have as many local musicians as members and/or soloists, and this objective continues with the appearance of Hammann. The previous two concerts by the GCO also presented Adams County musicians, but two young musicians just beginning their careers—pianist Paulino Contreras and cellist Miranda Henne. "With Mary Hammann," said Nunamaker, "we have a person at the peak of her career, having already received many awards and accolades. Our community has produced a number of outstanding musicians who are members of musical organizations around the country, Nunamaker continued, "and this is a testament to our outstanding music programs in our local schools."
Support for this concert is provided, in part, by the Pennsylvania Partners in the Arts (PPA), the regional arts funding partnership of the Pennsylvania Council on the Arts, a state agency. State government funding comes through an annual appropriation by the Pennsylvania General Assembly and from the National Endowment for the Arts, a federal agency. PPA is administered by the Cultural Alliance of York. For further information about this concert please call 717-334-5508.
Music, Gettyburg! is a premier free concert series featuring the finest regional, national and international musicians hosted by the Lutheran Theological Seminary at Gettysburg. The seminary chapel is located at 147 Seminary Ridge on the west edge of Gettysburg. For more information about this and other concerts remaining in the Music, Gettysburg! schedule, email info@musicgettysburg.org or visit the web site at www.musicgettysburg.org.