Gregorio Brings Ensemble Companio to
Music, Gettysburg! With Concert of "Celebrations and Meditations"
(3/17) Ensemble Companio, the New England based chamber choir directed by Joseph Gregorio, brings its performance of 'Celebrations and Meditations' to the Music, Gettysburg! stage at the Gettysburg Seminary Chapel, on Saturday, March 29 at 7:30pm.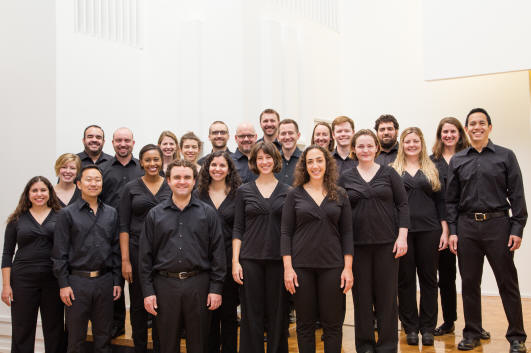 'Celebrations and Meditations' features the motet "Singet dem Herrn ein neues Lied" by J.S. Bach as well as pieces by Poulenc, Byrd, and Thompson; arrangements of traditional music from South Africa, Ireland, and the U.S.; and shape-note music from The Sacred Harp.
Admission is free and open to the public at the chapel, 147 Seminary Ridge in Gettysburg.
Founded in 2011, Ensemble Companio comprises 25 accomplished choral musicians and performs throughout the northeastern United States. Ensemble Companio was awarded the 2012 American Prize in choral performance (community division) for its vibrant sound and moving interpretations, and was invited to perform at the 2013 Fall Conference of ACDA-PA. Ensemble Companio derives its name from a late Latin form of "companion," whose etymological meaning is "one with whom one shares bread." The name reflects the musicians' belief that sharing in choral music is an essential, nourishing, and healing endeavor akin to the sharing of food.
Native of Gettysburg, Gregorio is equally at home composing and conducting. Gregorio's compositions have been broadcast on American Public Media's Performance Today and WQXR's Choral Mix, have garnered prizes in several competitions, and have been performed in the United States and abroad by numerous and renowned soloists and ensembles at such venues as the Lincoln Center, the Kennedy Center, the National Cathedral, and the Basilica di San Marco in Venice.
Gregorio is director of choirs at Swarthmore College and co-conducted the Yale Recital Chorus and the Yale Repertory Chorus, and has guest-conducted the Cornell University Glee Club and the Mansfield University Concert Choir. He served from 2004-2006 as the assistant conductor of the San Francisco Conservatory Chorus, and was assistant conductor of the San Francisco Bach Choir from 2005-2007.
Gregorio has studied composition with Steven Stucky, David Conte, and Richard Brodhead. He holds a M.M. in composition with departmental honors from the San Francisco Conservatory of Music, a M.M. in choral conducting from Yale University, and a B.A. magna cum laude in music from Cornell University.
Music, Gettyburg! is a premier free concert series featuring the finest regional, national and international musicians hosted by the Lutheran Theological Seminary at Gettysburg. The seminary chapel is located at 147 Seminary Ridge on the west edge of Gettysburg. For more information about this and other concerts remaining in the Music, Gettysburg! schedule, please call 717-338-3000ext 2197 or email info@musicgettysburg.org or visit the web site at www.musicgettysburg.org . More information on Ensemble Companio is available at: www.ensemblecompanio.org and Joseph Gregorio: www.josephgregoriomusic.com.