Farewell Tour of Eaken Trio Comes to
Music, Gettysburg!
(11/15) As one of their favorite venues, Music, Gettysburg! is a stop on the Eaken Piano Trioís farewell tour.
The Trio performance comes on Sunday, January 19th at 4:00 pm in the Gettysburg Seminary Chapel.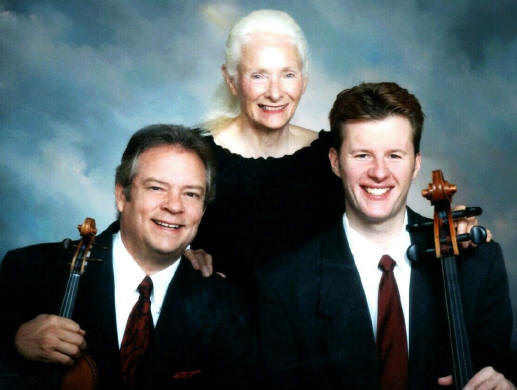 An internationally acclaimed ensemble from South Central Pennsylvania, the Eaken Trio will perform a variety of compositions, including Dvorak, Piazzolla, Cohn and Loillet. "This may be your last opportunity to hear this outstanding group!" said Norm Nunamaker, who noted how fortunate Music, Gettysburg! audiences have been thanks to many past performances of the Trio.
Grammy nominated recording artists, The Eaken Trio marks its 27th season of critically acclaimed concert appearances across the United States, Europe, and Canada. Their performances and innovative audience building residencies have been critically acclaimed throughout the musical world. The ensembleís radio program, "Iíll be home for the Holidays," was aired on over 150 radio stations nationwide for the past 10 years, and continues to be a holiday treat for all. In recent years, the group has toured throughout Europe, with performances in England, France, Germany and Italy, as well as two concert tours in China.
Members of this group are its founder and violinist, John Eaken; cellist Andrew Rammon, and pianist Gloria Whitney. John is the Concertmaster of the York Symphony Orchestra as well as the Gettysburg Chamber Orchestra, and has performed extensively throughout the region with every orchestra and chamber ensemble imaginable! Nunamaker continued, "we are so fortunate to have John Eaken as our Concertmaster in the Gettysburg Chamber Orchestra--John is fantastic, but then...all the members of the Eaken Trio are great!"
Music, Gettysburg! has welcomed The Eaken Trio more times that it kept count and is grateful to the Trio for every one of the performances. Music, Gettysburg! welcomes the public to this free concert. Ample parking on the Seminary campus is available for concert goers. More information is available at www.musicgettysburg.org