Supercenter-anchored center moves forward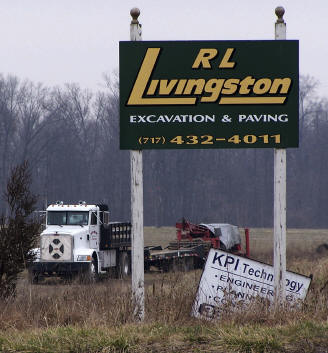 (1/29) A Walmart Supercenter-anchored shopping center, Gettysburg Crossing, proposed in Straban Township just off Route 15 near Gettysburg, made significant gains at the January 25 meeting of the township Planning Commission.
In a unanimous vote of approval, the planning commission voted to recommend conditional approval of the shopping centerís preliminary plans to the township supervisors, which could see ground-breaking this year.
The conditions set were based upon a checklist of issues generated by the township engineer in his review of the proposal.
KPI Technology Principal Gilbert J. Picarelli told the planning commission that he did not see any of the engineerís comments "as a show stopper."
He said the comments had already been largely addressed in a new plan submission sent in to the township on January 23, and the balance will be addressed as needed, as the plans progress towards final approval.
The proposed 72.55-acre shopping center will be located on Route 30 (York Road) and Shealer Road across from the existing Sheetz convenience store and approximately 20 minutes north of Emmitsburg.
The plan calls for 469,892 square feet of total retail space, which would include a Walmart Supercenter as the anchor business. The balance of the square footage would be taken up by 13 to 15 additional businesses, including a "big box store," smaller stores, restaurants, banks and others.
Given the planning commissionsí conditional recommendation of approval, the plans will now advance to the township Board of Supervisors for their affirmation, rejection or modification of the planning commissionsí okay.
Dave Lazas, senior development manager with Atapco Properties Inc., who has partnered with Faison Properties to develop the project, said ground-breaking for the project, once all of the approvals and permits are obtained, could occur later this year.
He said the grand opening could be around spring or summer 2014.
Picarelli requested the conditional preliminary plan approval in order to aid in securing potential site business leases as soon as possible without having to wait another month to appear before the planning commission again on preliminary plan issues.