Eleven to run for vacated House seat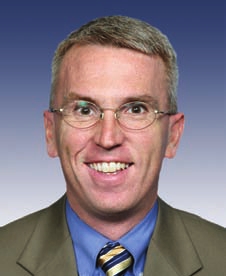 (2/13) The decision by U.S. Congressman Todd Platts to not seek re-election has set off a mad scramble within the ranks of the local Republicans to fill what is considered a 'safe' Republican seat.
Platts has represented Pennsylvania's 19th Congressional District as a member of the U.S. House of Representatives for the past 11 years.
In announcing that he would not seek re-election, Platts stated he has been a strong believer in 12-year term limits, and 2012 marks the end of his twelfth term.
Eleven candidates have thrown their hats in the ring to succeed Platts, including eight Republicans.
Republicans who have filed to run for Platt's position include Kevin Downs, a businessman, Eric Martin, a salesman, Mark M. Swomley, with Hershey Company project management, Ted Waga, a Baltimore County Police officer, Scott Perry, a current state representative, Sean Summers, an attorney, and Chris Reilly, a York County commissioner.
Kenneth Lee, an attorney and a board member of the National Civil War Museum, and Harry Perkinson, a defense contractor employee, are running as Democrats.
Mike Koffenberger, a second Baltimore County Police officer vying for Platts' seat, is running as a Libertarian.
The field will be narrowed to a Democrat and a Republican at the April 24 Primary Election, with the primary victors, along with the sole Libertarian candidate, vying for popular election in the November 6 General Election.
The victor will also have a new district to serve effective January 3, 2013, when the 113th Congress is seated. On that date, the Pennsylvania 19th Congressional District will become the 4th Congressional District.
The redistricting was the result of population changes reflected in the 2010 U.S. Census.
Pennsylvania will actually lose one House member as a result of the census, dropping from 19 to 18 members.