Gettysburg's EasyReInk brings relief from high price printer cartridges
(2/15) Tired of paying high prices for printer ink and toner? A new business might be able to help.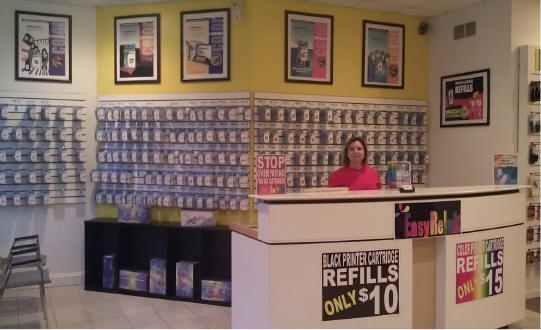 At 10 a.m. Monday morning, Joe and Deb Hill will throw open the doors of their new business located at 204 Chambersburg Street, named - EasyReInk.
Hoping to provide a cost effective alternative for consumers, the Hill's are looking to fill an empty business niche in the community.
EasyReInk specializes in providing home and office customers with high quality printer ink
The Hill's are busy organizing their business this week, filling empty shelves and making last minute preparations.
EasyReInk carries a wide variety of remanufactured inkjet cartridges and laser toner cartridges. We currently have over 300 inkjet cartridges in stock saving the consumer up to 70% off retail OEM prices.
EasyReInk can refill most inkjet cartridges including HP, Canon, Lexmark, Brother, and Epson. We stock top quality inks on hand to ensure we can refill or remanufacture most name brand cartridges. Once the cartridge has been refilled or remanufactured they are tested to ensure 100% customer satisfaction, which is guaranteed.
But EasyReInk's biggest impact is in what could ultimately be the thousands of inkjet and laser toner cartridges it keeps from landing in the worlds landfills. In the United States nearly eight cartridges are thrown away every second, according to the Recharger magazine. Additionally, each plastic toner requires 3 1/2 quarts of oil to produce; and 2 1/2 ounces of oil is needed to produce each new inkjet cartridge.
EasyReInk specializes in remanufacturing/refilling and retail sales of printer ink and laser toner cartridges. We serve walk-in retail consumers and businesses with delivery options as well.
For more information visit their website www.easyreink.com.