Music, Gettysburg! Present Gettysburg Children's Chorus in Concert with Camerata
(4/15) Music, Gettysburg! is pleased to present the Gettysburg Children's Chorus in concert that will also feature the College's Camerata and Three Trouts Jazz Trio Sunday, April 22nd. The 4pm concert, free and open to the public, will take place in the Seminary's Chapel, 147 Seminary Ridge.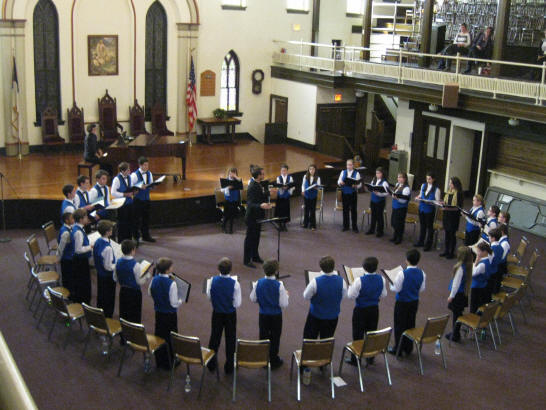 This is the second Music, Gettysburg! concert on this weekend, with the College Orchestra and Felix Hell featured the evening before in the college chapel.
The Gettysburg Children's Choir, familiar to Music, Gettysburg! audiences from Christmas offerings and other festive concerts, will perform at the Chapel at the Gettysburg Seminary for the first time as featured performing group. This free concert will begin at 4:00 pm and will feature works ranging from classics to choral arrangements of jazz standards. The Gettysburg Children's Choir is led by Artistic Director Dr. Brent Talbot and is accompanied by Jamie Buxton. Special guests will be Camerata, an advanced a cappella vocal ensemble from Gettysburg College, directed by Dr. Robert Natter, and The Three Trouts jazz trio.
The Gettysburg Children's Choir is an auditioned community group of singers in grades 3 through 8. Singers in the group represent Gettysburg Area School District, Connections Academy, Montessori of Gettysburg, Saint Francis Xavier School, Littlestown Area School District, and Upper Adams School District. The Choir is supported in part by the Pennsylvania Council on the Arts, a state agency funded by the Commonwealth of Pennsylvania and the National Endowment for the Arts, a federal agency, and by the Adams County Arts Council's STAR Grant Program, which is funded by the Pennsylvania Council on the Arts, the Adams County Commissioners, and the Borough of Gettysburg, and many individual donors. The Choir receives in-kind support from Gettysburg College and corporate support from Adams Electric Cooperative. More information may be found at www.gettysburgcc.org.
Dr. Talbot, artistic director, holds a Ph.D. and M.A. in Music Education from the University of Rochester Eastman School of Music and a Bachelor of Music Education from Indiana University, Bloomington, Indiana. He was the founding director of the Eastman Young Children's Chorus, Director of the Eastman New Horizons Chorus, and founding director of the Electronic Music Studio at the Eastman Community School of Music in Rochester, NY.
Jamie Buxton is accompanist for the Gettysburg Children's Choir for the 2011-2012 season. She is adjunct accompanist for the Sunderman Conservatory of Music at Gettysburg College, serving the department for auditions, recitals, and ensemble groups.
Music, Gettyburg! is a premier free concert series featuring the finest regional, national and international musicians hosted by the Lutheran Theological Seminary at Gettysburg. The seminary chapel is located at 147 Seminary Ridge on the west edge of the Borough of Gettysburg. For more information about this and other concerts remaining in the Music, Gettysburg! schedule, please call 717-338-3000 ext 2197 or email info@musicgettysburg.org or visit the web site at www.musicgettysburg.org