International Gilbert & Sullivan Festival Announces Youth Mikado Cast
(6/6) The International Gilbert & Sullivan Festival -Gettysburg, the largest and most comprehensive event in North America celebrating the works of Gilbert & Sullivan, has announced audition results for this year's Festival Youth Production of The Mikado.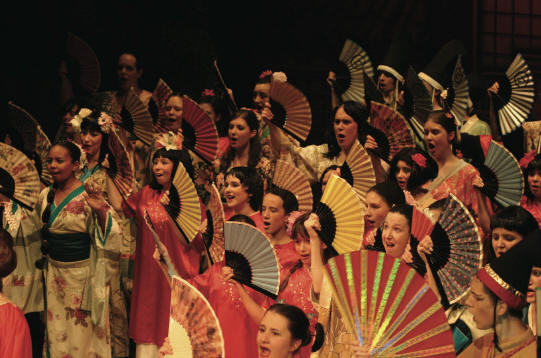 Leading the cast will be in the role of Ko-Ko, William Remmers of West Islip, NY; Yum-Yum, Susey Woodruff, and Katisha, Alyssa Sheaffer, both from Carlisle, PA; Nanki-Poo, David Forbes of Fayetteville, PA; Pitti-Sing, Maddie Vinarski of Mechanicsburg, PA; Pooh-Bah, Lewis Whyte, from England; Peep-Bo, Elizabeth Vinarski of Wellsville, PA; Pish-Tush, Zachary Felix of Dillsburg, PA; and as the Mikado, Spencer Reichman from Austin TX.
Chorus members include Abby Army, Jessica Merryman, Elena Yingling, Brooks Heflin, Jeffrey Huang, Rahim Hython, Josh Larkin, Brandon Rosenberry, Alex Teeple, Maxwell Wolfe, and Owen Yingling, all from Adams County; Sara Goldman and Dante Sarracino, from Dauphin County; Chandler Lawrence, Abbie Mummert, and Evan Wiley, of York County, and Sophie Craig and Harriet Tyler, from Montgomery County, PA.
These young performers, aged 9-19, will have just one week to rehearse and present a fully-staged show. Performances are scheduled for 3:00 and 7:30 PM on Sunday, July 3, at the Majestic Theater. Guiding the cast will be Stage Director John Savournin and Music Director Andrew Nicklin, the team who led last year's festival surprise hit, The Pirates of Penzance.
Savournin, who is also a professional singer and founder of Charles Court Opera, says "I am so excited to be returning to the festival to direct the 2nd youth production. The kids at last year's festival produced some truly remarkable work, with so much energy and care for the show. It was a truly inspiring experience for everyone involved and I can't wait to start on The Mikado."
In addition to the youth production, the Festival will offer mainstage performances of eight of the Gilbert & Sullivan comic operas within a 10-day period, opening Friday, June 24, through Sunday, July 3. Performing companies include three groups from England, as well as Pennsylvania, New York, New Jersey, Delaware, Maryland, and Maine. There will also be a Grand Opening Victorian Concert Spectacular, an evening of three one-act operas, and a week-long fringe festival program featuring plays, recitals, and an educational symposium.
All performances take place at the historic Majestic Theater in downtown Gettysburg. Tickets are available through the Majestic box office by phoning 717-337-8200, or online at www.gettysburgmajestic.org. For more information, please visit the official Festival website, www.gsfestivals.org.
The International Gilbert & Sullivan Festival -Gettysburg is the North American affiliate of the world famous Gilbert & Sullivan Festival of Buxton, England, founded by Ian Smith in 1994. Each year the 3-week festival draws tens of thousands of fans and performing groups from England, America, and around the globe.
For additional information, photos, or to schedule an interview and/or photo/video op, please contact Rich Wiley as above.