Gilbert & Sullivan Festival Announces Audition Dates and Locations
The International Gilbert & Sullivan Festival in Gettysburg, Pennsylvania is once again sponsoring a Festival Youth Production as part of the performance offering during the Festival in 2011. Talented central Pennsylvania youth performers age nine to 19 are invited to audition for this year's production of Gilbert & Sullivan's The Mikado.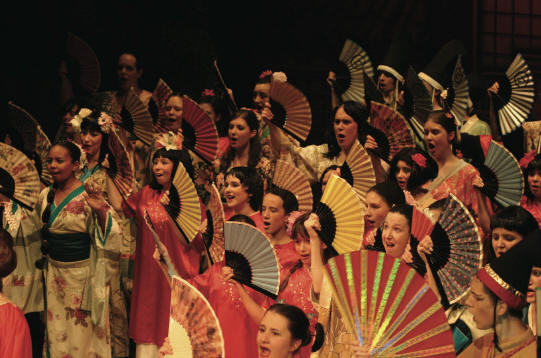 "Last year we had over 30 youth from five different Pennsylvania counties participate in our first Festival Youth Production of The Pirates of Penzance. We even had a young woman from Tennessee and two young men from England in the show, too," says Rich Wiley, Festival director. "The show was a huge success and the youth who participated had great fun and made lifelong friends. We expect most of them to return this year."
The Mikado will be performed twice on Sunday, July 3, 2011 at 3 p.m and 7:30 p.m. in the Majestic Theater at the Jennifer and David LeVan Performing Arts Center in Gettysburg. Rehearsals for the show begin Thursday, June 24 and run daily up to the performance.
Youth performers auditioning for a principal role should prepare a musical selection and dialogue from The Mikado. Principal audition requirements can be found on the Festival web site at www.gsfestivals.org. Performers auditioning for chorus selection can select any song of their choice. An accompanist will be provided.
"We're looking for about 50 young performers to really fill up the stage at the Majestic Theater. The Mikado is a big show and we need a very large cast," Wiley says. "Plus we're also looking for young instrumentalists to create a youth orchestra."
The audition dates, times and locations are:
March 19, 2011 10 a.m. to 2 p.m. Hanover Valley Presbyterian Church, 133 Carlisle Street, Hanover
April 2, 2011 10 a.m. to 2 p.m. St. James Lutheran Church, 109 York Street, Gettysburg
April 16, 2011 10 a.m. to 2 p.m. Silver Spring Presbyterian Church, 444 Silver Spring Road, Mechanicsburg
Returning to direct the Festival Youth Production will be Stage Director John Savournin and Musical Director Andrew Nicklin. Both men are from England and have been directing Gilbert & Sullivan productions for many years. Savournin has his own professional opera company in Great Britain call the Charles Court Opera and has directed the Festival Youth Production at the International Gilbert & Sullivan Festival in Buxton, England for the last two years.
Nicklin is the director of England's award-winning Derby Gilbert & Sullivan Opera Co. and Trent Opera Co. and is a perennial winner in the Buxton festival, as well.
Tuition for the Festival Youth Production experience is $250 per student.
For more information, parents and young performers can visit the Festival web site at www.gsfestival.org or contact Rich Wiley at rich.wiley@gs-festival.co.uk or 717-683-2328.