Gettysburg Dance Center's
Annual Recital Set for June 10-11
(6/6) —More than 200 area dance students ranging in age from 2-19 will be "Dancing Around the World" for Gettysburg Dance Center's 14th Annual Recital, June 10-11, at the Biglerville High School Auditorium.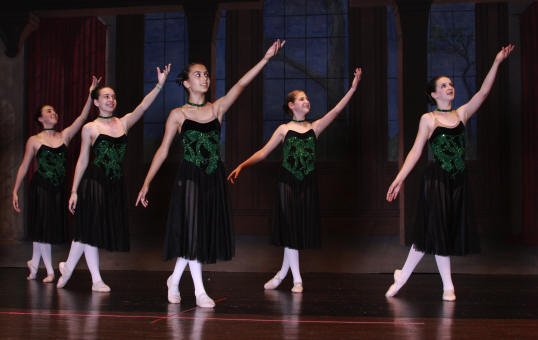 Students at Gettysburg Dance Center are gearing up for their annual recital, June 10 and 11,
at Biglerville High School with proceeds benefiting the Juvenile Arthritis Foundation.
"From classical European ballet pieces to African-influenced zydeco music, the pieces this year highlight works of musicians and composers from across the globe," said Rachel Smith, Director of Gettysburg Dance Center (GDC). "There will even be a modern dance performed with pipes to the music of Brazil—very reminiscent of a performance by 'Stomp.'"
The recital program features original choreography by the studio's six instructors, in all styles of dance including classical ballet, pointe, modern, hip/hop, tap and jazz. Additionally, drama class students will present selections from Spoon River Anthology.
One of the recital's showcases for the global music theme is a piece choreographed by Smith set to Michael Jackson's socially conscious Earth Song, featuring lyrics with an environmental message. Performed by the GDC Performance Group and advanced students, Earth Song is the culmination of a year-long choreography project of which Smith said she is especially proud.
"Taking care of the earth and setting that example for young people is very important to me personally," said Smith. "At GDC, we correspond with families through e-newsletters and limit our use of paper. Recycling bins are found throughout the studio. Additionally, every GDC student will be presented with an environmentally-friendly gift at the conclusion of the recital—a steel water bottle."
The June recital is also the culmination of Smith's first year as studio director. The former student of Holly Fox assumed the position after her mentor, founder and previous director Fox stepped down.
"Dancing Around the World" will be held at the Biglerville High School, 161 Main Street, Biglerville, Friday, June 10 at 7 p.m. and Saturday, June 11 at 2 p.m. The public is invited; tickets are available at the door. Admission is $11 for adults, and $8 for students K-12, while children aged 5 and under are free. Tickets can be obtained at the Gettysburg Dance Center, 1685 Fairfield Road, prior to the performances; or at the High School Box Office directly before each of the performances.
Proceeds benefit the local Harrisburg chapter of the Juvenile Arthritis Foundation, a disease that Smith herself and several students deal with on a daily basis.
Gettysburg Dance Center leadership includes Director/Instructor Rachel Smith; Instructors Vicki Brown, Lizzie Fink, Holly Fox, Amber Johnson and Brienna Smith. Office Manager is Pat Smith. Brown, Fink, Fox and Smith hold Bachelors of Fine Arts degrees in Dance Performance and Education.
For more information on The Gettysburg Dance Center, please visit the studio website at www.GettysburgDanceCenter.com or call the studio offices at (717) 334-4394.