Adams County Arts Council's CATS Tickets Now on Sale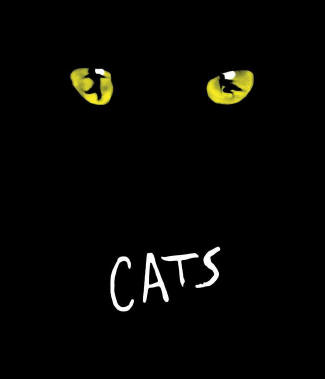 (6/15) ACTS of Kindness Theatre Company to Present World's Favorite Family Musical LIVE on stage
ACTS of Kindness Theatre Company (AOK) will MEOWSmerize audiences this summer with Andrew Lloyd Webber's musical, CATS. The show runs July 22, 23, 24, 29, 30 and 31 in the New Oxford Senior High School Auditorium located on Berlin Road. Proceeds from the show will be given to the York and Adams County SPCAs and Adams County Arts Council.
This summer's ticket for family entertainment is now on sale at various area ticket outlets and online at www.aoktheatre.com. Advance tickets are $2 less than if purchased at the door. Buy now and save at The Broken Cookie Bakery & Coffee House, located in the Clearview Shopping Center in Hanover, Thymes Remembered located at 6385 York Road in New Oxford, the Adams County Arts Council located at 18 Carlisle St., Suite 201 in Gettysburg, or by calling (717) 334-5006 for more information. Advance tickets are $14 for adults and $12 for students. Groups of 15 or more attending the same performance can get the group rate of just $10 per ticket. All tickets can be upgraded to Preferred Seating for an additional $2.
AOK invites you to enter the magical world of CATS and be shrunk to the size of a feline in its oversized "to the scale of a cat" junkyard set. This multiple Tony Award-winning musical written by world-renowned composer Andrew Lloyd Webber is based on T. S. Eliot's book, Old Possum's Book of Practical Cats. Enjoy spectacular dance and music including the ever-popular ballad, MEMORY. The musical CATS has won numerous awards, including both the Laurence Olivier Award and the Tony Award for Best Musical. The London production ran for twenty one years and the Broadway production ran for eighteen years, both setting long-run records. CATS is the second longest-running show in Broadway history. It has been performed around the world many times and has been translated into more than 20 languages. Breaking attendance records across the globe, CATS is truly the most beloved family musical in the WORLD!
The magic of the creative team that brought you technical shows such as WIZARD OF OZ, PETER PAN and WILLY WONKA will deliver one of the most technical shows to date with spectacular special effects and some of the area's best dancers, including Megan Herrick, who recently danced as a Radio City Rockette for a several years. The musical is Broadway at its best with innovative staging and costumes like the original CATS that took Broadway musicals to a whole different level when it opened in 1982. "We raise the bar every year we produce a show, and CATS will certainly not disappoint!" said Rene Staub, the show's director and co-founder of AOK. The level of dancing and special effects are unmatched in the area, including actors coming from Adams, Franklin, York, Dauphin, Carroll and Baltimore Counties.
Volunteers are needed for stage, sound and lighting crew as well as to build, paint, knit, sew and usher. Lumber, screws, paint and painting materials, foam, fabric, yarn and electronics for special effects are also needed. Furry fabrics/scarves, faux fur, leg warmers, fabric paint and unitards are needed for costumes. Oversized cans, containers, cardboard drums and boxes are needed for the junkyard set design. Call 717-630-2645 or e-mail jrstaub1@juno.com to donate funds, materials and costumes, or to volunteer time for office tasks and fundraising activities. We are always looking for new fundraising ideas. Contact us with your ideas and/or interest in helping raise funds and awareness of this spectacular annual event that gives back to the community.
Join ACTS of Kindness for spectacular, affordable entertainment this summer to benefit your local SPCA and the Adams County Arts Council. Your support will provide improved services for animals housed at the local SPCA facilities and ensure that the ARTS continue to thrive in our schools and community. Remember to purchase tickets now and save. Tickets will be available at the door for an additional $2. Call the Adams County Arts Council at (717) 334-5006 for more information.