Giant Puppets from around the World take over the Majestic Stage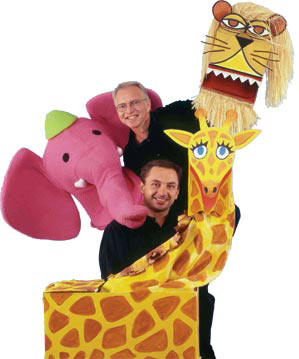 (2/3) Treat your children and grandchildren to this fun, family show featuring large-scale puppets from three different cultures, Chinese, North American Indian and African. North, South, East and Jim West is a multifaceted one-man puppet production for children ages 4 to 9 to and will take place in Cinema One of the Majestic Theater on Saturday, February 20 at 3:00 p.m. "Puppetry in the original live-action animation and it's a performance tradition that dates back thousands of years. Jim West is a master puppeteer who uses puppets from different cultural traditions to tell universal human stories that will delight everyone," explained Jeffrey Gabel, Founding Executive Director of the Majestic Theater.
Nationally acclaimed puppeteer, Jim West developed and performed the shadow puppets for the Metropolitan Opera's production of Manon and has appeared on "Mister Rogers' Neighborhood," introducing Fred Rogers and countless children to the art of creating hand shadows. For many years, Jim worked with award-winning puppeteer, Marshall Izen. Together, Jim and Marshall co-authored Why the Willow Weeps, a Doubleday picture book, and recently won the Parents Choice Award for The Dog Who Sang at the Opera, a picture book for Harry Abrams Publishers.
The show includes from China, an imaginative story about a boy and his dragon (music by Puccini, from the opera Turandot), an inspiring North American Indian legend about a boy who yearns to fly using hand puppets and cutouts to create a colorful story totem pole (music by Stravinsky,Ravel and Debussy), and also a lively African tale of Anansi the Spider utilizes hand shadows and features traditional African folk music. As always, the children will leave with creative puppet-making ideas to take home!
Tickets are priced from $23 to $16 (student/children $5 discount) for reserved seating. To purchase tickets, visit www.gettysburgmajestic.org, call 717-337-8200, or stop by the Box Office, 25 Carlisle Street, Gettysburg. The Box Office is open Monday through Saturday from Noon until 7:30 p.m. and on Sunday from 3:00 to 7:30 p.m.
The Majestic Theater at the Jennifer and David LeVan Performing Arts Center is owned and operated by Gettysburg College as a cultural resource for its students and the community.