Majestic Theater's starts it's New Season at LeVan Performing Arts Center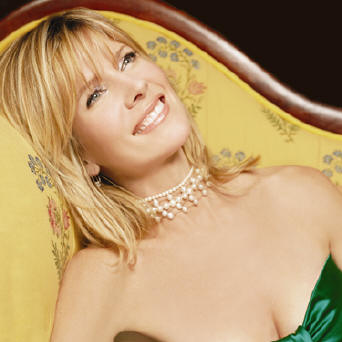 Now celebrating its sixth season, the Majestic Theater recently announced an international line-up of entertainment that will keep audiences applauding from July through May. The celebrity-filled season brings a host of Grammy-winning musicians including Debby Boone, Joan Baez, Eddie Palmieri, and Roy Clark as well as Broadway and television stars, world renowned drummers from China, performing cats, tributes Doo-Wop and sexy tango dancers from Argentina and much more to the historic Gettysburg stage.
"This just may be the most exciting line-up of stars we've ever presented. The Majestic is a wonderful theater to perform in and artists are eager to play here!" mused Jeffrey Gabel, Founding Executive Director of the Majestic Theater. "Artists also love to tour the battlefield with one of our licensed guides."
Take a nostalgic musical journey with Debby Boone (Oct. 8th) as she performs an intimate musical tribute to her late mother-in-law, the legendary singer Rosemary Clooney with hits like Irving Berlin's "Blue Skies, Cy Coleman and Carolyn Leigh's "The Best Is Yet To Come", and Sammy Cahn and Jule Styne's "Time After Time" and many more. And enjoy three great shows rock 'n rolled into one low price with
A Tribute to the Platters, Coasters & Marvelettes (April 13) as they take you on a sentimental journey through the early years of rock 'n roll. From Doo Wop to Motown, this show features all the unforgettable classics including "Only You," "Smoke Gets in Your Eyes," "Twilight Time," "My Prayer." "Please Mr. Postman", "Don't Mess With Bill", "Yakety Yak," and "Charlie Brown."
In celebration of nostalgia, join us for The Wonder Bread Years, a salute to the Baby Boomer Generation. This fast-paced, hilarious production written and performed by Pat Hazell -- head writer of the mega TV hit series "Sceinfeld" - will have you laughing and savoring childhood memories about Davy Crockett - King of the Wild Frontier, Milk Money, Barbie Dolls, Kool-Aid Stands, Show & Tell, Pop Rocks, Rock'em Sock'em Robots.
The Majestic will make you "laugh until you cry" with shows such as The Blanks (Oct. 30), those funny guys on the hit NBC TV series "Scrubs". A cappella music is suddenly cool, hip and funny, thanks to "The Blanks," best known as "Ted's Band" as they play a quartet of funny singing friends. And for a "Girl's Night Out" enjoy The Four Bitchin' Babes in Diva Nation, Where Music, Laughter, and Girlfriends Reign!™ (Mar. 11) These hysterically funny and multi-talented musicians let loose on how the new millennium has, in some cases literally, changed the face of The Diva! You can find her everywhere; in your office, your mall, your grocery store, she's cleaning up messes, and putting out fires, possibly from her own hot flashes! Howl with laughter with Queen of Bingo (Apr. 1), as two zany GUYS, playing two crazy GALS, light up the stage in the hit Off-Broadway comedy about Bingo, family bonds, widowhood, diet crazes, winning and losing and sibling rivalry. Just before intermission, the audience gets to join in the fun with a bingo game of its own and the winner gets a 10lb frozen turkey. (Presented by the St. Francis Xavier Catholic Church of Gettysburg as a fundraiser for their school).
The holiday season promises to be uplifting with A Viennese Christmas (Dec. 16) and the New Sigmund Romberg Orchestra with 36 top professional musicians and four world-class opera singers conducted by Jason Altieri, associate conductor of the Atlanta Pops Orchestra. The program features Christmas music from sacred carols like "Oh Holy Night" to family favorites such as "Sleigh Ride", the "Die Fledermaus Overture", the march from "Babes in Toyland", traditional Viennese waltzes, and selections from Romberg's operettas. Ring in the New Year at the Majestic as the Broadway Pops International presents "Swinging New Year's Eve Celebration" (Dec 31st) with two of Broadway's most talented stars, Nat Chandler (Phantom of the Opera) and Teri Dale Hansen (Show Boat). This program has something for everyone including holiday favorites, Broadway show stoppers, and wonderful swing tunes from Henry Mancini, Cole Porter and Duke Ellington.
Bring the whole family to these affordable favorites including Jigu! Thunder Drums of China
(Nov. 16). JIGU! In Chinese it means to 'beat the drum' and you will clamor for more as you are thrilled by the powerful Thunder Drums of China. Hailing from the Shanxi province, this world-renowned company of 30 drummers, percussionists and musicians will astound you in this ultra-sensory entertainment experience. On Jan 22, see Thaddeus Rex , award winning musician, Rex and his best friend, a 7 foot dinosaur named 'Rock' present this high energy show with marvelous mischief and interactive antics you'll never forget. And don't miss this finalist on America's Got Talent, Gregory Popovich in his Popovich Comedy Pet Theater (Mar. 12), a family show of the unique comedy and juggling skills of his performing pets. Gregory and his cast of jugglers, clowns, 15 house cats, 10 dogs, 4 geese, 8 white doves, and 2 parrots love to show off onstage - performing a variety of stunts and skits! (Presented by the Gettysburg Rotary Club as a fundraiser for their community charitable efforts)
Finally the season wraps up with a living legend in country music, Roy Clark on May 13, 2011. Perhaps best known for his decades-long stint as the "pickin' & grinin'" of the country-music TV show "Hee Haw," Clark is a multi-award winning virtuoso, actor, vocalist and philanthropist who for the last 40 years has headlined some of the world's most prestigious venues including Carnegie Hall. With a star on the Hollywood Walk of Fame, Roy comes to the Majestic Theater with his multi-instrumental band ready to wow the audience with his incomparable talents and fun-loving down-home spirit.
The Majestic is also celebrating its 6th season with big savings. We are offering our patrons a 20% savings on a package of five shows which have been selected to represent the extraordinary diversity for which the Majestic has become famous including Debby Boone, Jigu! Thunder Drums of China, The Wonder Bread Years, Tango Fir and A Tribute to the Platters, Coasters & Marvelettes.
All performances go on sale to the members May 20th (there is still time to join for as low as $50) and general public on June 4th at Noon. Visit www.gettysburgmajestic.org, call 717-337-8200, or stop by the Box Office, 25 Carlisle Street, Gettysburg, Pennsylvania. Box Office hours are Monday through Saturday from 12 Noon until 7:30 p.m. and on Sunday from 1:00 until 5:30 p.m.
The Majestic Theater at the Jennifer and David LeVan Performing Arts Center is owned and operated by Gettysburg College in partnership with the Greater Adams County Community.