Music, Gettysburg! Presents Organ Virtuoso Felix Hell Playing Works of Widor, Bach, Mendelssohn and More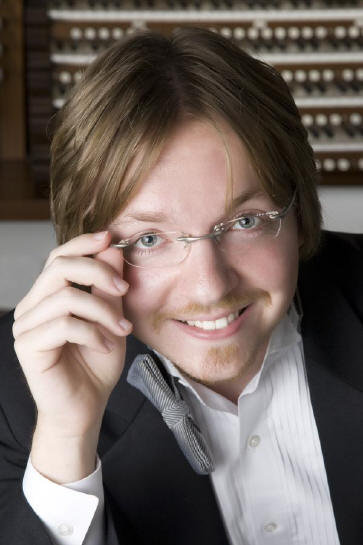 (2/21) Music Gettysburg! welcomes the 24 year old virtuoso and globe- trotting organist, Felix Hell in concert on Sunday, Feb 28, at 7 P.M. in the chapel of the Gettysburg Seminary.

Mr. Hell will be performing Nikolaus Bruhns "The Grand" prelude, and more by J.S. Bach including An Wasserfluessen Babylon, and Toccata, Adagio and Fugue in C Major, and C.M. Widor's Symphony No. 5. Works by Mendelssohn and Weaver round out the program.

Hailed as "most well known young concert organist worldwide" (Dr. John Weaver), and "undoubtedly one of the major talents of the century" (Dr. Frederick Swann, AGO president), the German organ virtuoso Felix Hell is a phenomenon in several ways. A liturgical organist since the age of eight, Felix has concertized in Germany and abroad since the age of nine, has already performed more than 650 recitals in his native Germany, as well as abroad since the age of nine, concertizing in countries such as Australia, Canada, Finland, France, Iceland, Italy, Jamaica, Korea, Latvia, New Zealand, Norway, Malaysia, Singapore, Spain, Russia, and the USA, where he performed more than 450 recitals in 44 states.

Orchestra performances have included concerts with the Charleston (SC) Symphony Orchestra, USA, and the National Academy Orchestra of Canada under Boris Brott, the McGill Chamber Orchestra (Montreal), and the New England Conservatory Philharmony, the Gettysburg Chamber Orchestra under Norman Nunamaker, the Deutsche Streicherphilharmonie under Michael Sanderling, and the Kurpf

älzische Kammerorchester, Mannheim, Germany. In November 2004, Felix gave his debut performance in the famous Boston Symphony Hall.

Other career milestones include the performances of the entire organ work of Johann Sebastian Bach both in the USA and Germany in 2006 and 2007 three times and the performances of the organ works of Felix Mendelssohn in the USA and in Germany.

Felix Hell was born on September 14, 1985, in Frankenthal/Pfalz, Germany. He took his first piano lesson at the age of seven, followed by his first organ lesson shortly after his eighth birthday. On Easter 1994, still eight years old, he performed in his first service as an liturgical organist. Also in 1994, he participated in the German competition for young musicians Jugend musiziert

V, and was awarded with two First Prizes in organ playing, following by First Prizes in 1996 (piano solo), 1997 (organ solo) and 1999 (piano solo).

Felix Hell pursued his organ studies at the Hochschule f

ür Kirchenmusik in Heidelberg, studying with Johannes Michel and Christiane Michel-Ostertun. Additional coaching during this period of his education he received in courses with Professors Martin Lücker, Frankfurt; Pieter van Dijk, Amsterdam; Oleg Yantchenko, Moscow; Wolfgang Rübsam, Saarbrücken; Leo Krümer, Speyer; Franz Lehrndorfer, Munich; and Robert Griffith, Delaware/Ohio.

Come enjoy this evening concert which is free and open to the public. The Seminary Chapel is on Seminary Ridge in Gettysburg. For more information about this and other concerts remaining in the 2010 Music, Gettysburg! schedule, please call 717-334-6286 ext 2197 or visit the web site at www.musicgettysburg.org.